Tiny Monsters light Monster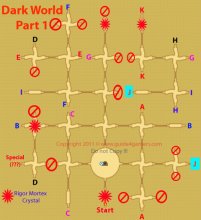 Go behind Leonyx and enter the door and you'll be arrive at
Dark World
Monsters
Argon Lizard
Atlas
Beetleboy
Behemoth Slime
Dark slime Knight
Goodybag
Gorrerilla
Great argon lizard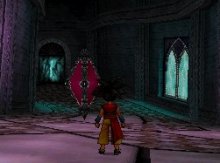 Great dragon
Heligator
Heyedra
jumping jackal
Killing Machine
Living Statue
Metal Dragon
metal kaiser slime
Moosifer
Notso Macho
Pazuzu
Puppeter
Red Dragon
Slimestack
Snapdragon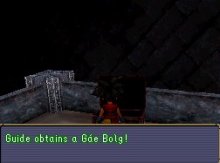 Soulspawn
Teeny Sanguini
Wax murderer
Forbidden mark means that you will go back to the very same area if you go through them.
Talk to all people nearby, smash the crystal in the middle of the area. You need to destroy 3 more crystals that look like this one. The crystal's location shown in my map above, but I am not sure whether it's random or not. Go to the next room and you'll arrive at central point of the dark world.
From here you're free to go wherever you want (up, right, or left). If the crystal's locations are fixed then I suggest you to go right first then continue to destroy 2 other crystals that located on the north side.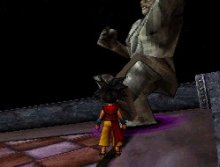 You'll meet a lot of enemy varieties in dark world, so it's a good idea to start capturing any rare monsters that you see through your progress.
Tips: You can meet metal Kaiser Slime. Try to attack them from behind to get pre-emptive strike. The party probably consist a normal slime and 1 metal Kaiser Slime. Make sure you have metal killers in your party (I have Demon at arms as MKS killers; it equips Gae bolg which has nice attack status and increases your critical chance).
MKS monsters suggestions:
Have multiple hits in one attacks (demon at arms' attack is 3 hits; plus with tactical trait it'll result in 6 hits per turn), another good example for this monsters are swarmtroop, conclave, etc.
Can equip metal killers weapon (ex: obsidian sword) or increase critical rate weapon (ex: Gae bolg)
Have any skills that can deal with metal monsters (ex: metal slash).
PS: If you see the left side of my map there is a Special (??) section. I was transported to mysterious area that have a treasure chest contains Gae Bolg. Once again, I am not sure whether it's random or not (because I can't go back to that spot using the same door; or maybe it's just because I have obtained the treasure chest over there so I don't have any need to go there again).
You might also like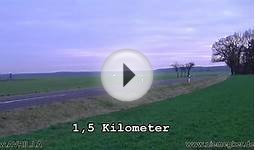 Light Range Test Nitecore TM15 Tiny Monster, EnerPower Li ...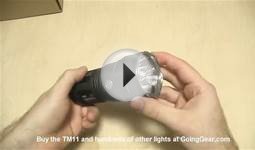 Nitecore Tiny Monster TM11 2000 Lumen Flashlight
NITECORE Tiny Monster TM26 QuadRay 3800 Lumen Quad CREE XM-L LED Flashlight / Searchlight with 4 X Nitecore NL186 2600mAh 18650 rechargeable batteries, 8 X EdisonBright CR123 Lithium Batteries bundle
Sports (EdisonBright)
Nitecore TM26, The world s smallest 3500 lumen LED-flashlight
Integrated multi-function OLED display
Intelligent charging circuit with voltage detection charges safely and rapidly
Eight rapidly switchable brightness levels and modes to select from
Bundle include, 4 x Nitecore NL186 2600mAh Batteries, 8X EdisonBright CR123A batteries & Charger
NiteCore Tiny Monster TM26 Quad Ray 3500-Lumens LED Flashlight, Black


Sports (Light Junction)




World s smallest 3500 lumen LED flashlight
4 x CREE XM-L LEDs
Multi-function OLED display
Compatible with both 18650 Li-ion and CR123 batteries
Waterproof in accordance with IPX-8 (submersible to two meters)
2015 Ver. Nitecore Tiny Monster TM26 4000 Lumen Search Light Ultimate Bundle: 4x Nitecore NL189 3400 mAH 18650 Batteries, Wall and Car Charger, a LumenTac(TM) Keychain Light


Home Improvement (Nitecore)




The world s Smallest & Brightest LED-flashlight - 4 Lumens TM26 now Shipping!
Built-in intelligent charging circuit with voltage detection charges safely and rapidly
Integrated multi-function OLED display
Bundle include: TM26, 4 x Nitecore NL189 3400mAh 18650 Batteries, A/C Charger, Car Charger, Lumen Tactical Keychain Light
4x 3400 mAh Nitecore NL189 protected Rechargeable 18650 batteries are the best on the market

Nitecore TM06 3800 Lumen CREE LED Tiny Monster Flashlight/Searchlight, Nitecore D4 smart charger, 4 X Edisonbright EBR34 18650 3400mAh Li-ion batteries, Smith & Wesson Pathmarker LED flashlight, with 4 x EdisonBright AA Alkaline batteries bundle


Sports (EdisonBright)




3800 lumen output. World s smallest with this specification.
Tactical forward switch on the tail cap
Utilizes four CREE XM-L2 U2 LEDs
Nitecore D4 battery charger Compatible with and identifies Li-ion (26650, 22650, 18650, 17670, 18490, 17500, 18350, 16340(RCR123), 14500, 10440), Ni-MH and Ni-Cd...
Bundle include Holster, Nitecore D4 smart charger, 4X EdisonBright EBR34 3400mAh batteries,Smith & Wesson Pathmarrker LED flashlight and 4 X EdisonBright AA...

2015 Ver. Nitecore Tiny Monster TM26 4000 Lumen, with 4x Nitecore 18650 Batteries and LumenTac(TM) Keychain Light


Sports (Nitecore)




Nitecore TM26 XM-L2, The world s smallest & Brightest LED-flashlight -- 4 Lumens Version now Shipping!
Brightness: 4/1900/700/230/3 lumens, Runtime 45min/2.5h/8.25hr/48hr/1hrs
Integrated multi-function OLED display
Intelligent charging circuit with voltage detection charges safely and rapidly
Bundle include: TM26 Rechargeable Flashlight, 4 x Nitecore 18650 Batteries, Charger, LumenTac(TM) Keychain Light