Needleman and Smitty Monsters University
The Trials and Triumphs of Disney/Pixar's Monsters Franchise
Monsters Inc. was one of the most celebrated animated films of 2001. Tapping into the child-like notion that monsters live in closets and only come out to scare children at night, the film follows Sulley and his wisecracking sidekick Mike Wazowski who are the top scare team at Monsters, Inc., the scream-processing factory in Monstropolis. When a little girl named Boo wanders into their world, it's the monsters who are scared silly.
A huge bearlike Monster, the technical team for Monster Inc. was challenged to find a way to refine the rendering of Sulley's fur to make it look and move as naturally as possible. One challenges was figuring out how to animate the huge numbers of hairs—2, 320, 413 on Sulley—in an efficient way. Another challenge was making sure the hairs cast shadows on other hairs because without self-shadowing, fur or hair takes on an unrealistic look. In response to the engineering challenges they faced, Pixar set up a Simulation department and created a new fur simulation program called Fizt ("physics tool"). The Fizt program was a breakthrough, allowing the team to take the controlled movements of the characters and add fur or clothing to them after the scenes had been shot. This practice helped the fur and clothing move in a natural way with the characters movements.
James P. "Sulley" Sullivan is played by actor John Goodman, the longtime co-star of the comedy series Roseanne and a regular in the Coen brothers films. Goodman reportedly interpreted Sulley as the monster equivalent to a National Football League player. Billy Crystal, who regretted turning down the part of Buzz Lightyear in Toy Story years prior, took the role of Mike Wazowski, Sulley's one-eyed best friend and scaring assistant. Steve Buscemi plays Randall, Sulley's rival, which saw the reunion between himself and John Goodman who had worked together in previous films.
The full cast of Monster Inc. includes:
• John Goodman as James P. "Sulley" Sullivan
• Billy Crystal as Michael "Mike" Wazowski
• Steve Buscemi as Randall Boggs
• Mary Gibbs as Mary "Boo"
• Jennifer Tilly as Celia Mae
• James Coburn as Henry J. Waternoose III
• Bob Peterson as Roz
• Frank Oz as Jeff Fungus
• John Ratzenberger as The Abominable Snowman
• Samuel Lord Black as George Sanderson
• Phil Proctor as Charlie
• Steve Susskind as Jerry Slugworth
• Dan Gerson as Smitty and Needleman
• Bonnie Hunt as Ms. Flint
• Jeff Pidgeon as Thaddeus "Phlegm" Bile
• Joe Ranft as Peter "Claws" Ward
Monsters University
In the 2013 follow up to Monsters Inc., Monsters University showcased new technology once again. Monster University was the first Pixar film to use a new lighting system for animated films called Global Illumination. The new lighting system uses ray tracing, a technique that imitates the behaviour of light in the real world. Before the new system was introduced, artists had to build reflections and shadows manually, which became increasingly complex as the models and the setups became more technologically advanced. Global Illumination automated the process, delivered more realism, produced soft shadows, and let the artist spend more time on models and complex scenes—some of which contained thousands of light sources.
You might also like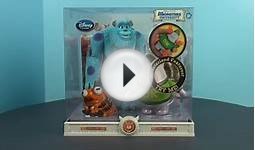 Sulley and Squishy from Monsters University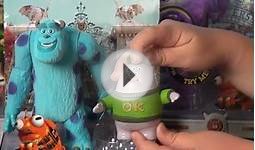 Sulley and Squishy Monsters University
Baubles of Time Men's Green Eyed Monster Hat One Size Multicoloured


Apparel ()




Great for the green eyed monster in you
Great for costume and everyday wear
Hand Crocheted in the USA
Tightly Crocheted to keep you warm
Baubles of Time
Q&A
Who plays Z in the movie Monster House?
Maggie Gyllenhaal is the voice of Zee in the movie Monster house.