All monsters Monster Hunter 4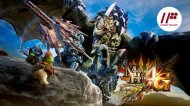 This is the Monster Hunter game you've been waiting for. If you've been waiting.
Monster Hunter is hands down one of Japan's biggest video game franchises. The game pretty much single-handedly set both the PSP and later on the 3DS as the dominant handheld consoles in Japan.
Now, with the release of Monster Hunter 4 Ultimate for the 3DS, Capcom has another assured smash hit on their hands – as of this article, the game has sold over 2 million copies in Japan – and after 2 weeks with the game I feel I can safely say it's the best Monster Hunter game I've ever played, because it doesn't try to fix what isn't broken. Yet.
The Basics
If you are familiar with the general format of Monster Hunter, you can pretty much skip this entire section completely. In terms of core gameplay, there really is nothing new here. You're a hunter, hunting monsters – many of which are much, much bigger than you. You need to work your way up the ranks by hunting and skinning and gathering and digging and gathering and crafting and gathering and foraging and, did I mention gathering? Yeah, lots of resource gathering.
The game sets you out as a fledgling hunter and there's really no way you're going to match up against the monstrosities that adorn the cover of the game's box until you've put in hours upon hours of resource gathering and hunting smaller, less lethal fauna.
The story mode – which I'll get into – does a good job of slowly building you up, gradually pitting you against stronger and more dangerous beasts and teaching you the ropes before setting you out to really take on the big baddies with the ultra-rare items that'll let you craft the really cool weapons and armor. But despite whatever advantages the right equipment will give you, a lot of the hunting comes down to personal skill. Even with the best gear, you can still be slaughtered if you aren't careful.
What's New
Monster Hunter 4 brought a whole new bag of tricks with its release: Monster diseases, new weapons, climbing and grabbing to name a few. 4 Ultimate is essentially an upgrade. A new "wounded" status, tweaks to the action and weapons, upgraded support characters as well as the unlocked G-rank quests all help to enhance the hunting experience. The new game elements are well designed and add a new level of depth to the game play, while the G-rank quests add a new level of frustration.
Good – Story Mode
The single-player campaign story mode follows your character as the dedicated hunter of a small traveling caravan on the quest to discover the origin of a mysterious artifact the caravan owner was given a long time ago. Your character, after catching a ride with the caravan, is hired by the owner after an encounter with a large sand dragon.
You might also like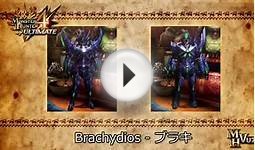 Monster Hunter 4 Ultimate - All Male Armor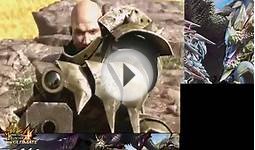 Monster Hunter 4 Ultimate Gameplay Part 1 - How it all ...
3DS LL Monster Hunter 4G Extended slide pad for Nintendo 3DS LL


Video Games ()




Nintendo 3DS LL
Monster Hunter 4G Extended
slide pad for Nintendo 3DS LL
[E-capcom Limited] Monster Hunter 4 Full Operation Action Figure Series Equipped with Hunter Reus (Swordsman)


Toy (Capcom)




Painted Action Fish A
Size: Height approx 190mm
材質:ABS,PVC
Q&A
How much does monster hunter 4 cost?
The game is not even out yet. However, it is a 3DS game,so $40 USD