Monsters Inc. mind Blown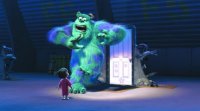 On November 10, 2009, Walt Disney Home Entertainment is releasing a 4-disc Blu-ray set for Monsters, Inc., Pete Docter's feature directorial debut. Much like Finding Nemo set the stage for what Andrew Stanton eventually did on Wall-E, the 2001 Pixar film offers a glimpse of what was yet to come from Docter – who went on to direct this summer's Up, also out next week – but it also reiterates some of the themes that run throughout all of the studio's best work, including the concept of an alternate perspective on a place or idea that seems obvious, and the idea of families that are both familiar and unconventional. But how effectively does it examine and explore those things, particularly in light of what the studio has done since?
Suffice it to say that the Blu-ray set offers not only the best presentation of the film imaginable, but a bounty of extra content that expands the film's universe in new and interesting ways. As for the movie itself?
The Facts: Released in November of 2001, Monsters, Inc. was the fourth feature film released by Pixar after Toy Story, A Bug's Life, and Toy Story 2, and it positioned the studio as a creative force to be reckoned with: in addition to grossing some $525 million dollars worldwide, it earned four Academy Award nominations, winning one for Best Original Song, and went on to receive recognition from the Saturn Awards, BAFTA, the Broadcast Film Critics Association, and the Online Film Critics Society. It currently enjoys a 95 percent fresh Tomatometer rating on Rotten Tomatoes.
What Still Works: It's almost shocking how well Pixar manages to find the sweet spot between sentimentality and melodrama, but Monsters, Inc. may be one of the greatest examples in their filmography of that balance: from the moment that Boo appears in the film, she radically transforms the emotional pitch of the film, giving everything Sully (John Goodman) and Mike (Billy Crystal) do an emotional tether, even when it's mainly visceral or comedic. There's an amazing connection that exists not only between the characters themselves, but the characters and the audience, such that we understand, identify and are deeply moved by every development.
Remarkably, Pixar is able to come up with stories that don't merely reach out commercially to all different age groups, but genuinely connect with them, whether you're a thrill-seeking kid or the parent who's sitting next to him or her in the theater. The idea that you can even be a parent or a kid while you're watching these movies, no matter which you actually are, is just mind-blowing, and Monsters, Inc. indulges the fun and adventure that younger audiences want while finding behavior, themes and ideas that resonate really powerfully with older ones.
What Doesn't Work: Surprisingly, even at 93 minutes, I felt like the opening scenes dragged a little bit, and a lot of the introductory jokes about the word seemed obvious and even a little hokey. Like I said above, once Boo is introduced the movie takes off and becomes just completely and inescapably compelling, but during the earliest scenes Monsters, Inc. feels fairly conventional, reminiscent of the way A Bug's Life never managed to capture the sort of spark that other films had, and which this film ignited into a string of major-league successes (both commercial and artistic).
You might also like
Spit'N'Run


Mobile Application (BITBROS INC.)




Classic 2d platformer gameplay with gorgeous 3d environments
21 levels across 5 unique worlds
Defeat heaps of monsters and powerful bosses
Dress Loogie in your favorite way
Fun for all ages
Q&A
What is the name of the intro song in Monsters Inc?
Trombonist Andy Martin played the music at the very beginning of the movie "Monster's Inc." You have a great day!