Loch Ness Monster picture fake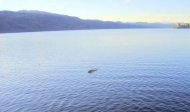 This picture of the loch ness monster turned out to be a hoax [CASCADE]
George Edwards who boasted of having photographed the world-famous monster has owned up to the hoax, saying it was actually a piece of fibreglass.
He insisted the picture, published to worldwide intrigue last August, was just a bit of fun and insisted he still believed there were monsters in the deep waters.
Showing no remorse, George said: "So as far as I'm concerned it's perfectly valid. It's just a bit of fun."
The 61-year-old, a cruise boat operator on Loch Ness, now joins a rogue's gallery of Nessie frauds.
The "Surgeon's Photograph" taken by Dr Robert Kenneth Wilson and published in 1934, which supposedly shows the monster's head and neck, later proved to be a hoax.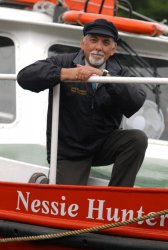 George Edwards admits his picture is fake [CASCADE]
George continued: "How do you think Loch Ness would have fared over the years without that picture? I have no guilty feelings at all about what I have done."
He admitted that the picture he claimed to have taken of the monster was, in fact, a fibreglass hump, that was used in a National Geographic film screened in 2011.
However at the time he waxed lyrical about his "encounter" with Nessie, adding that he even went to friends in the US military who analysed his picture which left him in no doubt it was real.
In 2011, he told how he spent his life on the loch - around 60 hours a week - taking tourists out on his boat Nessie Hunter IV, and had led numerous Nessie hunts over the years.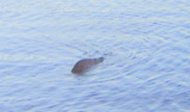 But he said this image was the one that convinced him that there really was a monster or monsters - out there. It showed a mysterious dark hump moving in the water towards Urquhart Castle.
"I was just about to return to Temple Pier (in Drumnadrochit) and I went to the back of the boat which was facing the pier and that's when I saw it, " George claimed.
"It was slowly moving up the loch towards Urquhart Castle and it was a dark grey colour. It was quite a fair way from the boat, probably about half a mile away but it's difficult to tell in water."
After watching the object for five to ten minutes, George had said it slowly sank below the surface and never resurfaced.
"I'm convinced I was seeing Nessie as I believe in these creatures. Far too many people have been seeing them for far too long, " he claimed.
"I did not want to mention my sighting until I was sure that I had not photographed a log or something inanimate in the water in the water. I have friends in the USA who have friends in the military. They had my photo analysed and they have no doubt that I photographed an animate object in the water. I was really excited as I am sure that some strange creatures are lurking in the depths of Loch Ness."
This shadow image in the waters turned out to be fibreglass [CASCADE]
The picture even fooled expert Steve Feltham, who has spent the last two decades hunting for Nessie.
You might also like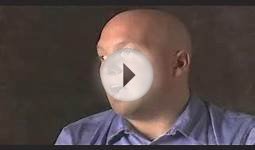 Loch Ness Monster?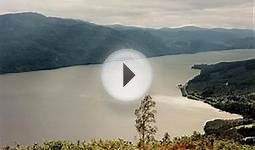 fake loch ness monster
Wishstone Nessie Soup Ladle Set Of 2 Food-Safe 100% Nylon Dishwasher Safe Loch Ness Monster Stands Upright Cookware Tableware Kitchen Utensil Dipper Green And Blue
Kitchen ()
CLEVER feet on the bottom of the ladle allow Nessie to stand upright, seeking to peer out of your kettle or punch bowl like that iconic Loch Ness photo
NON-TOXIC sturdy food-safe 100% nylon , MEASURES 24 cm x 11 cm x 9 cm. Green and blue
DISHWASHER safe. Do not microwave
NOVELTY ladle will amuse your children and get their interest in cooking. Conversation starter for entertaining. Ideal gift for the Loch Ness Monster enthusiast
GREAT GIFT; if you re looking for a unique, fun gift for a soup lover, then you should certainly go for the Wishtone Nessis Ladel. It s funny, absolutely original...
3dRose Funny Loch Ness Monster Playing The Bagpipes Two Tone Black Mug, 11 oz, Black/White


Kitchen (3dRose)




White ceramic mug with black interior and handle
Image printed on both sides
Available in 11oz only
Microwave safe, hand-wash to preserve image
High gloss finish
Caution Loch Ness Monster Sign Art Poster Print - 13x19 custom fit with RichAndFramous Black 13 inch Poster Hangers


Home (Generic)




PROTECT YOUR POSTER and WALLS from tape, putty and thumbtack damage.
Rich and Framous Poster Hangers are easy-to-use, economical alternative to wooden or metal frames.
Resuable and made with pride in the USA of strong, lightweight resin for years of quality use.
EZ-Hang 8mm hole on back works with push-pin thumbtack or Removable Poster Hanger Hook (not included).
3-piece set includes poster shown with 2 custom fit Poster Hangers for top and bottom of poster.

3dRose mug_200138_1 Funny Loch Ness Monster in Scotch Whiskey Glass Ceramic Mug, 11-Ounce, White


Kitchen (3dRose)




Made of white ceramic
Image printed on both sides
High gloss finish
Available in 11 oz. And 15 oz.
Contains no lead

3dRose Funny Loch Ness Monster Playing Golf Ceramic Mug, 11 oz, White


Kitchen (3dRose)




Made of white ceramic
Image printed on both sides
High gloss finish
Available in 11 oz and 15 oz
Contains no lead