New Monster Model kits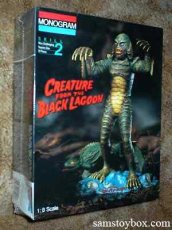 When I was growing up, one of the greatest joys in my life was putting together Aurora plastic monster model kits. In 1970 or so when I discovered them, Aurora was selling twelve models all in Glow in the Dark versions, the first twelve headings on this page. I owned each of the dozen models, some more than once as I would play with them and eventually break them. Aurora went out business and the monster model molds were sold to various companies including Monogram and are now owned by Polar Lights, a division of Playing Mantis. I am tickled to death to see the models re-issued and will own them all once again. Here for your enjoyment are a few original Aurora models, a number of re-issues, a few non-Aurora monsters, and links to some very cool sites. Mega Hobby's online store has a good selection of Polar Lights models.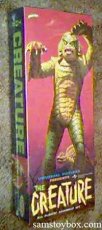 Other model kits in my collection: Marvel Comics Models by Toy Biz and Other Cool Models - my catch-all page of all the rest of my models.
The Creature from the Black Lagoon

Aurora's Creature model was an excellent sculpting of the gillman from the 1950s movie. Both of these are re-issues cast from the original Aurora molds. The Monogram one is item number 6490 from 1994 when they also released the Phantom of the Opera. The long-box version on the right is model number 7501 dated 1999 by CineModels distributed by Polar Lights.
Dracula
Aurora's Dracula kits are original sculptures and were not meant to be of Bela Lugosi, though the box art for the first Dracula is clearly him. Four re-issues cast from the original Aurora molds and a Monster of the Movies Dracula. The Monogram "Luminator" was cast in neon plastic and is item number 1620 from 1991. A total of six Luminator monster models were created all of which are on this page. The next kit is the 1991 recast by Monogram, item number 6008. The next version if a Bonus Value Pack from Monogram and included paints, brush, glue and the model kit. Item number 6380, this was one of four Wal-Mart exclusive model released by Monogram in 1994. The long-box version is item number 424-98 dated 1999 by CineModels distributed by Polar Lights. The Revell model is a re-issue of Aurora's 1975 "Monster of the Movies" Dracula, item number 85-3634 dated 1999.
You might also like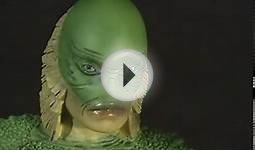 Monster Model Review #132 The She Creature by Fairbanx Models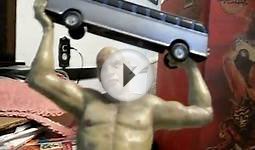 new monster kits !
Alien Model Kit


Toy (J Lloyd International - Lindberg)




Plastic Model
Assembly required!
Bandai Godzilla Highly Detailed Plastic Model Kit


Toy (Bandai)




Godzilla king of special effects monster. Popular especially Godzilla that appeared in Mothra vs. Godzilla in that. I kit in 1/350 scale, the popular name Mosugoji...
Please buy a separate plastic model dedicated glue this kit.
Please note that somewhat different from those of the products and photographs, illustrations of the package.
Red Tool Box Monster Truck Building Kit


Toy (Reeves (Breyer) Int'l)




Easy to build
Includes 4 tires
Free-wheeling

Bandai Macross 1/200 Scale Destroid Monster HWR-00-MKII Construction Kit


Toy (bandai)



Moebius The Creature from The Black Lagoon Model Kit


Toy (Diamond Comic Distributors)




All new model kit
Sculpted by Adam Daugherty
Model is in 1:8 scale
Includes display base
Requires paint and glue
Q&A
where in new york can i buy revell model kits? | Yahoo Answers
Sorry I don't really know but I would say try a flea market. If not there than try another one. Good luck!