Can the Monsters at Universal touch you?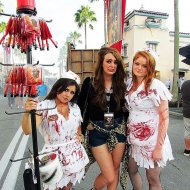 When most of us think about going on holiday to the self-proclaimed Sunshine State, we think white sandy beaches, ice cold OJ and frolicking around with dolphins.
What we probably don't expect is to be chased through dark, narrow corridors by a chainsaw-wielding maniac.
But thousands of people not only ­volunteer for this sort of torment every year, they pay for the privilege. And having tried it, I can see the appeal.
So, ladies and gentleman, roll up for the 25th anniversary Halloween Horror Nights at Universal Studios and prepare to be scared out of your wits.
This "immersive experience", which runs until November 1 is designed to disorientate and terrify you with the use of special effects, realistic sets and live actors. There are nine haunted houses, five scare zones and two live shows, plus you can visit many of the park's scariest rides and attractions.
It all adds up to an evening of thrills, blood spills and a hell of a lot of screeching, mainly from us Brits. Our American friends seem to be made of sterner stuff..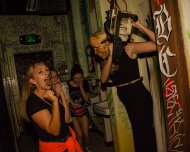 Lora Wallace, the brains behind the Orlando theme park's 'scare zones' explains just what goes into finding something that is Universally, (sorry) terrifying. "Different cultures and people have different fears so it's important to incorporate something that will panic everyone, " she explains.
"The night Halloween Horror Nights closes, we are at our desks at 9am the next morning planning next year. We test the vilest smells, the most horrific sounds, and audition over 3, 000 people to find the perfect candidates for the job."
And what is the official job title? ­Scareactors. Obviously. Open auditions start from July and roughly 1, 200 fiends in human form are employed to work over the season, so you can run, but you really won't be able to hide from that many. Trust me, I tried.
Gore galore: Emma with a pair of 'scareactors'
The bright, joyous, cheerful place that is Universal Studios in daytime is quickly transformed for the evening spooktacular.
Strobe lights, smoke machines, eerie music and the horrid smell of petrol from chainsaws hits you as soon as you walk in.
Luckily, the park offers a selection of ghostly cocktails to take the edge off your fear and after you've been scared out of your skin once, the adrenaline starts pumping and it becomes SO much fun.
Popular TV and movie franchises are used to create horror film "sets". The one based on the three-part Insidious film series about malevolent spirits is so terrifyingly real I feel as though I've been plonked in the middle of the movie.
And no wonder. Michael Aiello, ­Universal's Head of Creative Development, admitted they spent a fortune having the exact wallpaper made to match the house in the film. (He also admitted that one night a year he gets dressed up and joins the cast, playing his own game.)
Next up was the Walking Dead, where you're taken through key moments of Season 5 of the TV zombie show, while gangs of "walkers" try to eat you for dinner.
You might also like
Folding Folio Case Cover with Micro USB Keyboard (7kbl) for Universal 7 & 8 & 7.85 Inch Tablet + Free Oxdozer Stylus Pen (Black)


Wireless (OXDOZER)




* Product Dimensions: 9 x 5.4 x 1 inches.Recommended for use with 7 or 8 tablet dimensions 7 UP to 8.4 inch L , 4.4 UP to 5.4 inch H
* NOTE: Compatible with Google Android System and Windows CE 5.0 above.
* Built-in USB for connecting the keyboard with your 7-Inch tablet PC , Responsive keyboard for ease-of-use and efficiency with your tablet
* Universal 2015 model 7 & 8 Inch Tablet Case Cover Pu Leather Folio Style. Real laptop style keys; ABS keyboard material allows flexibility to playing &...
* Press the Num Lock key to unblok the keyboard when you use it, Keyboard features 80 keys and operates on the Android operating system
iKross Universal Car Dashboard Mount with Gel Pad Suction Holder For Smartphone and Tablet - Black


CE (iKross)




Windshield / Dashboard Car Gel Pad Mount Stand Holder compatible with with 4- 6.4 inch SmartPhone & 7- 10.1 inch Tablet
Rotate 360 degree, able to view your phone horizontally or vertically
Strong adhesive 3M Gel Pad, able to stick to most dashboard, desk table surface, and your windshield
Easy one hand operation, no tools or instruction needed
Compatible with all Smartphone, Phablet with or without covers
Deego [2-Pack] Premium 3.3feet/1m Micro USB Cables High Speed USB 2.0 A Male to Micro B Sync and Charge Cables for Android, Samsung, HTC, Motorola, Nokia and More (2x3.3ft/1m black pack)


Personal Computer (micro usb cable 1ft 3.3ft 3.9ft 6ft 6.6ft 10.5ft 1m 1.2m 1.8m 2m 3.2m 2pack 3pack 5pack braided lightning aux management extension charger charging a b a-male mini-b to hdmi cable Cell Phone Case Cover iPhone 5 5s 6 6s Plus Samsung Galaxy S5 S6 Holsters Clips accessories Contract No-Contract Phones Unlocked Wearable Technology Best Sellers Deals Trade-In All Electronics gift present protector waterproof note usb cable micro usb cable charging cable cell phone cable syncing cable data cable digital cable usb 2.0 A male to Micro usb usb 2.0 A male to B sync cell phone cable charger cable batter cable extra cable extension cable Android cable Samsung HTC ZTE Motorola Nexus LG HP Sony blackberry microsoft Blackberry Nokia phone cable 12 10 ft ipad 1 ft 2 in 1 2 3 ft 3 in 1 3 4s 4 in 1 4 in 1 3ft multifunctional universal usb charger 4s iphone 4 in one 5s micro usb 6ft iphone 6 6ft 6 feet 6 ft 6 ft kindle android apple apple watch anker android 2.0 apple iphone 4 apple iphone 6 asus transformer t100 all phones bracelet bundle braided bag box beats by techoland black case car heavy duty htc hdmi iphone iphone 5 iphone4s iphone 5s ipad iphone 4 plus ifc-400pcu j2cc 4 in 1 multifunctional universal usb cable j2cc 2 in 1 jack j2cc j2cc 4-in-1 usb adapter charging cable connector for j2cc 4 in 1 keychain kindle kit kindle fire keyboard kodak camera keyring kimber kindle 2 long lightning led light lock lg g3 light up lg iphone iphone 5 iphone4s iphone 5s ipad iphone 4 iphone 6 plus ifc-400pcu j2cc 4 in 1 multifunctional universal usb charger cable j2cc 2 in 1 jack j2cc j2cc 4-in-1 usb adapter charging cable connector for j2cc 4 in 1 keychain kindle kit kindle fire keyboard kodak camera keyring kimber kindle 2 long lightning led light lock lg g3 light up lg led light micro male to male male to female mini micro high speed mini b micro 3 feet micro short micro 1ft note 4 nylon nokia lumia 635 nexus 5 note 5 note 3 nook hd nexus 4 note 2 organizer otg outlet one plus)




What You Get: Deego 2-Pack 3.3ft/1m USB to Micro USB Cables.Extra Short, Extra Durable lengths let you connect at close proximity without getting tangled. 4+ bend...
Quick Charging & Sync: 20AWG USB cables support faster charging speed and 480Mbps data transfer via USB 2.0 (backwards compatible), 7% faster charging speed...
Compatible with:Android smart phones and tables,MPS players,cameras,e-readers,external batteries,and all other Micro-USB devices,from Samsung,HTC,Motorola,Nexus,Nokia,LG,HP,Sony,Blackberry...
Deego® USB to Micro USB Cable contains many kinds of specifications length,(1ft/0.3m,3ft/0.9m, 3.3ft/1m,3.9ft/1.2m,6ft/1.8m,6.6ft/2m,10.5ft/3.2m,)convenient you...
Very stable quality guarantee,12-month warranty and friendly customer service.

iPhone6 Plus Sports Armband, Nancy's shop Easy Fitting Sports Universal Armband With Build In Screen Protect Case Cover Running band Stylish Reflective Walking Exercise Mount Sports Sports Rain-proof Universal Armband Case+ Key Holder Slot for Iphone 6 Plus (5.5 Inch) (White)


Wireless (Deego)




Designed specifically for iPhone 6 Plus, Lightweight armband keeps your phone secure and protected.
Water Resistant and sweat-proof funtion to better protect your mobile phone, make you feel more comfortable during exercise,Due to varying color display...
Built in Reflective strip for safe running in low light conditions. Built-in Key holder. Cutouts for easy access to headphones port and controls. A sweat resistant...
Material: Lightweight soft neoprene that is molded to twist and bend but will not stretch out of shape. Washable with gentle soap and water, then air dry. Can keep...
Functionality: Provide excellent protection during sport, such as running, biking, jogging, walking, working out etc. Touch screen works through the clear cover

LG G4 Glass Screen Protector, Sophia Shop 0.33mm HD Ultra-clear Premium Tempered Glass Screen Protector[99.99% Clarity and Accuracy]Anti-scratch Anti-shatter For LG G4 (1 Pack)


Wireless (lg g4 otterbox reflex skin camo shell symmetry case slim screen protector glacier series stickers defender lg4 wallet with belt clip white windshield mount kick stand holster decal decals clear cover cardinals zebra phone zelda zerolemon battery phones zipper cell lgg4 you cases waterproof lifeproof kickstand bag pouch shockproof pasonomi easylife purple 3 weatherproof western weird wet application back leather circle charger window workout armband wolf wood wooden wonder woman wristlet wrap gorilla unlocked blue sleeve flip wolverine women's wifi word wine bottle winnie pooh wings wireless charging diamond verizon contract verus used uag van gogh vampire vans valentine vena versus virgin mobile vigor vintage victoria secret hard volt vogue vodka voia vocaloid vs986 ultra thin hybrid underwater up urban armor gear armour cellular usb cellphone army unicorn beetle unique universe full body rugged protective bumper view vegan vehicle 16gb international version 64gb tablet 8.0 accessories covers 7.0 keyboard pink for kids tpu gel matte pc tardis tattoo tactical teal thor fit thing 2 theme thick thunder tinkerbell tinted tie dye tiger tmobile smartphone tokyo ghoul totoro touch digitizer replacement trident transparent tribal tree cyclops turtle turbo turquoise tumblr tupac tudia tune two piece twenty pilots chargers quick soft transformers travel transpyre trekcases trendy triple layer tribute trippy privacy team glove flash beatles weeknd teenage mutant ninja turtles tennessee volunteers texas textured rangers texan cable cord camera cm4 owl taco spigen supcase resistant line seahawks seidio through sexy security sgm sherlock shatterproof absorbent silicone animal silver character side skull skinomi smooth smile snoopy snap folio snow solar soccer sons anarchy sonic speck sprint sports stylo star wars superman superhero supernatural sugar survivor sunflower swivel sword online compatible girls starwars starbucks stars softball 3d bundle dual rubber gray factory)




Compatible with LG G4
Precise laser cut tempered glass made with polished, rounded edges
99.99% HD Clarity and Touchscreen Accuracy
High-definition clear hydrophobic and oleophobic screen coating protects against sweat and oil residue from fingerprints
Tempered glass screen protector provides screen protection from smudge, bumps, water, drops, scrapes and marks