Squishy from Monsters University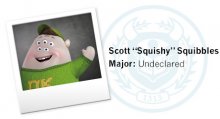 They say that a 1, 000-mile journey starts with a single step. And for MU Sophomore Scott "Squishy" Squibbles, he's ready to do just that.
A local student, Squishy lives with his mother just mere blocks away from MU. From the time he was a small monster, his dream was to come to MU and "walk the hallowed halls, " he says, "to think that I could follow in their footsteps is so exciting!"
Starting his second year at MU, Squishy is still undeclared, but is planning to commit soon. "I was hoping to get into the Scare School, " he admits, "but it's a hard one! I'm going to see how the semester goes and figure it out soon… hopefully." Getting into the Scare School does require successful marks in Scaring 101, the introductory class taught by Professor Knight. While Squishy did not pass the class during his freshman year, he hopes a second run this year will get him back on scaring school track, "Or not. I don't know? We'll see, there's no rush right?"
As far as his life on campus goes, Squishy doesn't let personal things get in the way of his studies. "It's really easy to focus on my classes when my social calendar is so free. Actually, it's pretty much empty." Most of his time he says is spent with his fellow fraternity members of Oozma Kappa. "These guys are like brothers to me, or at least what I assume a brother would be like." But heading to college is not without it's challenges. "It's hard to be away from family so much. Sometimes I'm away from my mom for like two or three hours at a time. But we make up for it on game night every Friday."
You might also like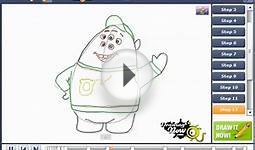 How to draw Scott Squishy Squibbles from Monsters University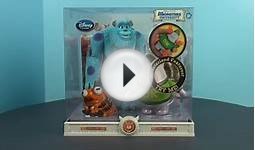 Sulley and Squishy from Monsters University
Monsters University Art Bean Plush


Toy (Just Play)




7 Art Plush is soft and fun to hug
Art is wearing the Oozma Kappa fraternity colors
Collect them all to create your own Monsters University adventure
Monsters University - Shake & Scare Archie


Toy (Spin Master)




Shake and Scare Archie delivers A+ Monsters University scares each and every time you shake him!
Shake and Scare Archie is made of soft, plush materials making him the perfect companion for young children.
Give Archie a shake to hear him scare! Each time you shake him he ll growl, speak or giggle!
Recreate your favorite scenes from Monsters University with the soft plush Shake and Scare Archie!
Includes: 1 Shake & Scare Feature Plush
Imaginext Disney Pixar Monsters University Sulley & Squishy


Toy (Fisher Price)




Imaginext brings your child s favorite movie characters to life
Features Characters from the Disney Pixar movie, Monsters University
Features fellow Oozma Kappa fraternity member, Squishy
Promotes creativity and imagination with role play fun
Comes with #1 monster event hand, Squishy and Sulley figures