All monsters in Puzzles and Dragons
Beginner's Guide to Puzzle and Dragons (Part 1)
If you're just getting started with Puzzle and Dragons, there's a lot to learn. In this guide, we'll be covering the FAQ's and giving you a screen-by-screen tutorial to getting started. I'll share all my tips, tricks, and other assorted strategies as we go.
The Main Menu
The menu screen is the first screen you'll encounter when you first log in.
At the top of the Puzzle and Dragons menu screen there are a number of important statistics:
– In the upper left is your username, which you picked when you signed up. – To the right is your Rank. Your Rank goes up when the EXP bar fills, and you earn Rank EXP by completing dungeons. – The upper right is your Magic Stone count. Magic Stones are the premium currency, and you'll earn some slowly by completing objectives. – Below the EXP bar is the Stamina bar. You spend Stamina to explore dungeons, and it recharges at a rate of 1 point every 10 minutes. Your max Stamina is determined by your Rank. – To the right of Stamina, below your Magic Stones, is the amount of
Gold
you have. You can spend Gold to fuse monsters, which we'll cover later.
At the bottom, you can switch between the various Puzzle and Dragons menus:
Dungeon takes you to the dungeon list
Monster takes you to your monster menu
Shop takes you to the menu where you can buy Magic Stones (for real-world money) and spend magic stones on upgrades
Machine takes you to the Egg Machine menus
Friend takes you to the Friend menu, where you can manage friends and friend invites
Others is sort of a catch all with the game's news, options, data backup, and so forth
Monster Menu
Despite the fact that the Puzzle and Dragons Dungeon menu is first, the Monster Menu should be your first stop before getting into the game. Here, you can create monster teams, level up your monsters, evolve them, and even sell them for gold.
Monsters have several important stats, which show up in several views:
Element – one of Fire, Water, Light, Dark, or Plant.
HP – How much HP this monster gives your team.
ATK – How hard this monster hits when you match orbs of its element in combat
RCV – (looks kind of like "RCU") how much HP will be restored when you match "life" squares in combat
Level – What level the monster is. Monsters gain experience during Power-Up Fusion.
Cost – How much it costs you to put this monster on your team. Depending on your rank, you'll have a maximum "cost" you can have total. This keeps you from just stacking all your most powerful and rare monsters on a single team.
Skill – Some monsters have a skill that they can activate periodically during combat. This section describes that skill, if it has one.
Leader Skill – Some monsters can give your team special benefits if they are the leader. This benefit will be described here.
Edit Team
The "Edit Team" button will take you to the Puzzle and Dragons Team Editor screen:
Here you can set up your monster teams. You can have up to 6 teams, and you can switch teams by swiping across the screen.
Each team has a "Leader" – this monster is the only one whose Leader Skill will come into play. Each team can also have up to 4 "Sub" monsters. The only restriction on teams is that the total cost of the monsters must be less than or equal to the amount of points per team you're allowed at your Rank. This is shown in the "Total Cost" line of the Team Stats.
The other stats here are the sum of all the monsters in the team's stats. Thus, having a balanced team of monsters is a good idea, so that you can both attack and heal effectively. Some monsters are better at attacking, some have healing skills, and others are important for Evo Fusion. Check your monsters' stats and what skills they have before you create your team, so that you have a better chance of success in the dungeon!
What kind of electric car does your child need? Best electric
takingkidzplaces.com
.
You might also like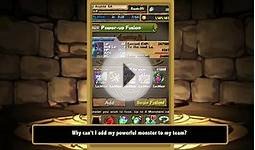 Puzzle and Dragons - Feeding Monsters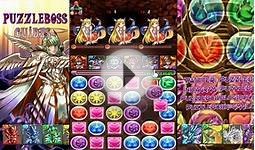 Scarlet Snake Princess - All difficulties - Puzzle and Dragons
Puzzle & Dragons Z + Puzzle & Dragons Super Mario Bros. - Nintendo 3DS


Video Games (Nintendo)




Two puzzling RPG adventures - one has dragonsthe other has Mario!
Drag and match colored orbs to create combos and take down enemies
Befriend Mario baddies across multiple worlds to rescue Princess Peach
Eldritch Horror


Toy (Fantasy Flight Publishing)




Inspired by the best-selling board game, Arkham Horror
A fully cooperative game for up to eight players that also supports solo play
A fast-paced, deeply thematic, story-driven adventure game
Dedicated Mystery decks and unique victory conditions for each Ancient One ensure a versatile and highly replayable experience
MONSTER HIGH CREATE A MONSTER Torsos (Dragon, Sea Monster, Bee, Skeleton and Eye)


Toy (Mattel)




Create A Monster Torsos
Build five different monsters using these as a base.
Five different colors
Works with all Create A Monster dolls
Perfect for the new Create a Monster Design Lab!

Munchkin Adventure Time Game


Toy (Rejects from Studios)




If you ve ever played Munchkin, you ll love the Adventure Time twist.. Who wouldn t want to defeat the Irritating Ice King?!
Play Munchkin Adventure Time on its own or jam-mash it with other Munchkin games to add to the role-playing, monster slaying, treasure-grabbing action
Featuring a player friendly card design, Munchkin Adventure Time is perfect for introducing fans of the Cartoon Network show to the Munchkin franchise
Ages 10 and up
Playable in 1 to 2 hours

Dungeons and Dragons: Wrath of Ashardalon


Toy (Wizards of the Coast)




A heavy shadow falls across the land, cast by a dark spire that belches smoke and oozes fiery lava.
A cave mouth leads to a maze of tunnels and chambers, and deep within this monster-infested labyrinth lurks the most terrifying creature of all: a red dragon!
Designed for 1-5 players, this boardgame features multiple scenarios, challenging quests, and cooperative game play.A cooperative game of adventure for 1-5 players...
Q&A
Is there an all monster cheat for dragon quest monsters joker?
NO there is absoulutley no all monsters cheat exept a modifier cheat just like in Pokemon but u can only get one monster at a time.