Gods and Monsters Werewolf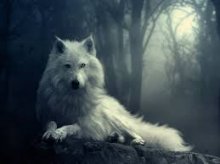 Werewolves, also known as Lycanthropes, are a race of partially-human supernatural creatures, able to morph into a human and wolf. There is no cure for Lycanthropy. Werewolves are people who have been cursed, born, or asked to turn into any sort of Human-Wolf Hybrid. Werewolves are humanoid carnivores, the ultimate combination of wolves and humans. They feed on prey found nearby, which, due to the increase of urban areas, are mostly humans. The transformation only occurs after a werewolf bites a victim, the way werewolves continue the spread of Lycanthropy. However, they are capable of having children who born werewolves. In their werewolf form, their bodies change rapidly, changing into a fitting definition of predators. Their
nails increase
to sharp, long claws, fangs increase in size and eyes resemble those of a wolf rather than of a human. There are two types of werewolves: regular werewolves and pureblood werewolves.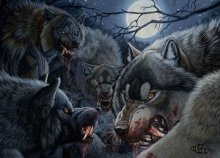 Regular werewolves: Turn into a werewolf only at night. People affected by the disease have short-term memory loss, often leaving them confusion of wounds which might have been caused during the night. Despite having no control over their transformation, certain fragments of their personality and fears can be imbibed by the werewolf's mind, especially strong ones. Aside from hunger, suppressed fears or aggression can drive them to kill in beast form. As such, a werewolf's attack may be controlled by these emotions, depending on which one is dominant.
Pureblood werewolves: Werewolves that are closer to the alpha up to the fourth generation are referred to as pureblood. They have more control over themselves and are less feral. Their human side retains a lot of control and they remember what happened after their transformation.They can transform anytime they want.Purebloods can also access some of their werewolf powers such as enhanced strength and speed while in human form.
You might also like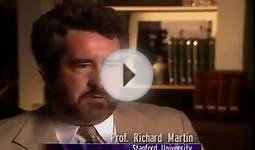 Greek Mythology God and Goddesses Documentary
Davina Claire # The Originals // god and monsters