Real Monsters theme song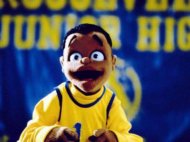 By Andrew Rabin
Last week, to complement our Roundtable Reviews of classic Nickelodeon shows, I started counting down the top 40 theme songs in Nick history. This week, we delve into the middle of the pack, with help from monsters, puppets, and Marc Summers.
32. Little Bear (1995-99)
The more you watch the theme song to Little Bear, the more confusing it gets. Little Bear leaves his family to walk off where he is followed by a parade of friends. They walk for several seasons before walking onto a whale who blows them up to the moon. They then return to Little Bear's family for a picnic. But what happens to the owl who joins Little Bear's parade? Why is he not invited to the picnic? Still, this serene theme fits with the series, and the sequence leaves no question as to who the main character is.
31. Welcome Freshmen (1991-93)
There is nothing bad about the Welcome Freshmen theme song. Visually, it does what I have asked of previous theme songs, clearly showing a high school setting and introducing the cast with character names as well as the actor names. But the music adds nothing. Literally any music could be added to this and it would seem just about the same. So this is a replacement level theme; it does not add anything to the show, but it does not subtract anything either.
30. KaBlam! (1996-2000)
The KaBlam! theme song is visually cool looking. The comic-style sound effect text is fun. The announcer is exciting. The whole thing works perfectly for the show KaBlam! was supposed to be, an animated sketch comedy show featuring the different types of cartoons one might find in the comics section of a newspaper. The problem is this wasn't the show KaBlam! actually was, and the most memorable characters, those from "Prometheus and Bob, " "Angela Anaconda, " and "Action League Now!" either do not appear at all in the intro or make only a brief cameo in that quick shot of a comic book. But shoutout to the season 2 theme song, which does not seem to be on YouTube, where Henry and June's dance is replaced with them doing the Macarena. Oh, 1997.
29. Rocket Power (1999-2004)
The theme is right to the point. This is a show about kids who board- skateboard, snowboard, or surf. There is not much there, but you also know pretty much what you are getting from this show.
28. Aaahh!!! Real Monsters (1994-97)
The theme suffers a similar, though less extreme, flaw as the KaBlam! theme. While the Real Monsters opening features the proper lead characters, the footage fails to highlight the humor that makes this a good kids show. With no outside knowledge of the series, a viewer may take the theme to be for a show intended to scare the audience (although one unlikely to do a good job in doing so). Still, the visual of a creature juggling his own eyeballs cannot help but be funny.
You might also like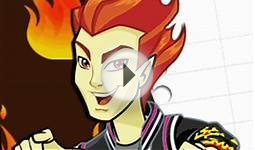 Monster High - characters theme song (All boys)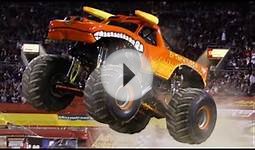 Monster Jam Theme Songs: El Toro Loco(Real)
Doc McStuffins ~ Light-up Melody Microphone with Stickers


Toy (DISNEY)




PRESS BUTTON AND SING ALONG.
BATTERIES INCLUDED.
LIGHTS UP AND PLAYS I FEEL BETTER
DECORATE YOUR MICROPHNE WITH STICKERS!
HERO LEAP 1 : Robot Wars


Mobile Application (Cobalt Play Bangladesh)




Amazing graphics
addictive style
simple control
20 awesome levels
super fun puzzle platformer
3D Ninja Warrior Run


Mobile Application (Cobalt Play)




Lots of levels to run through.
Beautiful ancient japan art.
Super simple controls and addictive game play.
A great soundtrack.

SHMUP WARS : Top Down Space Shooter


Mobile Application (蔡远玉)




100 Levels, yes 100 LEVELS to play through.
3 Amazing weapons to unlock and shoot in different dimensions.
Earn free coins when you keep the shop screen open.
Amazing twin stick controls perfectly tuned.

KILL THE BAD GUY PIXELS + GEOMETRY HERO JUMP


Mobile Application (蔡远玉)




3 amazing addictive games in 1.
MORE THAN 150 LEVELS to play and more coming EVERY WEEK in each update.
Super easy controls. Just drag in You Escape Sometimes 2, and just tap in Geometry Hero Jump.
Sweet music and cool retro style minecraft art.