Real Monsters Netflix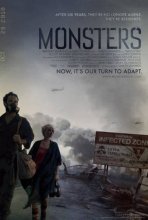 In my first "What's on Netflix" post in a while I would like to introduce you to a film I stumbled upon accidentally – Monsters.
I happened to be flipping through the channels on my satellite service one evening and came across the premier of this film before it was out in general release. I thought it was kind of odd to see this on TV first so I sat down to watch it. Boy am I glad I did.
Monsters takes place six years after an alien life form has taken root just south of the US – Mexico border. The US has constructed a giant wall across the border and the both the US and Mexican military struggle to keep the aliens suppressed. The film opens with the American military responding to an alien sighting and then quickly switches to San Jose where an American photojournalist is given the task of escorting his boss's daughter back to the states. What follows is the pair's journey back home through the Mexican "infected zone."
I started watching this film thinking I was going to get a little indie alien invasion story but it isn't that at all. The film is actually a road movie about two strangers trying to get home through a war zone. We see the pair deal with political prejudice, racial prejudice, fear, love, and all sorts of other human concerns. The aliens, while an ever present threat, are secondary to the struggle of just trying to make their way through a foreign country where they aren't exactly welcome. As the film progresses we are also treated to a deep character study of two people with different needs and hopes who find a common ground. The film shines in the character moments which shouldn't come as a surprise considering the two lead were already a couple and have since married. There is a chemistry between the two that we often don't get in the standard blockbuster fair.
I did have a few problems with the film. It bogs down in certain spots. I felt just a few extra sightings of the actual creature would have made the film flow a little better. You spend a lot of time waiting for something to happen with the aliens but the tension doesn't pay off until the end. Only then does the alien threat become real and immediate. I also would like to see a little more about how the invasion is affecting the world in general. It seems like the local population just accepts the situation. After six years I think there would be a little more unrest given the situation. Considering that this is an indie film (budget of under $500, 000), the story had to be character driven by necessity but the environment surrounding the characters seemed just a bit too settled for me.
You might also like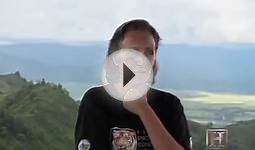 THE SEARCH FOR THE REAL HOBBIT: MONSTER QUEST - Paranormal ...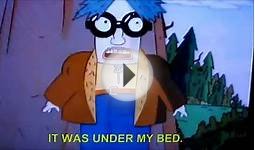 Aaahh Real Monsters Clip (wrestling reference)