Monsters New headphones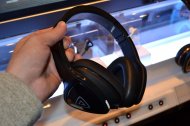 When it comes to CES exhibitors, there are those who display their products in a half-hearted "yes, we're here … " approach, and those who bring it. In its signature fashion, Monster definitely decided to bring it this year – like $5 million one-of-a-kind Lamborghini Veneno bring it. The dazzling sculpture of Italian flash and gravitas, powered by a booming Monster sound system, is the centerpiece to the company's spectacular show booth, most of which is concealed behind a velvet curtain.
As we passed through, our eyes were assaulted by a litany of products, including some brand new pieces like the robustly built Octagon headphones, the official cans of the UFC, as well as a limited edition of its Diamondz headphones encrusted with rhinestones, which we weren't allowed to photograph. But two products in particular really caught our attention.
The first were the new DNA Pro wireless headphones, which boast one of the coolest on-board control configurations we've come across in the segment. Instead of a panel filled with confusing control buttons, the right earcup sports one main button at the center for play/pause, accompanied by a touch-capacitive surface which allows you to simply swipe your finger for control. The design is extremely intuitive, and really fun to use, allowing you to swipe the surface horizontally to skip songs, and vertically along the side to control volume. The headphones have a 4-8 hour battery life, and they incorporate active noise canceling (ANC). They sounded solid when we gave them a listen, with decent balance and clarity across the spectrum, though we're not quite sure we'd want to shell out the $450 asking price. The DNA Pro wireless will be available in Q2 of this year.
The second toy we enjoyed was the Monster Go DJ. While the device has been out for a few months, we were given a hands-on demo by a seasoned record spinner, and he outlined a huge selection of options on the little bar, showcasing gobs of effects, looping, and cue points. It's all easily controlled by a combination of touch screens and hard controls. Features include 2GB of storage, a slot for a 32GB sound card, a mic input for field recording, and all the inputs and outputs you'd need to throw an off-the-cuff DJ party from your pocket. The Go DJ retails for $600 and is on shelves now.
With Shaq on site Monday, a roving goddess-like model on stilted platforms, the Lamborghini, and more, Monster once again proved it definitely knows how to throw a party. But under the glitz, there's also some cool gear we're excited to spend more time with. We'll likely be doing an in-depth review of most of Monster's new devices soon, so stay tuned.
You might also like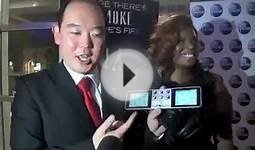 Monster Headphones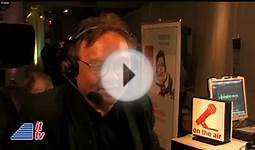 CES Unveiled NY 2011: New Headphones from Monster
Monster DNA On-Ear Headphones (White Grey)


CE (Monster Cable Products, Inc.)




Advanced noise-isolating design reduces ambient sound
Ear cushions for comfort during extended listening sessions
Dual audio input jacks let you link your MusicShare headphones together and share the audio
Durable yet ultra light materials withstand travel and continuous use
Customize your look with a variety of skins (sold separately)
New Cute Monsters University Disney Cartoon Hello Kitty Cable Tie Cord Organizer Headset Headphone Earphone Wrap Winder/ Fixer Holder/cord Manager/cable Winder (7 PCS cable Winder Mickey& Duck&Alien&Bear&Duck2&Green guy&Blue guy)
Wireless (JK)
100% Brand New and High quality,Fast shipping within 2-3 days,arrive within 7-15 days
Easy to install,Re-usable,fit for iPad, Apple iPhone 3Gs, 4G, iPod Touch and most of the Nokia, HTC,LG, SonyEricsson, Samsung models headphones
Eliminates the potential for damage to fiber optics or cables caused by over-cinching or accidental cutting
Compact and lightweight
Weather proof, never rusts - interior and exterior use
Bluetooth Headphones Anear Stereo Wireless Bluetooth Earbuds for Sport Running Gym Exercise Sweatproof CVC 6.0 Noise-Cancelling Wireless Bluetooth Earphones W/Microphone Compatible with iPhone 6, 6 Plus, 5 5c 5s 4 and Android--Black & Green


Wireless (Anear)




True Anear Tech Our Anear bluetooth headphones defines elegance and functionality, and are equipped with bluetooth 4.0 + EDL in headphones 60% than the wireless...
Pure Sound In-ear With functional user interface, ergonomic earbuds design, sweat-proof, and a 10-meter working distance, our bluetooth headphones offering hours...
Universal Device Compatibility Anear headphones are compatible with most bluetooth-enabled devices & apps. An innovative one-to-two technology allowing the...
Simple-to-use Control all functions of music (volume, sound, song selection) and calls the last dial number from phone on the headphones directly. Up to 5 hours...
Package Contents Anear wireless headphones, user manual, charging cable and earbuds.

Beats By Dr. Dre Monster iBeats In-Ear Earphones, White


CE (Thailand)




New Monster Beats by Dr Dre iBeats In Ear Headphones Earphones White
Delivering high-quality sound, the Monster Cable Products iBeats are in-ear headphones that are designed for use with your iPad, iPhone and iPod,.
These Monster headphones fit comfortably in to your ears and also cancel the external noise, so that you can enjoy uninterrupted music on the go
Furthermore, these in-ear headphones incorporate driver pumps that produce a balanced sound output with refined base.
Ships in Original Monster iBeats Black Pouch Pictured

[ New Design] iXCC ® 4Ft Male to Male 3.5mm Universal Gold Plated Design Tangle-Free [Tangle-Resistant] Slim Thin Auxiliary Audio Stereo Cable Cord for [All 3.5mm-enabled devices] iPhone, iPad, iPod, Samsaung Galaxy, Samsung Note, HTC M9, Kindle, Android, Smartphone, Tablet and MP3 Player


CE (iXCC)




4 feet long sturdy 3.5 mm Aux stereo cable wire is ideal and convenient for connecting portable audio devices, such as an Apple iphone 3G/3Gs/4/4s/5/5c/5s/6/6 plus/6s/6s...
Built with dual-shielding, high-quality polished metal connectors and corrosion-resistant gold-plated 3.5mm connectors. The plugs are durable enough to withstand...
Seamlessly transmits stereo audio for high quality sound, while ensuring reliability and reducing signal loss and noise. The cable s flexible jack is perfect for...
The design prevents tangling (tangle free, non tangle). This makes the cable easy to store and fit with phone cases, since you can wind it without having to worry...
This new design available in: 4 foot and 8 foot long. 18-month warranty.