Brave VS Monsters University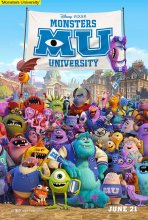 Our favorite two lovable monsters finally came back on June 21 in 'Monsters University, ' the sequel to 'Monsters Inc.' The original was such a huge hit, and Pixar flicks never disappoint — so did the sequel live up to the huge expectations?
Monsters University, the sequel — well, actually it's a prequel — to Monsters Inc. hit theaters on June 21 with huge fanfare. Mike (Billy Crystal) and Sulley (John Goodman) were finally back! Pixar has historically made great movies — just look at how many Oscars they've won — and they've been especially capable with sequel movies, so we certainly have high hopes for their newest installment. But let's see what the critics had to say about Monsters University!
'Monsters University' Reviews
New York Times
The voices are pleasantly recognizable, and the details meticulously playful, like the jagged, teethlike contours of a building's arched entrance. But the story remains disappointingly familiar, mired in recycled buddy movie dynamics and the usual child-developmental directives about finding yourself and learning to work well with others. Both the originality and stirring emotional complexity of Monsters, Inc., with its exquisitely painful and touching parallels with the human world, are missing, which might be a lot less noticeable if Pixar had taken some bold leaps elsewhere: like making a movie in which girls and women are as central to the story as the boys and men of Pixar, as crucial as Mike and Sulley, Nemo and Marlin, Andy and Buzz and the other creatures great and small and male.
Los Angeles Times
Remember the days when Pixar meant perfection? When you could count on its animation to amaze, its stories to sweep you up? Remember Up? Or the smooth ride in Cars? The Toy Story pals whose friendship was anything but plastic? The love among the ruins unearthed by Wall-E? A clownfish dad's deep-sea desperation in Finding Nemo? What has happened to the memory makers who gave us all that? They are nowhere to be found at Monsters University, the latest shiny new movie to roll off what increasingly feels like the Disney-Pixar assembly line. Cars 2 certainly sputtered. Even Brave, which won the 2012 Oscar for animated feature, didn't seem especially brave. Monsters University is not so much substandard. It just isn't the Ivy League.
New York Magazine
Monsters University is funny, fast, and likable, with occasional moments of real visual surprise and laugh-out-loud offhand gags: A schlumpy school librarian turns into a looming, horrific mountain of evil upon hearing loud noises in her library; a sweet monster mom rolls up the car windows to be alone with her "tunes, " which turn out to be death metal; a mild-mannered freshman struggles to learn the true value of his tentacles. But much of this is low-hanging fruit — milking the brilliant conceit of the original movie for all it's worth. Call it the harsh bigotry of insanely high expectations, but it's hard not to feel a little let down by . Perhaps only Pixar could give us such a rare beast: a delightful disappointment.
You might also like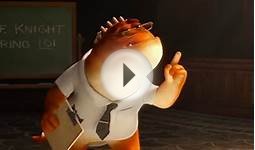 Monsters University Final Trailer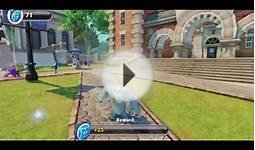 Monsters University Movie Based Game: Disney Infinity ...
Kill The Ragdoll Stickman Boss 3 : Cash Edition


Mobile Application (Cobalt Play Bangladesh)




Throw the boss off buildings and get rich at the same time.
Compete against other players and take their cash.
Lots of levels to play.
Fill your vault with money and gold.
Monsters Vs Aliens Both Sides Polyester Velvet Throw Pillow Cover For Home Decor 18x18


Home (Wjj7c Throw Pillow Cover)




Printing On Both Sides.Size:18x18
This Item Is 100% Handmade.
This Cushion Cover Has An Invisible Zipper.
Easy Wash And Care: It Can Be Machine Washable,Tumble Dry.
Delivery Time:7~15days.
Monster Pop Bubble Buster 2 (Match 3 game) - from Panda Tap Games


Mobile Application (Cobalt Play)




Classic match 3 game play with a puzzle twist. Blast through each level by collecting only the target color bubbles.
Battle boss monsters in special levels.
Pick up diamonds and potion to unlock new lands.
6 amazing worlds (Evil Forest, Scream Castle, Rock Forest and more).

iPhone6 Plus Sports Armband, Nancy's shop Easy Fitting Sports Universal Armband With Build In Screen Protect Case Cover Running band Stylish Reflective Walking Exercise Mount Sports Sports Rain-proof Universal Armband Case+ Key Holder Slot for Iphone 6 Plus (5.5 Inch) (Pink)


Wireless (Deego)




Designed specifically for iPhone 6 Plus, Lightweight armband keeps your phone secure and protected.
Water Resistant and sweat-proof funtion to better protect your mobile phone, make you feel more comfortable during exercise,Due to varying color display...
Built in Reflective strip for safe running in low light conditions. Built-in Key holder. Cutouts for easy access to headphones port and controls. A sweat resistant...
Material: Lightweight soft neoprene that is molded to twist and bend but will not stretch out of shape. Washable with gentle soap and water, then air dry. Can keep...
Functionality: Provide excellent protection during sport, such as running, biking, jogging, walking, working out etc. Touch screen works through the clear cover

Men's Thor Hammer Logo T-shirt Long Sleeve White


Sports (BEVH)




100% Cotton.Good Quality Fabric
7-14 Business Days To USA By USPS
O-Neck Long Sleeves Tee
Cold Wash And Hang Out To Dry
Advanced Environmental Printing Healthy Printing Ink.
Q&A
Brave vs. Monsters Inc vs. A Bugs Life? | Yahoo Answers
I'd go with Monsters Inc, Brave, then A Bugs Life.
I personally like all of these movies so none of them are hard to watch and they all have really good plot lines, as far as disney movies go anyway.