Monsters Inc. Rating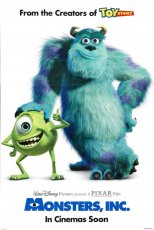 Reviewed by: Douglas Downs
STAFF WRITER
Good
Moviemaking Quality:
Primary Audience:
Family (6+)
Genre:
Animation Fantasy Adventure Comedy Kids Family
Length:
1 hr. 32 min.
Year of Release:
Relevant Issues
friendship
rivalry / competition
conspiracy
greed
corruption
redemption
Adventures in the rainforest! Learn about the Creator of the universe by exploring His marvelous creation. Fun for the whole family with games, activities, stories, answers to children's questions, color pages, and more! One of the Web's first and most popular Christian Web sites for children. Nonprofit, evangelical, nondenominational.
Featuring:
John Goodman … James P. "Sulley" Sullivan (voice)
Billy Crystal … Mike Wazowski (voice)
Mary Gibbs … Boo (voice)
Steve Buscemi … Randall Boggs (voice)
James Coburn … Henry J. Waternoose (voice)
Jennifer Tilly … Celia (voice)
Bob Peterson … Roz (voice)
John Ratzenberger … The Abominable Snowman (voice)
Frank Oz … Fungus (voice)
more »

Daniel Gerson … Needleman/Smitty (voice)
Steve Susskind … Floor Manager (voice)
Bonnie Hunt … Flint (voice)
Jeff Pidgeon … Bile (voice)
Sam Black … George Sanderson (voice)
Jack Angel … (voice)
Bob Bergen … (voice)
Rodger Bumpass … (voice)
Gino Conforti … (voice)
Jennifer Darling … (voice)
Patti Deutsch … (voice)
Pete Docter … (voice)
Bobby Edner … (voice)
Ashley Edner … (voice)
Paul Eiding … (voice)
Katie Evans … (voice)
Bill Farmer … (voice)
Keegan Farrell … (voice)
Pat Fraley … (voice)
Terese Ganzel … (voice)
Taylor Gifaldi … (voice)
Marc John Jefferies … (voice)
Joe Lala … (voice)
Noah Luke … (voice)
Sherry Lynn … (voice)
Danny Mann … (voice)
Mona Marshall … (voice)
Mickie McGowan … (voice)
Laraine Newman … (voice)
Kay Panabaker … (voice)
Bret Parker … Trailer Mom (voice)
Phil Proctor … (voice)
Josh Qualtieri … (voice)
Guido Quaroni … (voice)
Jan Rabson … (voice)
Lisa Raggio … (voice)
Joe Ranft … (voice)
Sophia Ranft … (voice)
Katherine Ringgold … (voice)
Bob Scott … (voice)
David Silverman … (voice)
Jim Thornton … (voice)
Lee Unkrich … (voice)
Wallace Shawn … Rex (outtakes) (voice) (uncredited)

Director:
Pete Docter
David Silverman (co-director)
Lee Unkrich (co-director)

Producer:
Pixar Animation Studios
Walt Disney Pictures
more »

Darla K. Anderson … producer
Karen Dufilho … co-producer: Company play
John Lasseter … executive producer
Kori Rae … associate producer
Andrew Stanton … executive producer

Distributor:
Disney/Pixar
You might also like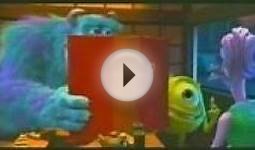 Monsters Inc. Havoc in the Restaurant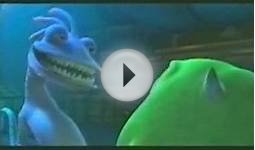 Monsters Inc. Kidnaping Mike
Melissa & Doug Monster Plush Bowling Game


Toy (Melissa & Doug)




Made using the highest quality materials
Tested to be safe and durable
Great fun for your baby and child
Learn coordination
Brightly colored
Includes 6 pins and 1 ball
Soft light-weight plush
Recommended Age Rating is 2 years and up
Disney / Pixar Swim Trunks - Toddler Boy (3T)


Apparel ()




Elastic waistband
UPF 50+ rating
Nemo, Squirt, Buzz, Woody, Sulley & Mike graphic lends fun flair
Monster Cable PowerCenter PRO 200 2-Outlet Surge Protector


CE (Monster)




Model No. Mp Pro 200
2 Outlets
0 Joules
Dual Mode Plus Advanced Surge Protection With Audible Alarm & Ac Power Disconnect Circuitry
Clean Power Stage 1 Filtering Reduces Ac Power Line Noise
CleanPower Stage 1 filtering reduces AC power line noise for improved audio performance
Dual-Mode Plus advanced surge protection features an audible alarm and AC power disconnect circuitry for complete protection
Ultra-compact design with 2 protected AC outlets easily packs for travel to the studio or concert
2 LED indicators confirm when SurgeGuard surge protection is activated and when external AC wiring is properly grounded
0-joule surge absorption rating provides superior surge protection

Aceguarder New Htc One M7 Waterproof Shockproof Dirtproof Snowproof Protection Case Cover for HTC ONE M7 Gifts Outdoor Carabiner + Whistle (Aceguarder Brand) (Purple)


Wireless (ACEGUARDER TECH digitizer defender case docking station designer external battery innogie mini earphones external battery earbuds exercise armband floral case factory unlocked flower fisheye for sale apple paramore cubs juicy couture ariel owl lionel messi leopard fall out boy manchester united lace protective rubber atlanta falcons anchor cheetah mercury tupac weird regular show pandamimi panda american flag pikachu popular sloth little mermaid keep calm regular show little mermaid camo vineyard vines cheetah abstract angels baseball tinkerbell incipio covers air folio case waterproof front screen replacement fisheye jelly case jogging juice pack jordan shoe case hard hybrid heavy duty hdmi cable holster holder housing incipio ihome invisible shield glass incase iron man case international version unlocked minnesota vikings yellow philadelphia eagles eagles london amazon softball mac miller graffiti bling best volleyball boston bruins for men buffalo bills kevin durant bling knicks new orleans saints monsters inc for teen girls star trek for girls kentucky wildcats denver broncos supreme cases covers air mini used unlocked 16gb usb cable unlock waterproof case for women wallet wall charger wood case wireless charger otterbox defender symmetry cover running armband refurbished repair kit screen replacement speck minecraft survivor protective girls slip silicone kids folio speck owl cygnett marware belkin survivor british tiffany bear motion pandamimi clamcase protective 16gb kids proof chicago blackhawks splash protective new york yankees steelers for guys grumpy ca unique peacock little mermaid personalized lizard bob marley zac efron pink kraken rotating trident ionic waterproof ipad 1st generation case best dodo snugg ipad mini case ipad retina display case incase kid proof ozaki ted baker rugged survivor cool hard candy yoobao western targus lifeproof princess hype child proof marilyn monroe notepad stitch i blason portfolio fintie targus griffin survivor gumdro)




HTC ONE M7 WaterProof: Fully submergible to 6.6 feet / 2 m for 30 minutes
Dirt Proof: Sealed from dirt & dust particles - meets or exceeds IP-69 Ingress Protection Rating
Shock Proof: Withstands drops from 6.6 feet / 2 m
Snow Proof: Sealed from snow & ice - meets or exceeds IP-69 Ingress Protection Rating
Please test the product waterproof performance before use your htc one m7.

Monster AudioVideo PowerCenter AV 700 with Surge Protection and Color-Coded Outlets


CE (Monster Cable Products, Inc.)




Light weight. High Performance. Beats look.
High Definition Sound
Proprietary titanium coated driver technology
Tri-fold design and travel case for easy storage
Comfortable, lightweight design, perfect for active lifestyles
$25, Monster guaranteed connected equipment protection and lifetime warranty.
1295 joule rating provides higher level protection of surge absorption and Color-coded outlets for error-free hookup.
Audible surge alarm, visual surge indicator, and wiring fault indicator provides status of protection.
Dimensions: 1.40 H x 3.88 W x 10.13 L; weight: 2.30 lbs.
Includes Monster Cable® SV1F-1M coax cable with 24k gold contact connectors with 8 ft. Monster AC power cable with FlatProfile? right angle plug provides flexibility...