Monsters Inc. Intro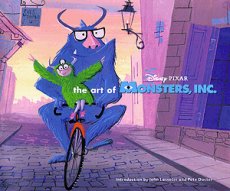 What a treat!
Pixar's was, as far as I'm concerned, the best animated feature released this year. This art book, published by Chronicle (not Disney - how odd?), is the only "making of" tie-in created for the film and a delightful visual companion to the movie.
This book is a wonderful collection of preliminary inspirational artwork created for the film. Most of the pieces selected contain characters and concepts that bare no relation to the monsters and mayhem in the final product. But by allowing us to see all the hard (but funny) creative work that goes into the visual decision making, the filmmakers shed some light on the secrets of creating classic animation; they add to our knowledge of the development process and garner our respect for the enormous talent at large within Pixar.
Inspirational art is a vital component of every great animated film - but average moviegoers never get to see any of it. As John Lasseter and Pete Docter point out in their intro, "Once the film is completed, the inspirational artwork is filed away in the archives, never to be seen by the general public."
What makes this book so enjoyable is the array of talent Pixar assembled for inspiration. The paintings, sketches and layouts, done in pastels, markers, acrylics, gouache, pencils and mixed media presented here, are just plain fun to look at. Many of the artists were given a few details about the settings or the characters, and were then allowed to let their imaginations run free.
Though famed for their landmark work with computer graphics, this book reminds me that Pixar is first and foremost a "cartoon studio" - the finest in the world, at this point in the 21st Century. Dominique Louis' painting of Sulley's apartment exterior, showing a street filled with sinister looking brownstones, or Harley Jessup's grand concepts for the Monsters Inc. factory, are filled with tiny details that can't be written. The inherent humor of these design defy a literal, verbal description - and the wit in the color and line cannot be produced in a word processing program. (Yes, even color has wit - as amply demonstrated in Tia Kratter's color studies of Sullivan's fur and Dominique Louis' color script thumbnails.)
It's joyous to see a variety of professional cartoonists letting loose with a free reign to create creatures that defy logic and all sense of human comprehension.
The secret of Pixar's success (only one of their secrets, I might add) is that they aren't out to use the computer to recreate reality. They know the computer can already do that. They are trying to make authentic, honest-to-goodness, animated cartoons that tell great stories and touch the heart.
You might also like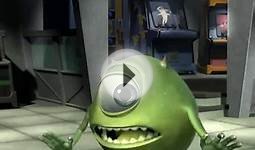 Monsters Inc. Wreck Room Arcade - Monster Mayhem Intro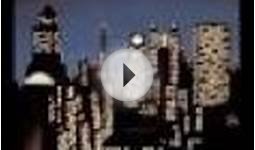 Monsters Inc. Scream Arena Intro
Spit'N'Run


Mobile Application (BITBROS INC.)




Classic 2d platformer gameplay with gorgeous 3d environments
21 levels across 5 unique worlds
Defeat heaps of monsters and powerful bosses
Dress Loogie in your favorite way
Fun for all ages