Mike Monsters Inc. girlfriend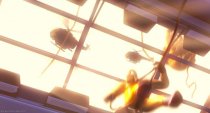 Mike and Sulley are the two main character monsters who work for Monsters Inc. Their life revolves around their career and they are good worker drones. They are a top scare team for the power company run by a crooked creepy old guy. Early on we're hit with the use of scarcity as a means to alter the behavior of the population when Sulley forces Mike to walk to work citing a scream shortage as the reason. The screams, fear expressed by children when scared by a monster, are collected by teams of monsters who work an assembly line of closet doors which open to little children's rooms.
Power for the monster civilization comes from the fear of little children. The population of monsters are held in constant fear from multiple sources.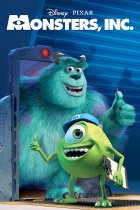 They fear losing their power because screams are harder to come by and "children these days just don't scare as easy". They fear the children they scare for power because the children carry disease and "a single touch could kill you!". They also fear the CDA, a paramilitary like authoritarian organization responsible for among other things: quarantine and decontamination from contact with children, and infected artifacts that may find their way from 'our' world in to theirs. One poor monster is repeatedly attacked by this Child Detection Agency over quarantine related hysteria, reported to authorities by his own friend and co-worker! "2319, we have a 2319!"
Mike and Sulley unwittingly stumble in to a nefarious plot. The head of the corporation (secretly under investigation by the paramilitary authority) wants to secure his corporations monopoly on power using a new technology to harvest the screams of kidnapped children. "I'll kidnap a thousand children before I let this company die!" Henry J. Waternoose III says at one point. This puts Mike and Sulley in direct contact with a child, a would be kidnapping and experimentation victim, who slips through an open closet portal in to the monster civilization. It's a huge no-no to harbor dangerous disease ridden children. So Mike and Sulley become targets of the CDA for concealing and protecting the obviously harmless little girl who Sulley affectionately names Boo.
You might also like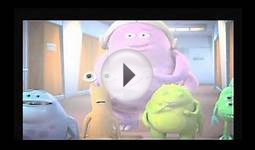 Animated Movie - Monsters Inc. 2001 in English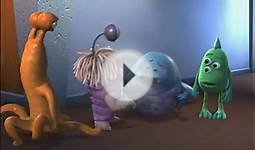 Monsters Inc. - Boo - Mike Wazowski
Disney Monsters Inc. 15" Plush Celia Doll


Toy (Disney)




Celia Mae Plush - Monsters, Inc. - 15H
Detailed plush sculpturing - Embroidered features - Soft faux fur collar
Genuine Original Authentic Disney Storepatch
Polyester
Part of our Monsters, Inc. Plush Collection, each sold separately
iPhone6 Plus Sports Armband, Nancy's shop Easy Fitting Sports Universal Armband With Build In Screen Protect Case Cover Running band Stylish Reflective Walking Exercise Mount Sports Sports Rain-proof Universal Armband Case+ Key Holder Slot for Iphone 6 Plus (5.5 Inch) (Grey)
Wireless (Deego)
Designed specifically for iPhone 6 Plus, Lightweight armband keeps your phone secure and protected.
Water Resistant and sweat-proof funtion to better protect your mobile phone, make you feel more comfortable during exercise,Due to varying color display...
Built in Reflective strip for safe running in low light conditions. Built-in Key holder. Cutouts for easy access to headphones port and controls. A sweat resistant...
Material: Lightweight soft neoprene that is molded to twist and bend but will not stretch out of shape. Washable with gentle soap and water, then air dry. Can keep...
Functionality: Provide excellent protection during sport, such as running, biking, jogging, walking, working out etc. Touch screen works through the clear cover
Mike Wazowski Monster Inc Pencil Case School Pencil Case Cosmetic Makeup Bag Storage Student Stationery Zipper Wallet


Office Product (AD GAINAI)




Material: Made of high quality nylon oxford for long term durability
The pencil case can keep stationery protected and safe.
It feels soft and has secure zipper closure.
Lightweight, it is convenient and easy to carry
If you do not like this product, you can visit my storefront, click the seller name to go to storefront page to see more different styles.