Boo from Monsters Inc Costume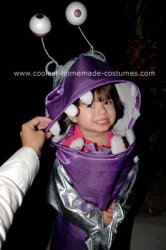 By Luisa
(San Diego)
Homemade Little Boo from Monster's Inc Costume
Every time our daughter wore her hair in pigtails, people mentioned she looked just like Boo from Monster's Inc, so this year was the perfect opportunity for her to be Boo for Halloween!
I looked online for patterns or ideas, but only a few came up and I wasn't into improvising. So off to the fabric store! My daughter is 2 yrs old, so we didn't need much fabric to begin our Homemade Little Boo from Monster's Inc Costume. We bought: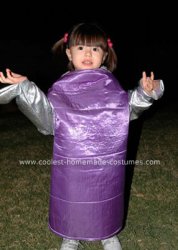 - 1.3 yards of purple for the body part
- some gray metallic shine fabric for the arms (1/2 yard)
- cheap gray fabric for lining the body and hood
- iron-on batting to quilt the body and hoodie
- Velcro to close the costume on the back
- 2 Styrofoam balls and plastic tape to keep the hood open and stretched.
I cut a rectangle for the body, quilted it and added the horizontal lines as in the original. We then made the arms, improvising as we went along. I cut some slits on the body and pinned the arms to it. Luckily it worked out perfectly. I'm sure a more experienced seamstress would have done it more easily.
To create the hood part, I used paper towels and tape and made a mold to make sure I was cutting the right pieces. Somebody recommended I buy muslin and make the costume out of that first to ensure no mistakes, but I ran out of time. The mini paper toweled model worked fine.
Final details included:
- buying the yarns for the hair and sewing them inside the hood as I was closing the pieces.
- attaching the eyes with an old metal hanger. (My hubby recommended I add a spiral to the hanger's tips to screw the eyes to and prevent them falling out. Clever!)
- finding the hair accessories for my daughter, and
- adding shoulder straps to the costume so it wouldn't slip off.
My little one was totally into it. I'm not very experienced with the sewing machine, so it took me aprox. 10 hours to make it. One tip: don't wait till the week before Halloween to make it! It was a super fun though.
You might also like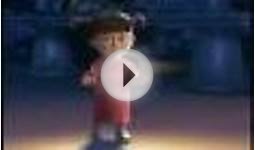 Boo (Monsters Inc.)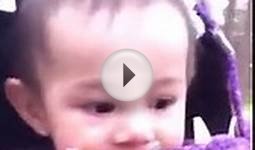 Homemade boo from monster inc. costume on a 15 month baby ...
Child Boo - S 95012S (japan import)


Toy (RUBIE'S JAPAN)




body size: Length: 67cm
target Gender: unisex
up to 7 years 0 months from 5 years 0 months: Age
battery type: Polyester
The main production country: China
Disney Pixar Monsters, Inc Deluxe Talking BOO Toddler Doll -- 15'' H (2012)


Toy (Disney)




Exclusive Boo toddler-size doll - 15H
Detailed features and rooted hair - Authentic costume
Press Boo s belly to hear her speak multiple phrases
Plastic - Imported
Requires 3 x AG-13 button cell batteries, included
Monsters Inc. - Boo Feature Plush


Toy (Spin Master)




Cute Monster Costume from Monsters, Inc. Film
6 Iconic Boo Sounds & Phrases
Press on Her Belly to Activate Sounds
Huggable Boo Feature Plush!

Disney Boo in Monster Outfit Monster's Inc Plush


Toy (Disney)




16 H
Embroidered Detailing
Yarn hair
Polyester

Disney Monsters Inc. Exclusive 16 Inch Deluxe Talking Doll Boo


Toy (Disney)




Exclusive Boo toddler-size doll
Detailed features and rooted hair
Authentic costume
Press Boo s belly to hear her speak multiple phrases
Requires 3 x AG-13 button cell batteries, included