Garden Monsters menu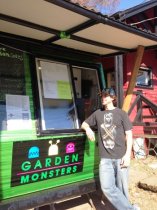 Location: 3200 SW Moody – The Gantry
Hours: Tue. – Sat. 11am – 8 PM, Sun. 11:00am – 5 pm, Mon. 11am – 3:30pm
The Story: Maybe it's this spring weather tease, but I've found myself craving fresh, full meal salads lately. Not some lettuce thrown on a plate with some ranch dressing many restaurants pass off as "salads". No, we're talking the kind of salads that will fill you up for the afternoon, but unlike say, eating a Double Royale with Cheese burger, don't make you feel too heavy afterwards.
The concept of Garden Monsters is simple, fun, and makes for an interesting menu. You can pick from one of their signature salads such as the Paul Bunyon with grilled chicken or steak, lettuces, a ton of veggies, garlic croutons and choice of dressing. Or, the Loc Ness Monster – Grilled Salmon or Grilled Shrimp, Lettuces, Water Chestnuts, Dried Cranberries, Red Onion, Grape Tomatoes, Lemon Wedge, Garlic Black Pepper Almonds. WOWZA!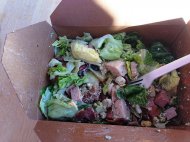 There's also their "Build Your Own Monster": pick a base salad, add on toppings, and one of their many housemade dressings. Salads can be made vegetarian, vegan, almost all are Gluten Free. You can choose a bowl salad, or if you'd like turn it into a giant wrap sandwich. Offerings are wide and varied and made to order. Genius! Garden Monsters tells their story so well in their own words on their website, I'll just let them do the talking:
My name is Kyle Hulings, Founder of Garden Monsters. For years I have been turning salad into a meal, loading my bowl with a vast array of meats, veggies, cheeses and dressings. All to often I felt that the only way to really get my money's worth was to make it at home, as time and time again I found myself overpaying for a tiny, bland, three-day-old and all-around weak salad.
I am also often faced with the challenge of coordinating meals and eating out with several of my close friends and family members, as many if not most have dietary needs. Some are sensitive to gluten, others dairy, countless varieties of low carb and low calorie diets, vegetarians, vegans, Celiacs and the list goes on. I dreamt of a place where anyone could eat at, without sacrificing taste, and with the body's needs kept in mind. These experiences helped me develop Garden Monsters' core values.
You might also like
WilsonBaking Love Collection - Lovely Garden Theme Silicone Fondant Lace Molds Serie - Fondant and Gum Paste Silicone Mold Cake Molds for Kids


Kitchen (WilsonBaking Love Collection)




Mold Size:8*5.8*1.7cm Weight:80g
Material:Silicone (Some Model may be Random color)
Help your Bake inspiration
Most popular in asia (Hotel and restaurant use for child birthday or child menu)
High Quality only MTOO, MTOO is global network store that customer ensuring and confident to shopping with
Bundle Monster Creative Scrapbooking Craft Decorative Grosgrain, Stitching, Petersham, Satin Ribbon Roll Mixed Lot- Set 1


Art and Craft Supply (Bundle Monster)




Create your own special place with this dcor ribbon. Comes in a multi-rolled set with different cute designs.
Each roll of ribbon will come in one of these 3 popular widths: 3/8, 5/8, and 7/8.
Ideas are endless, use for: scrapbooking, card making, crafts, frames and so much more.
Each roll contains 3 yards of ribbon for a total of 18 yards of ribbon per set.
*NOTE: View selection menu carefully to check what you are ordering. Not all sets are exactly the same, please review product description for more information.*

Paper Monster LA4 9" Throat Laminator


Office Product (Paper Monster)




Laminates up to 230mm width
On/Off/Temperature Setting
Dimensions - 6.7 H x 35.8 W x 12 D
Childs play to use and cleverly designed to store just like a book.
Integrated Storage Platform

Beautiful Trees Beach Sunshine Cases / Covers Design Special For iPadmini Style No.1


Wireless (Huaguoshan)




Designed for easy access to all the ports and buttons for your phone.
Sides are made of hard TPU material that offers unmatched grip and protection.
Printed on thin metal back using sublimation technology to offer long lasting design.
Careful packaging to protect the goods from possible damage.
We ship our products within 24 hours,but weekend.