Beast Monsters among Men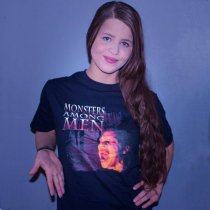 We're hoping you'll be the next to join us on this journey to get this movie made!
Our perks are not just aimed at raising funds, but at giving you a window to the finished film and letting you even be part of the project. All perks include your name in the credits.
Also, most perks include a link to the full length trailer with a minute and a half of footage not shown in the campaign video. The trailer features the talents of this outstanding cast and crew:
Ryan Blazic Rick Shoemaker
Jonathan David Dawn Sims
Angela DeGarmo Alecia Svensen
Anthony Kline Matthew Wesener
Kevin Nugent Keith Zahn
T-Shirts!
We also just started a T-shirt promotion! This T-shirt as worn by our outstanding actress Kristina Michelle can be yours with several of our perks in either white or black in S, M, L, XL, and XXL sizes.
Check out our new Basic DVD packages + Bonus Films!
We have new bonus films for several of our perks! The first is Cameron Scott's terrific Post Mortem America 2021 that stars three of our cast members (Jim O'Rear, Michelle Shields, and Keith Zahn).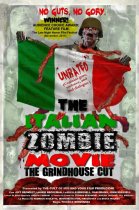 The second and third are two of our producer Tom Berdinki's best films. You can now own his zombie masterpiece The Italian Zombie Movie: Grindhouse Cut and The Giant Rubber Monster Movie: Sascratch Versus Afrodesious, the prequel to his upcoming Giant Rubber Monster Movie 2.
New HD DVD!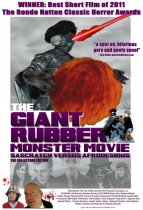 If your looking for a unique cinematic experience, select our limited time Associate Producer perk which includes a free bonus HD DVD player with 5 HD DVDs from the selection below! Only two available.
In addition, if you're interested in Project Dark Films' previous work, you can choose to watch the 25 minute short film The Suicide King as a perk and view it's trailer under the Gallery tab at the top of the screen.
There will be perks added throughout the campaign, so check back often!
Please be advised perks associated with receiving a copy of the Monsters Among Men movie, premiere, etc. will be delivered after the film has been shot, been through post production, and is completed.
You might also like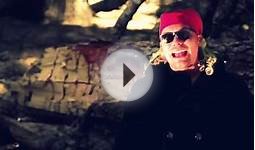 Dirty B.O. : BEAST : A MONSTER AMONG MEN : MOVIE REVIEW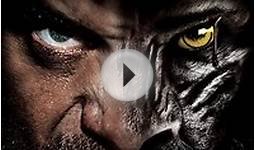 Beast: A Monster Among Men
Werewolf: The Beast Among Us - Unrated Edition


DVD (Universal Studios)




ACTION/ADVENTURE
Run Time: 187
Release Date: 5/28/2013
GUY WILSON STEPHEN REA

Populous - Nintendo DS


Video Games (Xseed)




A Classic is Reborn on the Nintendo DS - The interface is built around the stylus and touch-screen controls while retaining the feel of the classic; Actions taken...
Additional Gods and Miracles - Five different elementally imbued gods, each with their own unique miracles and demon counterpart, are now selectable rather than...
More Single-Player Missions and Variety - Challenge Mode with 50 missions to clear as well as Free Play Mode including a "Find The Warrior" mini-game
4-Player Wireless Multiplayer - Versus Mode allows up to four players to compete, unleashing disasters such as earthquakes, tidal waves and volcanic eruptions to...
A Must-Have for Populous Fans - The most popular and classic maps from previous editions pay homage to the roots of this legendary series