Monsters High Dolls names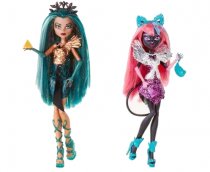 Monster high dolls are a huge hit with girls everywhere. As parents, you should skip the Christmas rush and prepare to buy monster high new dolls for 2015 now. Most store don't have them in stock yet but you can pre order them so that you can be confirmed that your kids will get them.
Let's start by knowing the names and characters for new monster high dolls in 2015.
New Draculaura, Clawdeen, Catty, Operetta, and Nefera monster high dolls in 2015: Boo York and special collector item
Before looking at new characters, let's look at old and popular characters who continue to get new costumes and figures to coincidence with their new TV shows.
Boo York monster high dolls: There is a 12th TV show special called Boo York, Boo York. For this show, there is a new line of 2015 dolls that feature popular characters: Draculaura, Clawdeen, Catty, Operetta, and Nefera. Below shows how their new costumers will look. They should in stores already in April 2015. I just check Amazon and most are running low on stock! Buy them now using this link.
Boo York Nefera De Nile and Catty Noir: Besides the 6 boo york monster high dolls that are already on sale, there is going to be 2 additional figures that will be released in May or June, summer 2015. Check out the images below to see how the new 2015 Nefera and Catty Noir monster high dolls look like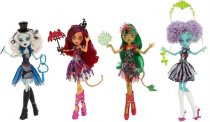 New Draculaura monster high doll 2015: One of the most popular characters is Draculaura and this is her doll figure for 2015. Looks awesome. Prepare to pre order this one if you don't want to be left without one when it is released.
Freak du chic monster high dolls: There is will a new collection called freeak du chic that features the following characters – Frankie Stein, Toralei Stripe, Jinafire Long and Honey Swamp. These are expected to be released around June 2015.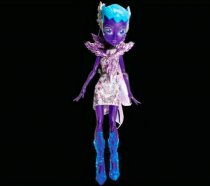 New monster high dolls characters and names in 2015
Let's start with all the new monster high characters that will be introduced in 2015
ASTRANOVA monster high doll: Astranova has an alien origin and makes her appearance in the TV special Boo York. She possess magic powers and is probably going to become a hot favourite among girls
Elle Eedee: A new character that appears in the Boo York, Boo York TV show mentioned above. It is an interesting name and you can see how the Elle Eedee toy figure looks like.
Monster Exchange dolls: There will be a number of new characters joining the Monster doll cast. The names of these new characters include: Isi Dawndancer, Kjersti Trollson, Batsy Claro. Below is a look at their designs. Unfortunately, there are no images currently for any of Isi Dawndancer, Kjersti Trollson or Batsy Claro Toys.
You might also like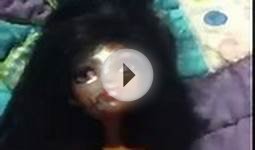 Monster high name a doll contest (NOW CLOSED!)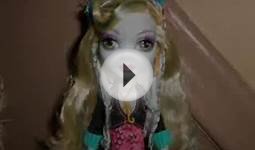 Monster High Doll
Monster High Frights, Camera, Action! Viperine Gorgon Doll


Toy (Mattel)




Viperine Gorgon, a girlie gorgon girl from Barcelgroana, can turn the creepiest character into the most boo-tiful mon-star with her rockin make-up skills
This artist gives monster makeovers with her color palette and makeup brush (that she can hold in her hand)
Store them in her stone-cool blue makeup box that doubles as a spooktacular handbag
A reptilian, pink hairdo tiara completes her mesmerizing look
Doll also comes with signature-style brush, doll stand and diary detailing details the tabloids would love
Monster High Freaky Fusion Bonita Femur Doll


Toy (Mattel)




Monster High has an entirely new class of monsters - hybrids!
Meet Bonita Femur, who s part Skeleton and part Moth but 100 percent monster
Her black dress is high-in-the-sky fashion with a moth-inspired print, shredded short skirt and pink netting on the skirt overlay and shoulders
With ombre shading from pink to black, her elaborately decorated boned wings extend from head to toe for a boo-tiful effect
Doll also comes with a diary and hairbrush
Ever After High First Chapter Madeline Hatter Doll


Toy (Ever After High)




At Ever After High, the teenage sons and daughters of the most famous fairytales ever after turn tradition on its crown!
Madeline Hatter is the cheery daughter of the Mad Hatter
Posable dolls are dressed in spellbinding fashions that take a modern spin off their parents legacy
Comes with a doll stand, signature-styled headpiece, detailed jewelry, handbag, pair of spellbinding shoes and doll hairbrush
Get each character s hexclusive story in her story bookmark

Monster High Haunted Student Spirits Kiyomi Haunterly Doll


Toy (Monster High)




When things take a spooky turn in Monster High Haunted movie, the ghouls make some new friends to save Spectra Vondergeist from a life of chains - detention chains
Kiyomi Haunterly is the Daughter of the Noppera-Bo (Faceless Ghost)
She wears a hauntingly boo-tiful outfit with chain details and a freaky fabulous bag
Pose the dolls in their translucent, chain link doll stands for a hauntingly boo-tiful display that makes them look like they re floating!
Use the included hairbrush to create a hair-raising look and collect them all to add to the frights!

Monster High Catty Noir Doll


Toy (Mattel)




The ghouls from Monster High are freakishly fabulous
Doll is fully articulated so she can be posed in many different ways
Each ghoul brings her own unique style to class
Includes doll, brush and accessory
Collect all your favorite Monster High dolls
Q&A
What are every Monster High dolls name in the world?
I dot know if I no them all but there's r the ones I no: Lagoona Blue, Clawdeen wolf, Cleo De Nile, Deuce Gorgon, Draculura, Frankie Stein, Spectra, Ghoulia, Abby, Holt Hyde, Jackson Jekyll, Veanus McFlytrap, Cupid, Toralei, Meowlody and purrsephone,
Robecca Steam, Heath burns, Sloe Moe, Gil,
Hood-dude,