Monster High Jackson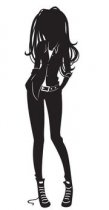 Melody Carver is a character exclusive to the Monster High book series by Lisi Harrison. She does not appear in any webisodes, or even on the Monster High website. Melody is a Siren, a bird-like sea nymph with an incredibly hypnotic voice. She starts growing/shedding feathers in the third book, which they all seem to come from her hair.
Personality
Initially, Melody was a bit frumpy and awkward, but also very kind and sweet. This stems from her being made fun of because of her old nose and asthma problems, which put an inferiority complex on her. She was very accepting of Jackson when she found out he was a RAD, almost to the point of just not caring. When she herself found out she was a RAD, she was pretty much happy about it, probably due to the fact that she figured out she had found a place of belonging.
However, after tasting the freedom and specialty that comes with being a RAD, Melody completely shed her bland nature, and found herself doing things the old Melody never would, such as joining a band. This behavior also came with a new attitude, an almost antagonistic one as Melody started acting like people owe her, as well as her power for personal gain after she promised herself she wouldn't.
Melody is also fiery, feisty, quick-witted, very intelligent and crafty (when needed), and very much capable of defending herself and her friends.
Though her style was frumpy at first, by the fourth book, she starting wearing glam rocker chic, such as bustiers, denim vests, leopard print mini-skirts, shiny shirts and skirts, high-heeled boots and booties, fedoras and bangles. Her trademark style, however, is her feathers, which she wears for extensions, earrings and other accesories.
Family
Glory - adoptive mother
Beau - adoptive father
Marina - birth mother
Friends
Jackson - Melody's boyfriend and first person and friend she meets in Salem. Broken up briefly but reconciled at the end. Can be fairly shy and also hates music.
Granite Sanders - A gargoyle who is Leadfeather's manager. Although he shared a kiss with Melody, the two never dated, and nothing became of this relationship. Granite can be a minor character in some parts of the books.
You might also like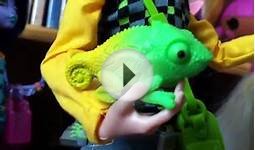 Monster High Jackson Jekyll Review (en Français)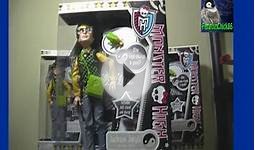 Monster High Jackson Jekyll Doll Unboxing & Review
Monster High Freak du Chic Gooliope Jellington Doll


Toy (Monster High)




The ultimate skel-ebration of monster mania!
Golliope Jellington is a freaky fabulous new character is at 17 inches tall!
She wears an over-the-tent fashion with lots of freaky flair
Girls will love recreating scenes from the episodes or telling tall tales of their own!
Collect all of the Monster High Freak du Chic dolls (each sold separately)
Monster High Freak du Chic Circus Scaregrounds and Rochelle Goyle Doll Playset


Toy (Monster High)




Join Rochelle Goyle and check out the funhouse mirror
Rochelle Goyle doll looks rock-solid in a over-the-top clown-inspired outfit!
Girls can reenact favorite scenes or create a new horror show of their own
Collect all of the Monster High Freak du Chic dolls and accessories (each sold separately) for a full circus!
Includes funhouse playset, Rochelle Goyle doll wearing fashion and accessories, and three additional mask accessories