Monster High DVD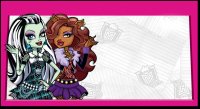 When Draculaura™ is led to believe she's the rightful heir to the vampire throne, she and her best ghoulfriends are whisked away to Transylvania for a royal coronation to die for. But they soon discover the hunt for the queen is not over yet. The Ghouls must locate an ancient artifact known as the Vampire's Heart in order to discover the identity of the true Vampire Queen. It's a fangtastic adventure that will lead them from the Tower of Londoom, to a haunted river boat in New Goreleans and finally to the glamorous boo-vie lots of Hauntlywood. Could this be the moment when Draculaura finally receives her vampire powers and discovers screams really can come true?
You are leaving MonsterHigh.com to visit another website operating under a separate privacy policy and terms of use.
hello
You might also like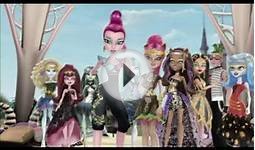 Critique combo Blu-ray/DVD Monster High: 13 Wishes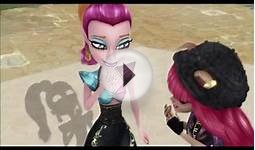 Monster High 13 Wishes DVD
Monster High: 13 Wishes - Nintendo DS


Video Games (Little Orbit)




Play as your favorite freaky-fab ghoul as you jump, climb and swing through 12 multiple magical levels to save Monster High and your ghoulfriends
Journey inside the magic lamp to save the school and your friends
Play as your favorite Monster High characters and use their unique Freaky Flaws to overcome obstacles and defeat enemies
Combine characters skills and use teamwork to solve puzzles and save the school
Choose multiple difficulty settings to Match Your Skills
Monster High: Skultimate Roller Maze - Nintendo DS


Video Games (Little Orbit)




Race as your favorite Monster High character, each with unique abilities
Compete on multiple treacherous courses with distinctive themes from Monster High
Customize your character and team to race to victory
Capture monstrous pick-ups to help your team
Unique gameplay modes to keep the racing spirited
Discover creeperific hidden items as you race your team to victory
Choose multiple difficulty settings to match your skill
Monster High: Ghoul Spirit - Nintendo DS


Video Games (THQ)




Become a ghoul and attend Monster High to perform creeptastic tasks, build a freaky-fab reputation and vie for the prestigious title of Scream Queen
Strive to be an ogre achiever by going to class to earn ghastly grades
Perform scaretastic assignments such as a hair trim for Clawdeen or leading the spirit cheer
Snap a photo of yourself with your DSi camera to ghoulify your own image (DSi camera required, not included)
Create a ghoul version of yourself with custom outfits, hairstyles and skin colors, complete with your very own freaky flaw to develop your very own sinister style

Monster High New Ghoul in School 3DS - Nintendo 3DS


Video Games (Little Orbit)




Build relationships with your ghastly new classmates and creatures
Compete to become Captain of the Fear leading Squad or Student Counskull President
Maintain your academic excellence in fast-paced mini-games

Moshi Monsters Moshlings Theme Park - Nintendo DS


Video Games (Activision Inc.)




Find the lost moshlings Get collecting as you round up 60 lost moshlings Play mini games to unlock hings and tips to help you in your search
Experience monsterific rides Hit splattastic high scores as you gide your monster to glory abroad the wildes coasters karts slides and rides
Unlock secret items Go for gold playing wacky mini games and unlock monsterific new content with hidden codes
Monster rewards Trade them park goodies via streetpass and find hidden moshlings using the exclusive alternate reality game
Q&A
Is there a DVD for monster high?
No, but I have a HUGE feeling there will be one in the future! XD *smooches*