Ness Monsters American football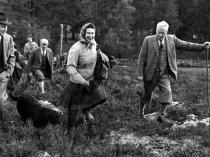 The Queen at Balmoral, 70 miles from Loch Ness, in 1967 (Getty) Getty
From the royal stable of thoroughbreds to her loft of racing pigeons, the Queen's fascination with creatures great and small is a lifelong affair. But until now nothing has been known of the monarch's passion for another sizeable beast of her dominion - the Loch Ness Monster.
New research into the heyday of the hunt for Nessie 50 years ago has revealed for the first time how the Queen was "very interested" in the quest to solve the mystery of the mythical life form swimming some 70 miles from her Scottish Balmoral retreat and asked to be kept informed of all developments.
The Sovereign's curiosity, which seems to have been shared by the Duke of Edinburgh, was piqued by the efforts of Sir Peter Scott, a war hero turned eminent naturalist, to launch the first comprehensive scientific investigation into the possible existence of a prehistoric animal in the waters of the Scottish Highlands.
Documents unearthed from the archive of Scott's papers held at Cambridge University and seen by The Independent show how the scientist, who was the son of the famed Antarctic explorer Captain Scott and went on to co-found the World Wide Fund for Nature (WWF), even went so far as to suggest eventually naming Nessie after the Queen - putting forward "Elizabethia nessiae" as a possibility to the Palace.
A 1934 picture of the Loch Ness Monster, which was later exposed as a hoax
Sir Peter, who was known to senior royals after his sculptress mother once made a bust of King George VI and himself once drew a portrait of the young Princess Elizabeth, wrote to the Queen's assistant private secretary Martin Charteris in May 1960 revealing his proposals to track down the monster.
In reply, Charteris, a friend of the formidably well-connected naturalist, made clear the Palace's enthusiasm for the project, adding it would be "great day in the zoological world if it can be proved that a hitherto unknown animal exists".
The senior royal aide wrote: "Her Majesty has seen your letter and was very interested in its contents, and I hope that you will keep us in touch with the progress of your investigations."