Loch Ness Monster satellite image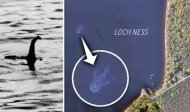 Fresh sightings of the Loch Ness monster from space[Express]
Amazing new images taken from space appear to show something swimming below the surface of the world's most famous loch.
There had been fears that Nessie could have died after more than a year without a verified sighting.
But today's fresh pictures have again peaked the excitement of Nessie enthusiasts everywhere - especially after experts ruled out the possibility it is a sunken ship.
The images were captured by two different amateur hunters scanning different satellites transmitting images of the earth from space - Peter Thain of Newbiggin by the Sea, Northumberland and Andy Dixon from Darlington, County Durham.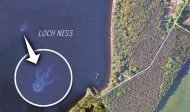 The creature was spotted just outside the village of Dores, on the south shore of Loch Ness.
The images were beamed from Apple's satellite map app and could only be viewed on some ipads and iphones.
Images from space show something lurking below Loch Ness [Peter Jolly]
Andy said yesterday: "It was purely by accident that I came across the image. I was trawling through satellite transmissions of different parts of the country and I thought I would try Loch Ness.
"I could see something big under the water and I saved it to my phone. My first thought was that it was the monster and I contacted Gary Campbell of the Official Loch Ness Monster Club.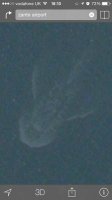 "I was a believer in Nessie even before this but I had never been. Now I am so excited, I can't wait to get up north and pay a visit - with a camera of course.
"Unfortunately I have not seen anything since but I will keep looking."
Experts have said the image, captured on an iPhone, cannot be of a ship [Peter Jolly]
Veteran Nessie-hunter Gary said yesterday: "We first received Peter's information at the back end of last year but took some time to try to work out what it was.
"Initially it was difficult because it doesn't appear on all online satellite images - only some of them on Apple products.
"When Andy got in touch at the beginning of the year, we finally managed to locate a device that had the image on it and asked some boating experts to look at it.
"They confirmed that while it looks like a boat wake, it cannot be a boat as there is no hull or superstructure visible. This is confirmed by the fact that there are clear images of other boats in the pictures.
"What ever it is, it's just below the surface and heading south so unless there have been secret submarine trials going on in the loch, the size of the object would make it likely to be Nessie "
"After Nessie 'going missing' for 18 months, it's great to see her back. Furthermore, the use of satellite technology means that if Nessie is just swimming below the surface like in this case, we can still pick her up."
You might also like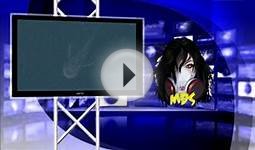 Loch Ness Monster Found on Satellite Image 2014 Proof it exist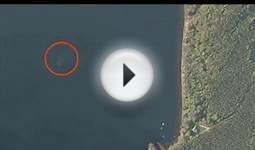 Satellite Image May Have Found the Loch Ness Monster?
Wishstone Nessie Soup Ladle Set Of 2 Food-Safe 100% Nylon Dishwasher Safe Loch Ness Monster Stands Upright Cookware Tableware Kitchen Utensil Dipper Green And Blue
Kitchen ()
CLEVER feet on the bottom of the ladle allow Nessie to stand upright, seeking to peer out of your kettle or punch bowl like that iconic Loch Ness photo
NON-TOXIC sturdy food-safe 100% nylon , MEASURES 24 cm x 11 cm x 9 cm. Green and blue
DISHWASHER safe. Do not microwave
NOVELTY ladle will amuse your children and get their interest in cooking. Conversation starter for entertaining. Ideal gift for the Loch Ness Monster enthusiast
GREAT GIFT; if you re looking for a unique, fun gift for a soup lover, then you should certainly go for the Wishtone Nessis Ladel. It s funny, absolutely original...
3dRose Funny Loch Ness Monster Playing The Bagpipes Two Tone Black Mug, 11 oz, Black/White


Kitchen (3dRose)




White ceramic mug with black interior and handle
Image printed on both sides
Available in 11oz only
Microwave safe, hand-wash to preserve image
High gloss finish
Caution Loch Ness Monster Sign Art Poster Print - 13x19 custom fit with RichAndFramous Black 13 inch Poster Hangers


Home (Generic)




PROTECT YOUR POSTER and WALLS from tape, putty and thumbtack damage.
Rich and Framous Poster Hangers are easy-to-use, economical alternative to wooden or metal frames.
Resuable and made with pride in the USA of strong, lightweight resin for years of quality use.
EZ-Hang 8mm hole on back works with push-pin thumbtack or Removable Poster Hanger Hook (not included).
3-piece set includes poster shown with 2 custom fit Poster Hangers for top and bottom of poster.

3dRose mug_200138_1 Funny Loch Ness Monster in Scotch Whiskey Glass Ceramic Mug, 11-Ounce, White


Kitchen (3dRose)




Made of white ceramic
Image printed on both sides
High gloss finish
Available in 11 oz. And 15 oz.
Contains no lead

3dRose Funny Loch Ness Monster Playing Golf Ceramic Mug, 11 oz, White


Kitchen (3dRose)




Made of white ceramic
Image printed on both sides
High gloss finish
Available in 11 oz and 15 oz
Contains no lead
Q&A
Is the loch ness monster real? | Yahoo Answers
Is the loch ness monster real? I ask this question because i was watching monster quest and it showed a siteing that showed a snake like figure with humps going up and down. It only showed the snake like body. The animal was not a snake. The person was up close to it and he said it was about 100 feet in lenth. I...