Loch Ness Monster photos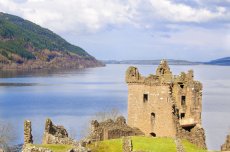 Amazing new images claiming to show the Loch Ness Monster have been captured on film and video.
Richard Collis, who runs a tree planting company near Drumnadrochit, on the west shore of Loch Ness spotted something unusual as he drove alongside the loch last week.
He pulled his car over and using his mobile phone managed to take some video footage and photographs of the sight.
"I was travelling along the side of loch Ness, saw something out the corner of my eye, pulled over and went down to the Loch and took some photographs, " said Richard, 58, who runs a tree planting company in the area.
"As I was watching, I was thinking what the hell is that!
Unsolved mystery: The iconic image of the Loch Ness Monster, left, and right, Richard Collis' footage taken last week
"The loch was quite rough and I wanted to get as best a picture that I could possibly get because I knew it wasn't going to last forever.
"It was about roughly 150-200 metres out in the water on a stretch about a mile from Fort Augustus heading towards Invermoriston.
"It's quite difficult to know how long it lasted but it felt like a couple of minutes."
Richard's video footage taken on November 6 at 11am shows what appears to be a neck sticking out of the water, staying up despite the choppy waves.
His photographs look very similar to the famous Surgeons photograph of the legendary creature taken by hoaxer Christian Spurling in 1993.
What is it? Richard's image shows a mysterious shape in the water
Richard, 58, who was born and bred in the Highland village of Drumnadrochit immediately called his Danish-born wife Vibeke after the incident.
"She thought I was having a joke and I said 'No no, I've got mobile phone footage of it' then when she saw it she said 'that's strange'.
"It's similar to the Surgeons photo, that's what I thought was weird.
"To me it looks like a long neck and a small head.
"Like a serpent - the old highland name of it was sea serpent or water horse.
"What do I make of it?
"I just think it's an anomaly that I can't really explain.
"I'm a bit of a doubter of a lot of things until I see it myself and I wouldn't have believed what I saw if someone else was telling me.
You might also like
Wishstone Nessie Soup Ladle Set Of 2 Food-Safe 100% Nylon Dishwasher Safe Loch Ness Monster Stands Upright Cookware Tableware Kitchen Utensil Dipper Green And Blue
Kitchen ()
CLEVER feet on the bottom of the ladle allow Nessie to stand upright, seeking to peer out of your kettle or punch bowl like that iconic Loch Ness photo
NON-TOXIC sturdy food-safe 100% nylon , MEASURES 24 cm x 11 cm x 9 cm. Green and blue
DISHWASHER safe. Do not microwave
NOVELTY ladle will amuse your children and get their interest in cooking. Conversation starter for entertaining. Ideal gift for the Loch Ness Monster enthusiast
GREAT GIFT; if you re looking for a unique, fun gift for a soup lover, then you should certainly go for the Wishtone Nessis Ladel. It s funny, absolutely original...
3dRose Funny Loch Ness Monster Playing The Bagpipes Two Tone Black Mug, 11 oz, Black/White


Kitchen (3dRose)




White ceramic mug with black interior and handle
Image printed on both sides
Available in 11oz only
Microwave safe, hand-wash to preserve image
High gloss finish
Caution Loch Ness Monster Sign Art Poster Print - 13x19 custom fit with RichAndFramous Black 13 inch Poster Hangers


Home (Generic)




PROTECT YOUR POSTER and WALLS from tape, putty and thumbtack damage.
Rich and Framous Poster Hangers are easy-to-use, economical alternative to wooden or metal frames.
Resuable and made with pride in the USA of strong, lightweight resin for years of quality use.
EZ-Hang 8mm hole on back works with push-pin thumbtack or Removable Poster Hanger Hook (not included).
3-piece set includes poster shown with 2 custom fit Poster Hangers for top and bottom of poster.

3dRose mug_200138_1 Funny Loch Ness Monster in Scotch Whiskey Glass Ceramic Mug, 11-Ounce, White


Kitchen (3dRose)




Made of white ceramic
Image printed on both sides
High gloss finish
Available in 11 oz. And 15 oz.
Contains no lead

3dRose Funny Loch Ness Monster Playing Golf Ceramic Mug, 11 oz, White


Kitchen (3dRose)




Made of white ceramic
Image printed on both sides
High gloss finish
Available in 11 oz and 15 oz
Contains no lead