Loch Ness Monster description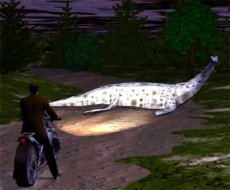 Early in 1934 there was a land sighting of the beast. Arthur Grant, a young veterinary student, was out on his motorcycle one evening when he almost ran into the monster as it crossed the road. Grant's description of the thing, small head, long tapering neck and tail with a bulky body and flippers, seemed to match the appearance of the plesiosaurus. The plesiosaurus, an aquatic, reptilian contemporary of the dinosaurs, was thought to have been extinct for at least 65 million years.
In April of 1960, Tim Dinsdale, while visiting the lake, captured the first moving picture of the monster. Though the film shows little, a group of Royal Air Force photographic experts pronounced that the object was "probably" animate and as long as ninety feet.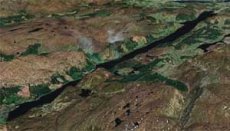 Skeptics argued that the thing was probably a motorboat. Dinsdale was convinced enough by his own pictures to give up his career as an aeronautical engineer and devote the next twenty years of his life to finding the monster. Though Dinsdale was rewarded with two more sightings of the creature, he was never able to gather incontrovertible proof of its existence.
Rines' Photographs
The next major event for Nessie was a study of the Loch Monster started in 1970 by the American Academy of Applied Science. The group, headed by Dr. Robert Rines, used automatic cameras and sonar to monitor the Loch.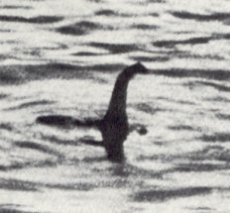 In 1972 one of the underwater cameras got four frames of what appeared to be a flipper six to eight feet long.
One night Peter Davies, a member of Rines' team, was out in a small boat in the Loch when he had a close encounter with the beast.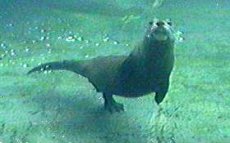 He detected it under his boat with sonar. "I don't mind telling you it was a rather strange feeling, " said Davies, "rowing across that pitch black water knowing that there was a very large animal just thirty feet below. It was the sheer size of the echo trace that was frightening."
Though the photograph most often seen by the public seems to clearly show something that looks like the diamond-shaped fin of a plesiosaurus, some photographic experts have argued that the image has been retouched. In the original images the interpretation is much more ambiguous.
In 1975 one of the team's cameras captured a vague and fuzzy image that could be interpreted as the face of the beast. "I thought that would clinch it, " remarked Rines, " but as you know, it didn't at all." The photograph, known as the "gargoyle head, " was identified by a later expedition as the remains of a tree stump.
You might also like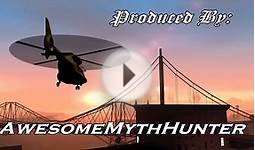 GTA San Andreas Myths & Legends -Loch Ness Monster HD-1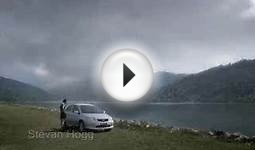 Loch Ness Monster
Photographic Print Of Loch Ness Monster


Home (Prints Online)




PHOTOGRAPHIC PRINT You are purchasing one 10x8 inch (25x20cm) Print. White margins may compensate for any difference with paper size as shown in the preview. Estimated...
High quality RA4 prints. Printed on Kodak Endura and Edge papers. Size refers to paper used
Artwork Description A schoolboy from Edinburgh offers his apple to the monster - which is about to take it but is frightened by a noise.
For any queries regarding this choice of artwork please contact Prints Online quoting Reference 571550
Artwork chosen by Prints Online. (c) Mary Evans Picture Library 2015 -
Q&A
Loch Ness monster's description?
The so called Loch Ness Monster doesn't exist and is just a way of getting gullible tourists to visit the Loch Ness area. Therefore, you can desribe it in any way that you want to.