Lake Ontario Monster found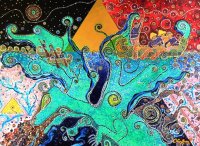 Scotland has the Loch Ness Monster, British Columbia has Ogopogo. Did you know that Lake Superior has its own stories about a lake monster?
There are many historical references to the Lake Superior Dragon. The references and stories we're sharing with you were sent to us from Ellen Van Laar, who resides on the shores of Lake Superior at Old Mamainse Harbour. Ellen runs a small retreat center called Arts and Adventure. She loves to guide and shuttle, and tell stories about the area. As a painter, she displays many large works at the Algoma University Conservatory of Music near Old Mill Square, under the International Bridge in Sault Ste. Marie.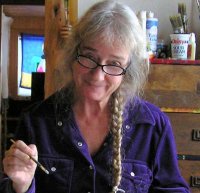 Mitch is depicted as the "Legend of Superior" 5 by 6', acrylic, located at Destination North/Algoma Conservatory of Music at 72 Huron, Sault Ste. Marie. Note the Voyageurs above. Painting and photo credit Ellen Van Laar
She is also a photographer, musician, and writer of discussion cards utilizing "Mitch the Dragon" as her main character. You can find these illustrated rhymes and family/group development cards at the Art Gallery of Algoma (Mitch Meets the Animals, Mitch and 12 Archetypes).
Ellen working in her studio. Photo credit Ellen Van Laar
The Lake Superior Dragon
Peter Unwin has a chapter (3rd) about the dragon, Misshepezhieu, in his book called "The Wolf's Head" (Viking, 2003). Below are some references from his book with various descriptions of the creature.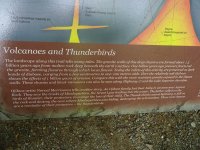 These stories leave us with the opportunity to envision the dragon in various ways or as we wish.
Jean Allouez wrote about sacrifices to the spirit Missibizi in 1667 to make Sturgeon rise in the water.
Nicholaus Perrot called it Michipissy.
Reverend T.S.H. Baxter was upset about immigrants and priests discussing the creature.
Bishop Baraga (Mishibiji) and Raudot (Mishapoux) refer often to the creature, sometimes calling it a lion or snake. Some say that the power of the entity resides in copper.
James Evans in 1838 referred to the creature as the Manitou and that one should stare him in the face to stay alive during a storm.
Father Paul LeJeune apparently saw a man catch a large fish-like creature resembling a lizard. The young man he was with made him throw it back into the water as keeping it could cause storms.
Pierre Radisson told stories about a "snake with a head like a turtle".
Vincent Germaine saw a dragon that apparently haunted him his entire life.
Francis Kellogg said that the dragon had the shape of Lake Superior itself.
There are stories in Unwin's book suggesting that the dragon was involved with the Edmund Fitzgerald tragedy. There is a belief among many that the creature lives in caves below the surface of Lake Superior. There are stories about the dragon snatching children from the shore and causing storms when angry. Many First Nation references refer to the dragon as a shape shifter capable of tricking others.
Edwin James wrote songs about the creature in 1830.
"As you can see, most of those above are referenced from missionaries and settlers as well as many First Nations. All of these dragon stories have become a part of Canadian History. They started 400 years ago and continue today. It is just recently that the dragon has entered common reference and usage. Before modern times, dragon talk was scary and often taboo."
You might also like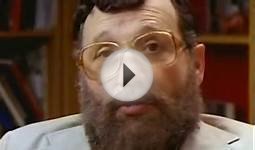 "Champ" the sea monster of Lake Champlain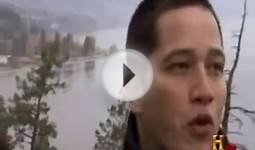 Lake Demons - Sea Monsters (Paranormal Documentary)
Vermont Lake Monsters Velcro Adjustable Cap (Adult)


Sports (MiLB)




Polyester/Cotton Twill
3D Lake Monsters Logo
CF2 Visor (Curved or Flat)
Youth Sizes (6 3/8 - 7 )
Adult Sizes (6 7/8 - 7 1/2 )

Vermont Lake Monsters MiLB Minor Baseball American Sport Art Poster 19" X 12"


Home ()




Decorate your home with high quality poster.
Size : 19 X 12
Easy to apply and remove
Will ship rolled in tube.
Wall Art