Green Monsters from Minecraft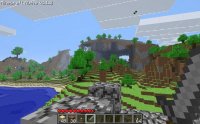 For newbies to the Minecraft experience, growing pains are the least of your worries. In the deep darkness underground, and in the far-away dimensions of The Nether and The End, lay various terrible monsters waiting to put your hapless miner down for the big pixelated sleep. To help the newbies, we've put together a list of every hostile creature in Minecraft for your learning pleasure.
For even more Minecraft information, try our Obsidian Farming Guide, or check out How to Kill the Enderdragon.
Monster Mobs Guide
NOTE: Most hostile mobs spawn at a light level of 7 or less. To fend off mob spawns late at night out in the open, leave torches to light the area.
Monster Spawner
Black metal cage blocks that appear in strongholds, dungeons, abandoned mine shafts, and Nether fortresses are called Monster Spawners.
Inside the block is a flame that does not give off light, and a miniature version of the monster it is about to spawn. The monster spawner will only spawn six monsters of a single type before the extras begin to disappear.
On average, the Monster Spawner will spawn a new mob every 24 or so seconds once activated. Monster Spawners only activate once the player enters its 15 block circumference.
To quickly deactivate a Monster Spawner, place a single torch ontop. Monster Spawners can also be destroyed — or they can be used to farm mobs through traps.
Monster Spawns will spawn certain types of mobs based on where they spawn and the blocks in their spawning radius.
Cave Spiders will only spawn from Monster Spawners in abandoned mine shafts, silverfish only in strongholds, and blazes only in Nether fortresses.
Hostile Mobs (Monsters!)
Silverfish
These monsters appear only in stronghold, either from special blocks or through a monster spawner. Silverfish are tiny insect-like creatures that hide inside stone, cobblestone, and stone bricks. They appear once the blocks they hide inside are mined.
Once attacked, the Silverfish will awaken other Silverfish in a 21x11x21 block vicinity. Though Silverfish spawn rarely, if enough are nearby an entire swarm can bear down on your miner.
Silverfish do not attack, but they do push the player around and destroy blocks as they appear. Left to their own devices, they'll enter a new stone, cobblestone, or stone brick block and hide.
You might also like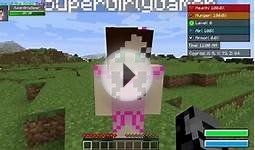 Minecraft GREEN MONSTER CHALLENGE GAMES Lucky Block Mod ...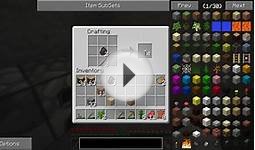 Minecraft: Race To The Moon - MONSTER FROM THE LAGOON [2]
Dress Betty from Mineraft


Mobile Application (Goodlook)




Create for a girl the most beautiful view in the style Minecraft.
If you like games of this type, then this Dress for you!
Download the free app on your phone or tablet and enjoy your favorite game!
So, to go on a date - you need to prepare well for the lady!
Help me find a good way so that Betty liked the guy.
Switch to the choice of things starting from the head - up and down by clicking on the triangle.
As part of the hair have a choice, the presence or absence of hard hats, tops, skirts or pants, shoes, tools, and of course, the little helper.
Once will choose dress and accessories, do not forget the final touch - the head of the most liked pet!
This may be a green monster or skeleton.
In the hands can be a pick, a torch or gloves.
Galaxy S5, Galaxy S6,galaxy S6 Edge Sport Armband , Nancy's Shop Easy Fitting Sports Universal Running Armband with Build in Screen Protect Case Cover Running Band Stylish Reflective Walking Exercise Mount Sports Universal Armband Case+ Key Holder Slot for Samsung Galaxy S 5 , Samsung Galaxy S6,samsung Galaxy S 6 Edge (Green)
Wireless (Deego)
Designed specifically for Samsung galaxy S 5 , Samsung galaxy S6,Samsung galaxy S 6 Edge
Exercise your right to a case is also a Sports Armband. Stays put while you run. Touch screen works through the clear cover
Built in key holder to help minimze carrying extra items while you excercise. Secure your device worry free and free your hands! Listen to your music with your hands...
Strong light weight exclusive neoprene material that protects your device.
Able to access to headphones, buttons, touchscreen feature on the cell phone.
Ipad Case,Ipad Mini 2 Case,Ipad Mini 3 Case,ACEGUARDER® ipad mini case Case for kids Rainproof Shockproof Anti-Dirt Drop Resistance Case(camo-black)


Home (ACEGUARDER waterproof front screen replacement fisheye jelly case jogging juice pack jordan shoe case hard hybrid heavy duty hdmi cable holster holder housing incipio ihome invisible shield glass incase iron man case international version unlocked minnesota vikings yellow philadelphia eagles eagles london amazon softball mac miller graffiti bling best volleyball boston bruins for men buffalo bills kevin durant bling knicks new orleans saints monsters inc for teen girls star trek for girls kentucky wildcats denver broncos supreme cases covers air mini used unlocked 16gb usb cable unlock waterproof case for women wallet wall charger wood case wireless charger otterbox defender symmetry cover running armband refurbished repair kit screen replacement speck minecraft survivor protective girls slip silicone kids folio speck owl cygnett marware belkin survivor british tiffany bear motion pandamimi clamcase protective 16gb kids proof chicago blackhawks splash protective new york yankees steelers for guys grumpy ca unique peacock little mermaid personalized lizard bob marley zac efron pink kraken rotating trident ionic waterproof ipad 1st generation case best dodo snugg ipad mini case ipad retina display case incase kid proof ozaki ted baker rugged survivor cool hard candy yoobao western targus lifeproof princess hype child proof marilyn monroe notepad stitch i blason portfolio fintie targus griffin survivor gumdrop targ khomo dodo kraken versavu dodocase slim sleep wake slip 2 rubber amazon hard for girls green lifeproof bling vintage retina display travel aluminum speck kids floral rhinestone belkin leopard floral lifeproof neoprene boxwave clamshell griffin survivor ipad targus case jisoncase etch a sketch snugg kid friendly kensington incipio ifrogz folio gold belkin speck the best diy fintie kiddie hard batman wood personalized khomo keep calm iluv soft gel sakroots ipad case survivor case pink camo snugg khomo dodocase cover best 4th gen 1st generation lifeproof air)




Compatibility:For Apple iPad mini 1/ 2 /3, Material:High-level polycarbonate and silicone cladding
dual layer back stand shockproof waterproof kids proof Military case for apple iPad mini 1/2/3. Features: Shock proof, Water Proof, Anti-dust
The ACEGUARDER IPAD mini 2 case combines durable protection with fashion design. It is the most protective case with competitive price. A built-in screen protector...
Perfect cutouts allow you to maximize the functionality of your iPad Mini 1/2/3,Allows access to all buttons and ports for charging and syncing,Made to Fit Your...
Easily use your device for traveling, sales presentations, classroom training, and health care education

iPhone6 Plus Sports Armband, Nancy's shop Easy Fitting Sports Universal Armband With Build In Screen Protect Case Cover Running band Stylish Reflective Walking Exercise Mount Sports Sports Rain-proof Universal Armband Case+ Key Holder Slot for Iphone 6 Plus (5.5 Inch) (Grey)


Wireless (Deego)




Designed specifically for iPhone 6 Plus, Lightweight armband keeps your phone secure and protected.
Water Resistant and sweat-proof funtion to better protect your mobile phone, make you feel more comfortable during exercise,Due to varying color display...
Built in Reflective strip for safe running in low light conditions. Built-in Key holder. Cutouts for easy access to headphones port and controls. A sweat resistant...
Material: Lightweight soft neoprene that is molded to twist and bend but will not stretch out of shape. Washable with gentle soap and water, then air dry. Can keep...
Functionality: Provide excellent protection during sport, such as running, biking, jogging, walking, working out etc. Touch screen works through the clear cover

Agricultural Megapack


Software (UIE)




All the tools that you need to create a prosperous farm are at your fingertips in this collection of stunningly realistic agricultural simulators
Accurate and amazingly detailed farm machinery, including such legendary manufacturers as John Deere, Massey Ferguson, and other
Control your farm s destiny - from planting to production to sales. First make them grow - then go to market and make your profit!
Features real-world environments, plants, and growing patterns plus loads of variations and options - no two games are identical!
Includes Agricultural Simulator, Agricultural Simulator: Historical Farming, and Farming Giant