Green Monster oh She Glows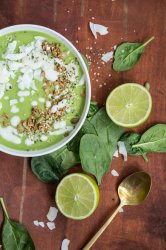 St. Patrick's Day is coming up! Are you doing anything fun? I'm hosting a get together on Tuesday, so I've been planning a green themed menu to serve on the big day.
Smoothie bowls have been quite the sensation for a long time now, but I think this might be only the second smoothie bowl I've made. The truth is, I just love the efficiency of throwing things into a blender and guzzling it down in a glass – a few minutes seems to be all the time I have in the morning. I don't want to fuss with smoothie bowls. But I figured it would be nice for a special themed breakfast! Plus, sometimes I need to remind myself not to inhale my food and sitting down to a bowl helps me slooooow down a bit. So instead of taking me 20 seconds to inhale it now takes me 60 (breastfeeding hunger is no joke). Anyway, this bowl is a nutritious way to kick off the day, especially if you plan on indulging later on!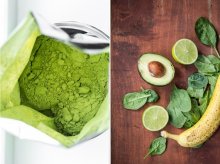 The flavour is inspired by the popular Key Lime Pie, but with a green tea twist. Get it – TEA lime pie instead of KEY? I truly outdid myself with this title, I know. Imagine what I could do on a full night's sleep?!
Ok joking aside, Matcha Green Tea Powder happens to pair lovely with banana and avocado, but it's an optional booster ingredient so not to worry if you don't have any on hand. The smoothie is still amazing without it. However, if you do stock Matcha it adds a wonderful energizing element to smoothies and a nice antioxidant boost.
Since it's fairly bitter, a little bit goes a long way; I only used 1/4 teaspoon in this smoothie. If you don't think you will consume a whole tin, you might want to try out the single serving packs that are available in many grocery stores now. I store my opened tin in the fridge for maximum freshness.
The hydrating base is made up with coconut water which might be a great way to start the day if you plan on indulging in drinks later on. A frozen banana and avocado make it ultra creamy and lightly sweet, while lime juice and lots of zest give it a tangy, aromatic kick. It's basically all of my favourite flavours wrapped into one kick butt smoothie bowl! We all know that smoothie bowls are so fun because of all the toppings you get to add, so I topped my bowl with melted coconut butter (which solidifies upon hitting the cold smoothie), granola, hemp hearts, and large flake coconut. I purposely made the smoothie on the thicker side so the toppings would sit nicely on the top and not sink through – that's key!
For the smoothie:
3/4 cup coconut water
1 cup fresh baby spinach
1 large frozen banana
packed 1/4 cup avocado
2 teaspoons lime zest
1 tablespoon + 1 teaspoon fresh lime juice
2 ice cubes
1-2 teaspoons pure maple syrup, to taste
1/4 teaspoon Matcha green tea powder, optional
Topping ideas:
granola
melted coconut butter
large flake dried coconut
Matcha green tea powder
lime zest
You might also like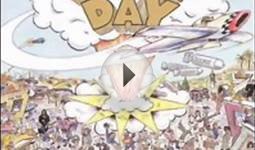 She - Green Day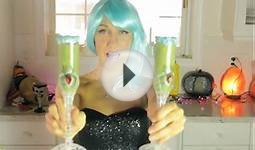 Green Monster Smoothie and Fruit Haul :)
Green Mountain Coffee French Vanilla, K-Cup Portion Pack for Keurig K-Cup Brewers, 24-Count


Grocery (Green Mountain Coffee)




Contains 24 K-cups
Lusciously rich and smooth with the flavors of sweet vanilla cream
Delicious light roast coffee
K-Cup perfect for Keurig Single Cup Brewers
K-cups also compatible with new Keurig 2.0 Brewer
U Natural Goji Berry Green Tea Hydration Drink, 16-Count (Pack of 2)


Grocery (U Natural)




Pack of two, 16-Count (Total of 32-Count)
Portable electrolyte replacement drink with vitamins in tablet form
Sugar free, 7 calories per tablet
Zuke's Mini Naturals Dog Treats, Roasted Chicken Recipe, 16-Ounce


Pet Products (Zuke's)




Perfect for Training with only 3.5 calories per treat
Natural wholefood ingredients packed with antioxidants
Made in the USA
No Wheat, No Corn, No Soy
Real chicken is the #1 ingredient

Facial Mask CGF + Argan Stem Cell + 2% Chlorella, 1.75 oz


Beauty (Acure)




Work over your cells with the power of Moroccan Argan Stem Cells and Chlorella Growth Factor, a true synergy of cell revitalization.
French Green Clay draws out impurities while Moroccan Argan Oil, CoQ10 and Seabuckthorn Oil provide moisture. Serious cell repair!
Suggested Use: Apply evenly over the face until you look like a green sea-monster. Allow to set for 10-15 minutes. Rinse thoroughly to a refreshed and renewed you!

KINGNOYA Hydration Running Belt Includes Two 6-oz BPA-Free Leak-Proof Water Bottles Fits All Smartphones - Best Waist Pack Accessories For Men & Women Runners: Lightweight, Made Soft Material, No Rubbing Fuel Gear - Marathon, Races, Cross Country, Walking and Hiking (Green)


Sports (KINGNOYA)




NO RUBBING, IRRITATION OR CHAFFING, snug fit ensures the hydration belt does not cause any irritation or rubbing. It is designed with a reflector to ensure your...
LARGE ENOUGH POCKETS: This is probably your main concern. The pouch is large enough to fit most cell phones. Even the large beasts :-) Like the iPhone 6, 6+, 5s...
SNUG AND LIGHTWEIGHT: You will hardly notice you have the runners belt on because the waist pack is lightweight. You will be amazed at how snug it fits and how...
PERFECT 2 BPA FREE BOTTLES: The water bottles are a perfect size and volume fur runners. At 6Oz per bottle, you have enough water for short to medium length runs...
Hydration Belt made of soft lightweight neoprene material that doesn t bounce or chafe, and dual-adjustable elastic nylon straps with strong buckle clip that fits...