Green Monster diet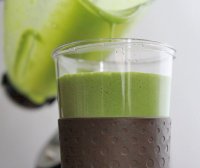 Let me just say, as a life long smoothie-addict, I LOVE IT!
A few months before Spring I always kick it into high gear to shed my winter muffin-top. I just can't resist those cozy, comforting dishes of the fall and winter so I don't even put up a fight. I'll happily be the double stomach girl in the winter if it means I get to indulge in cookies, fresh bread, cakes, soups, mac n cheese, and the works!!!
Last year I did the Jullian Michaels 30 day shred and a light meal modification plan. I was happy with the results but I HATE working out that hard everyday. I'm so glad I stumbled upon the green monster smoothie because I swear this thing was made just for me!!
The saying "there is a diet for everyone" is so true. This is the one I'll be using every year to lose weight.
I'm only using it to lose weight. Once I reach my desired goal I'll maintain my weight by cutting out sugar and white flour as much as a I can and eating the right portions. It really is easy to follow once you look down at that flat stomach.
Here is my regimen for Sunday-Friday. It's been working great for me but PLEASE NOTE you may need to add or take away more calories depending on your body and goals.
Exercise Bike- 30 minutes
Breakfast- Green Monster Smoothie
Lunch- Green Monster Smoothie
Dinner- Healthy, proportioned dinner
Dessert /Snack- If I haven't had a snack during the day I eat dessert.
Make sure you drink 64 oz of water (or however much you need for your body weight or you'll be sorry)
Even though my calories are kinda low on this diet, I'm so surprised I'm not hungry all the time. The smoothie is like 320 calories and it makes a lot! If I do get hungry mid-day I'll eat a huge green salad with diced chicken, tomatoes, cucumbers and light ranch.
CAUTION:
1.)Please be sure to drink PLENTY of water with this smoothie! Spinach is FULL of fiber and fiber NEEDS water to move throughout your body. If you don't drink enough water your poop will be little, hard green balls LOL sorry to be so descriptive but sh!t matters!! !!! Also your body will hold on to the water weight instead of letting it go. Water is like the miracle here. YOU HAVE TO HAVE ENOUGH OF IT IN ORDER FOR THIS DRINK TO DO ITS THANG!
2.) Choose organic spinach only and wash it thoroughly. It's better for you and doesn't have the pesticides. You're gonna be taking in A LOT of this stuff so we want it to be as pure as possible.
3.) Ask your doctor if this is right for you. Some folks just don't do well with spinach and they turn into fart city!
Benefits I've Noticed:
SKIN- Supple, glowing moisturized skin. Spinach has a crap load of Vitamin A. And since you consume 4-8 cups of raw spinach a day with this drink, I've definitely noticed that my skin doesn't need much moisturizer. And the extra water I've been drinking is icing on the cake.
You might also like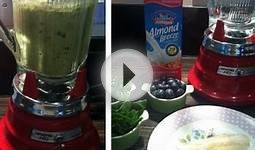 How to Make a Healthy Green Monster Smoothie Recipe | UK ...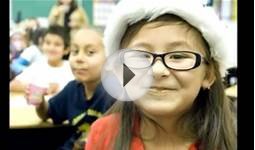 Green Monster helps kids eat healthier
Wardley Premium Algae Discs, 8-1/2-Ounce


Pet Products (Hartz)




Formulated with spirulina as its main ingredient a blue green algae that is known for its abundance of color enhancers
With the addition of stabilized vitamin C and a multivitamin supplement this food is a perfect diet for herbivorous fish
It is conveniently packaged in re-sealable stand up pouches
Tetra 16348 TetraMarine Granules, 7.94-Ounce, 500-Ml


Pet Products (Tetra)




Nutritionally Balanced Staple, Formulated for Larger Saltwater Fish
This food also is suitable for delivering rich nutrition to many marine crustaceans and anemones
Enhanced with vitamin C and Tetraâ(TM)s patented, health-enhancing ProCare blend
Wardley Spirulina Discs, 4 Ounce


Pet Products (Wardley Products)




All vegitable food for bottom feeders and algea eaters
Formulated with spirulina as its main ingredients
Made in the USA

Wardley Turtle Delite, 1.4 Ounce


Pet Products (Wardley Products)




Wardley® Turtle Delite¿ is a nutritious whole dried shrimp supplement for turtles
100% Dried whole shrimp
Your turtle should also be fed Wardley Reptile Premium Sticks

Monster Energy Drink, Lo-Carb, 24 Ounce (Pack of 12)


Grocery (Monster Energy)




Low calories, no compromise
Get the big bad Monster buzz you know and love, but with a fraction of the calories and carbohydrates
Features an energy blend of glucose, taurine, panax ginseng, L-Carnitine, caffeine, glucuronolactone, inositol and guarana
Has a sweet and salty flavor with a whiskey color
Athletes, musicians, anarchists, co-ed s, road warriors, metal heads, geeks, hipsters, and bikers dig it, and you will too