Green Monster Bike
Red Light, Green Light is a traditional kids game and today we are playing it with a twist.
Our kids love getting to go FAST and they are thrilled that Monster TRAX has joined us as a sponsor for this post. They just love feeling like they are a "real" driver.
Red Light Green Light Set Up
For our motorcar activity we dug out a tissue box. The kids had fun covering the box with paper. We made a Red light "Dice", using circles of green, yellow and red paper as the lights. Each side of the tissue box is a different "light".
For the lights that aren't "lit" we drew dark lines over the circle, making each of the four sides different:
Green Light for go
Red Light for stop
Yellow Light for slow down
For the fourth side we added a one-way arrow
Playing Red Light Green Light
One child rode the Monster TRAX. The younger siblings were in charge of the light. They would roll and then yell the next direction to the riding child who would have to "obey" the light. It was fun watching them break to a halt, or race ahead – even at times having to reverse if they accidentally drove past the light. They thought the reverse function was awesome! The younger boys loved telling the bikers what to do!
This was a great way for younger siblings who weren't quite old enough to ride the Monster TRAX bike to participate in the fun. our younger tykes saw how much fun their brothers and sister were having they were desperate to join in!
Variations of the Red Light, Green Light Game:
If you don't have a Monster TRAX bike, use your legs! Have your kids run when the light is green.
This game is a great way to practice listening to simple instructions and help your kids walk in a contained manner. It's a great game to help prepare your kids for walking in parking lots or other potentially dangerous areas – Tell them this is a "red light STOP" or "yellow, be careful and walk slowly", or "green, you are good to go play".
An indoor variation would be to change Red Light Green Light into a singing game. Red means be quiet, yellow means sing normally, green means to holler at the top of your lungs.
Fill in the Caption for Monster TRAX
Look at the photo above, What would you say if you were Noah?
We'd love for you to leave a comment filling in the caption with what your kids would be thinking!
Kids Activities Blog wants to give a BIG Thank you to Monster TRAX sponsoring this post and sending our kids a Monster 12 Volt Quad Bike to enjoy. They *LOVE* it!
You might also like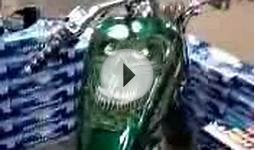 Green Monster show bike (video)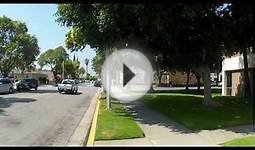 Friend trying out my green monster bike...Part 1
Huffy Machine (Green, Medium/20-Inch)


Sports (Huffy Bicycle Co)




This 20 inch Green Machine has a lower center of gravity for improved performance.
Infinitely-adjustable seat with improved lateral support.
Dual stick steering with dual-density soft touch green/black grips
Front wheel is paneled.
Large 10 rear wheels.
Redline Monster Low Profile PC Pedals; 9/16", Sealed; Lime Green


Sports (Redline)




Versatile, good looks, Low Profile Nylon body w/ten pins per side
CNC CrMo axle and sealed bearings meet the needs of hardcore riders that must have durability, and work for anyone who would like a stable and comfortable platform
USA Helmet V-11 Child Bicycle Helmet, Green Monster


Sports (Kent International, Inc.)




Head size: 21.5 -22.5
Perfect for Biking, Skateboarding, or Roller-skating
11 vents to keep your child s head cool
CPSC approved

Huffy Green Machine 20" Thrill Ride


Toy (Huffy)




12 Lalaloopsy Bicycle with Doll Carrier and Bag
16 Huffy Disney Princess Girls Bike with Heart
12 Huffy Disney Princess Girls Bike with Doll C
NEXT 16 Lil Gem Girls Bike, Pink
20 Huffy Rock It Boys Bike, Red

Five Ten Men's Sam Hill 2 Bike Shoe,Monster Green,9.5 M US


Shoes (Five Ten)




Season: Year-round items
Type/Intended use: BMX/DH