Gods witches Monsters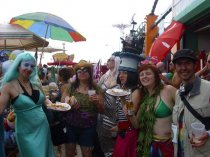 This past Saturday was the, aka my Favorite Day of the Year. Considering the eight Sabbats, the festivals, the Coven, the spellcraft classes…saying that the Mermaid Parade is the most Pagan thing I do is a pretty intense statement. But it's TRUE. Every year, I go as a Sea Witch.
Imagine nearly a million people crowding tiny Coney Island, dressed to impress the Sea Gods or watching those doing so, all eventually processing to the water where drummers go crazy in the sand and a huge offering of fruit is made to Poseidon. All races, economic backgrounds and religions mingle together honor the sea. There is no talk of traditions. There is no talk of "what our intentions are, " elaborate invocations or the like. It's simply drumming for the ocean because that is what we do. It is simply marching to the ocean because that is what we do. On a peaceful, beautiful Saturday where the surf gently lapped at our ankles. Yet none of us trusted Mother Ocean. It wasn't that long ago when she tried to claim Coney back. The drumming and procession had an undercurrent of quiet respect.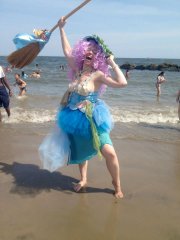 If we didn't know just how much bigger she was than we last year, we remembered on Saturday.
My most Magickal moment of the day came toward the end. A boisterous mother with a painfully shy young daughter insisted "ALL THE MERMAIDS!" stand around her little girl while she took a picture. The little girl was understandably frightened by the pack of equally-boisterous mermaids and when I crouched down to take the oh-so-important photo, she whispered to me, "I'm scared of monsters."
"Monsters are pretty scary, " I replied. And there had been a lot of beautifully crafted sea-monster gear which delighted me and mine….but we are only four years old at heart, and have a good 30+ years of experience decimating the difference between dress-up monsters and real ones.