Gods & Monsters book series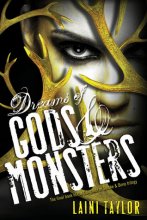 It's the final chapter of the Daughter of Smoke & Bone series and you don't want to miss it. What began for me as mild attraction quickly escalated into a profound obsession with the fantasy worlds of Taylor Laini. Chimaera and seraphim, thousand-year enemies in the war-torn world of Eretz, bring their war to the human world in Dreams of Gods & Monsters.
In the Daughter of Smoke & Bone series, two mythological species are constantly at war: the chimaera who are beasts comprised of varying animal parts including human, and the seraphim who are angels with wings of fire.
In the first book, semi-human Karou discovered that she was the resurrected soul of Madrigal, a chimaera who had been executed for falling in love with a seraph. She had been secretly resurrected as a human for protection. Her previous life memories of the war and her love for the enemy were spontaneously resurrected after falling in love with Akiva for a second time. Akiva, not realizing that she had been resurrected until it was too late, had slaughtered a great many chimaera in a bloodthirsty rage, including the one that unbeknownst to them had saved them both. In the second book, it is Karou who went on a rage. She separated herself from Akiva and joined the chimaera warlord, the one who had her executed in a previous life, and took up her dead adoptive father's occupation as the new and only resurrectionist. She resurrected new chimaera with killer bodies, and the tide began to shift. Karou created monsters to kill angels – and they were very, very good at it.
Karou and Akiva are both in pivotal roles of influence that could affect the outcome of the war. Karou was the understudy of Brimstone, the only resurrectionist in the chimaera army. After she was executed as Madrigal, she was raised in the human world as his own daughter. And after his death, she became the only resurrectionist which, for the most part, kept her safe from the chimaera who still held a grudge and whispered 'angel lover' behind her back. If you were killed in battle, making enemies out of the only resurrectionist would be a bad idea. Akiva was the leader of the Misbegotten, a legion of seraphim who were bred by the emperor for the sole purpose of fighting. He was trusted, respected, and revered, but only by his bastard kin army.
Their high statuses weren't enough to save them from precarious positions. And at the end of the second book, Karou takes control of the chimaera army in a high stakes game of subterfuge while Akiva takes control of the Misbegotten after becoming a father-slayer.
You might also like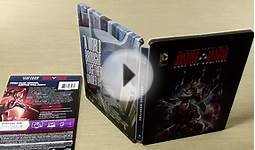 Justice League Gods & Monsters Steelbook Unboxing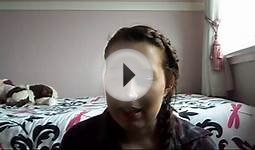 Book Series Review- Gods & Monsters by Kelly Keaton