Top 10 giant monsters of all time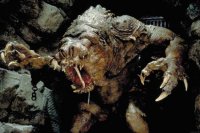 The Rancor is a savage and unintelligent animal whose only desire seems to be killing and devouring anything that has a pulse. In Star Wars: Return of the Jedi we first see the Rancor as the property of Jabba the Hutt, who feeds his enemies to it by dropping them through a pitfall trap into a cave where the Rancor lives. In early concept art, the Rancor resembled a crustacean and had a shell on its back; however this was later changed, with the end result resembling a kind of hideously disfigured dinosaur. The Rancor was also originally going to be played by a man in a suit, however the creators were not happy with the results. Instead, a small puppet was used as well as a high-speed camera to slow down its movements and create an illusion of immense size and power.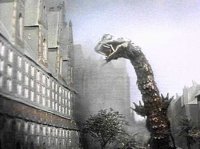 Interesting Fact: The Rancor was voiced by a Dachshund breed of dog.
A list of giant monster movies cannot be complete without a shout-out to Japanese cinema. Mothra is a gigantic female insect that has appeared in numerous Kaiju (Japanese giant monster) films throughout cinematic history, beginning in the early 1960s in a film simply named Mothra. She is described as having a wingspan that exceeds 150 meters, with wings that are so powerful they allow her to create a tornado. Mothra is seen as a friendly beast and often works to protect humanity from other gigantic creatures that are attacking earth.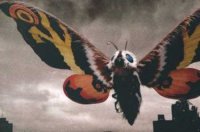 Despite being monstrously over-sized, Mothra maintains some similarities with the average moth. For example, Mothra has been shown in movies to lay eggs that hatch into enormous larvae that then proceed to help her defeat her enemies. She can also shoot poisonous darts from her abdomen and trap enemies in a silk cocoon.
Interesting Fact: The distinctive shrill chirping sound of Mothra has been reused numerous times in Japanese cartoons. It has become a kind of a Japanese equivalent of the Wilhelm Scream.
8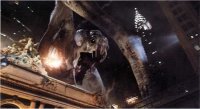 Reptilicus
Reptilicus, 1961
Reptilicus was the subject of an early Danish 1960s film, which was one of many monster movies of the era. The film features Reptilicus rampaging through Copenhagen killing hundreds of civilians and destroying anything in its path. The gigantic reptile resembles a serpent with wings, and has a power of regeneration that makes it incredibly difficult to kill.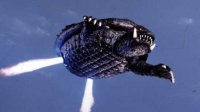 Reptilicus also spits deadly green slime on enemies, that causes agonizing death. Its generic monster movie name is enough to guarantee a place on the list. Overall, Reptilicus is most memorable for being one of the first examples of a killer reptile in cinematic history. Furthermore, Reptilicus stood out and garnered significant popularity and a cult following, in a time period when cinema was dominated by crude, low-budget horror movies.
Interesting Fact: A deleted scene in the movie featured Reptilicus flying. This was cut from the final version as the producers felt it was too unrealistic. Of course, everything else is totally believable.
You might also like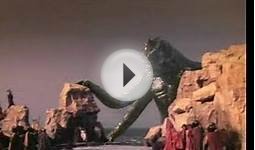 My top 10 giant movie monsters of all time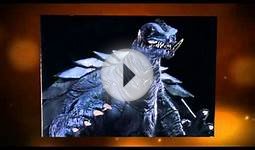 Top 10 Giant Monster of all time
Galaxy S6 Edge Case, Creative Artistry Customized Funny PC Hard Back Cover Case for Samsung Galaxy SVI Edge (We are All Mad Here)


Wireless (Sophia)




Perfect compatible with Samsung Galaxy S6 edge 2015 release, not for other models.
Keep your phone safe and protected in style with this skin case accessory. Special pattern on the case makes your phone different and eyes-catching. The printing...
Perfect Fit: Unique design allows easy access to all buttons, controls & ports without having to remove the case
Protect your phone from Knocks, Dust, Damage, Scratches.
Easy to use and install, no tools needed. Specially design with multi-style options.
iPhone6 Plus Sports Armband, Nancy's shop Easy Fitting Sports Universal Armband With Build In Screen Protect Case Cover Running band Stylish Reflective Walking Exercise Mount Sports Sports Rain-proof Universal Armband Case+ Key Holder Slot for Iphone 6 Plus (5.5 Inch) (Dark blue)


Wireless (Deego)




Designed specifically for iPhone 6 Plus, Lightweight armband keeps your phone secure and protected.
Water Resistant and sweat-proof funtion to better protect your mobile phone, make you feel more comfortable during exercise,Due to varying color display...
Built in Reflective strip for safe running in low light conditions. Built-in Key holder. Cutouts for easy access to headphones port and controls. A sweat resistant...
Material: Lightweight soft neoprene that is molded to twist and bend but will not stretch out of shape. Washable with gentle soap and water, then air dry. Can keep...
Functionality: Provide excellent protection during sport, such as running, biking, jogging, walking, working out etc. Touch screen works through the clear cover

iPhone 6S Glass Screen Protector, Sophia Shop 0.33mm 9H HD Extra Clear Premium Tempered Glass Screen Protector[99.99% Clarity and Accuracy]Anti-scratch Anti-shatter For iPhone 6/6S(4.7inch)


Wireless (warcraft works wolverine silver tree graphic watercolor retain rainbow winnie pooh runic shield raven vampire legacy vera bradley united states unusual union jack unibody victoria secret violet view waves usmc usa volt voia satin brushed texture jewels tampa bay buccaneers tattoo taco tank taurus tauri texans teen terrapin tennis theme fault our holds beatles tinkerbell tire flash tmnt totoro tough tokyo ghoul tribal transformers travel tripod track trianium turtle tudia versace tractor triangle verses tennessee terminator texas textured premium sao san francisco 49 diego chargers sale scary scudo scratch screw sexy through seashell sherlock shape shoes shark skinu skate skyrim skinny smile smoke snake snowman snugg sons anarchy sophia sold amazon touch solar system spiderman cushion spoken teams exact stitch style4u superhero survivor sunflower metallized buttons softball resilient .case crystal supernatural surf steampunk stephen curry steven universe supergirl stowaway stripes street fighter stylish sparkly sparin spongebob sonic sophie raiders ranz razorback ravens rasta religious realtree rebecca minkoff rilakkuma rise against rock royal royals rolling round bands rocky pandamimi package pastel personalized peter penn penguin peace pearl peach pierre pirate platinum plugs polka pocket revolution police rangers pretty princess puregear puerto rico pride printed poka piel pierce veil pittsburgh penguins octopus oeago paisley musical orioles orzly ouija patriotic nagebee nascar nature shippuden nebraska york trent nebula neverland nillkin nirvana ninja turtles nissan giants grade macoku magnetic mass effect map mario metallica mexico mercury messi meme manchester minnie miami miniturtle mlp moshi monogram moon monkey mossy oak mountain moko money notes mustache mood dolphins jackson michigan monster minecraft minnesota minimal juice lanyard lavender layered dandy landscape ladybug larcade lipstick lilo liverpool kansas city kevin durant kitten kingdom hearts logic)




Compatible with Apple iPhone 6 (2014) and Apple iPhone 6S (2015) 4.7 Inch, all carriers, all models
Precise laser cut tempered glass made with polished, rounded edges
99.99% HD Clarity and Touchscreen Accuracy
High-definition clear hydrophobic and oleophobic screen coating protects against sweat and oil residue from fingerprints
Tempered glass screen protector provides screen protection from smudge, bumps, water, drops, scrapes and marks