Monster Jam Allstate Arena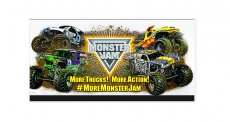 When the lights dim and the engine roars, the crowd is ready for #MoreMonsterJam. Fans of Monster Jam and the powerful Monster Trucks will pack the Allstate Arena to experience more of what they love. This newest version of Monster Jam gives fans what they want, more trucks and more action. The #MoreMonsterJam tour will play Chicago's Allstate Arena February 5 through 8.
One of only 10 arenas nationwide to debut the new #MoreMonsterJam format, the Allstate Arena event will feature the biggest and best lineup of world famous Monster Jam trucks highlighted by more racing, more freestyle, more donuts, more wheelies and more competitive action than ever before. Fans will also be treated to two new competition vehicles, extreme Monster Jam Speedsters and Monster Jam ATVs, as they rip through the arena during combative racing action.
Headlining the tour will be the fiercest Monster Jam athletes, who will be the exclusive drivers of each of the teams made up of Monster Jam trucks, Monster Jam Speedsters, and Monster Jam ATVs. Each of the athletes will compete against one another in a true test of endurance to earn valuable points during the seven competitive disciplines, unlike any Monster Jam event ever. These athletes will be contending for a bid to the prestigious Monster Jam World FinalsSM held at Las Vegas' Sam Boyd Stadium on March 26-28.
Monster Jam Teams
Grave Digger®: Colton Eichelberger from Paxton, Ill., son of Max-DSM creator Tom Meents
Max-DSM: Morgan Kane
Blue Thunder®: Dalton Millican
Monster Energy: Coty Saucier
Scooby-Doo™: Bailey Shea Williams
New Earth Authority PoliceSM: Aaron Basl
Monster Mutt® Rottweiler: Daron Basl
El Toro Loco®: Becky McDonough
At this show, MoreMonsterJam is offering two pre-show pit parties, 11 a.m. to 1 p.m., Saturday, Feb. 7, and 10 a.m. to Noon, Sunday, Feb. 8. These pre-show pit parties afford fans (with a pit pass and matinee show ticket) the chance to see their favorite Monster Jam trucks, Speedsters and ATVs up close, meet drivers, take pictures and get autographs. Pit passes are available for $10 at all Ticketmaster locations, while supplies last.
MoreMonsterJam will play Allstate Arena on Thursday, Feb. 5, 2015 – 7:30 pm, Friday, Feb. 6, 2015 – 7:30 pm, Saturday, Feb. 7, 2015 – 2 pm and 7:30 pm, and Sunday, Feb. 8, 2015 - 1 pm and 6 pm.
Tickets are available at or by calling 800/745-3000. Tickets may also be purchased at Ticketmaster Retail Locations and the Allstate Arena Box Office. All seats are reserved. Tickets start at $15. Allstate Arena is located at 6920 N. Mannheim Rd., Rosemont, Illinois.
You might also like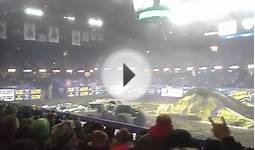 Monster Jam Max-D Freestyle 2014 Allstate arena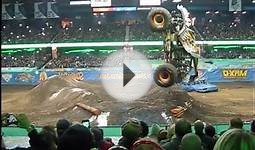 Monster Jam TOP TEN Stunts Allstate Arena
Q&A
What time does monster jam start today at the allstate arena
Allstate Arena 6920 Mannheim Road, Rosemont, IL Monster Jam started at 2:00pm