All SCP Monster names
SCP-076

"Able" drawing a sword from thin air.

Contained By:

The SCP Foundation

Type:

Object, Entity

Object Class:

Keter
SCP-076 is a large, black stone with a humanoid inside, nicknamed "Able", belonging to The SCP Foundation.
Technically, SCP-076 is both the containment cube (SCP-076-1), made of engraved black stone, and the humanoid creature resting inside (SCP-076-2). Atop the cube rests a coffin, held up by chains made of an unknown metal, which in turn holds Able himself.
The actual creature is a Semitic (Middle Eastern) human in his late 20's with black hair, grey eyes, and olive skin. He is covered in tattoos of arcane and occult markings, especially demon faces. While in the cube, the creature is considered dead. Every so often, Able will be reanimated and will attempt to leave the cube. If he does, he goes into a zombie state and will move towards the nearest human, ignoring everything else. Once he comes into contact with a living human, he will go on a killing rampage, butchering any human he comes in contact with, until he is either subdued or killed. If killed, his body decomposes at an accelerated rate and slowly reforms in the coffin, 'dead' once again. The reformation process can take anywhere between six hours and twenty-five years.
Able also worked with the Foundation for some time as the leader of the Mobile Task Force Omega-7 due to its unusual relation with an undisclosed agent who was later killed in an airstrike to stop another classified SCP. However, this didn't last long because he eventually got "bored" and, once his anomalous powers manifested, began to kill everyone in sight. As a result, the Foundation had no choice but to detonate the nuclear warhead in Able's work facility as a last resort to stop him. He escaped and was missing for many years, until he was found in his current state. The containment procedures have been revised, but one of the doctors did not agree with this, and stated that it was: 'The most biggest and most embarrassing mistake ever'.
You might also like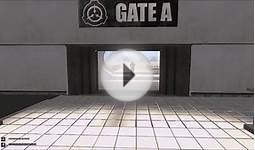 SCP Containment Breach v1.0.4 | All Endings
NAME THE MEMES - SCP THE MEME MONSTER - 087-B