River Monsters New season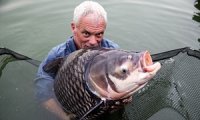 Jeremy Wade: 'He is absolutely authentic' Photograph: Animal Planet
"I think if someone had told me eight years ago that I would still be doing this now, I would have trouble believing them. Originally it was going to be just one program, " says Jeremy Wade, host and star of River Monsters. "When Animal Planet came back to us and said how about a series of these, I wasn't even sure we could make even a handful more." Fast-forward to today and River Monsters is the most successful show in Animal Planet's history. Last year's season premiere was the most-watched season debut ever for Animal Planet, with 1.7 million viewers tuning in to watch Wade angle in extreme conditions.
While the show's premise sounds dull on paper – man goes fishing in remote location – River Monsters is anything but. "It's not a fishing show; it's not primarily about the process of fishing, " said Wade. "It's about the story and the investigation and then producing the creature at the end. By making it an underwater detective story, we were hoping to open it up beyond just people who like to fish."
For the last six seasons, fans have tuned in as Wade travels to a far-flung location in order to solve a murder mystery, almost as a roving one-man Law & Order: Fish Unit The stories are horrifying in their similarity – a young boy is attacked by a mysterious predator while swimming in the Amazon, or a full grown man is pulled into the Congo by an unseen monster – but they rarely feel repetitious. Each time, Wade takes up his fishing gear and is on the case, eager to solve the mystery and unveil the monsters that lie beneath.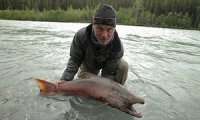 It is compelling television that has continued to draw in viewers week after week, season after season. As the show gets ready to kick off its seventh season on Sunday, it has done something that few reality series have been able to do: remain a monster hit.
The secret to the show's ongoing success boils down to two words: Jeremy Wade.
An exclusive clip from the first episode of the
new season
of River Monsters.
"No one else could do this, " said Animal Planet executive producer Lisa Lucas. "You can't pop anyone else in his shoes and have the same result. I think a lot of other fishing shows have tried."
Lucas thinks Wade's appeal lies in his believability. "He is absolutely authentic, " said Lucas. "It's clear that if he wasn't fishing for us and with our cameras, he would be off fishing by himself somewhere. Viewers have a good nose for authenticity, and he is the perfect embodiment of that."
While Wade clearly loves his work, it frequently looks flat-out miserable, as he guards a fishing line, sitting for hours through torrential downpours or blistering heat as mosquitos assault him, all in the hope that he catches not just a fish, but a rarely seen monster. And if he fails in his mission? As his producer said: "If we don't have a fish at the end, we don't have a show."

You might also like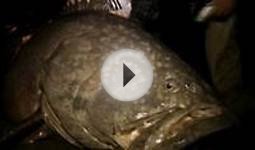 River Monsters is BACK! Catch an all-new season, April 7 ...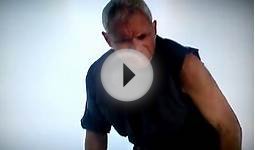 River Monsters- New Season Trailer
Q&A
What is the new movie Monsters Vs. Aliens about
When a meteorite from outer space hits a young girl and turns her into a giant monster, she is taken to a secret government MORE?