Real Monsters found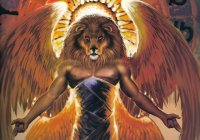 "And Benaiah the son of Jehoiada, the son of a valiant man, of Kabzeel, who had done many acts, he slew two lionlike men of Moab: he went down also and slew a lion in the midst of a pit in time of snow:" 2 Samuel 23:20
Don't believe it? CLICK HERE to see the Bill at the Library of Congress website regarding the fact that THIS is a reality! 2009 Human-Animal Prohibition Act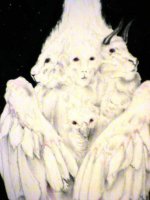 Apedemak, a demonic nephilim/rephaim entity, was worshiped in Nubia, though much is unknown about him. However, his appearance is described clearly:
—A Single Head of A Lion
—Three Lion Heads and Four Arms
If the idea of creatures with the head of a beast and a human body sounds too much like a fairytale, consider the following verse in the Bible which describes creatures with four faces:
"And every one had four faces: the first face was the face of a cherub, and the second face was the face of a man, and the third the face of a lion, and the fourth the face of an eagle." – Ezekiel 10:14
Not only is Egypt famous for its many pyramids, secret tunnels, and mummies, but it is well-known for its animal headed gods and hieroglyphs.
One of those gods was known as Maahes, who was associated with war, weather, knives, and lotuses. But, he is also known as the deity who shamelessly devoured his captives. Maahes, Bast, and all of the other cat-human hybrids had a cult in what was then known as Leontopolis (City of Lions), known today as Tell al Muqdam.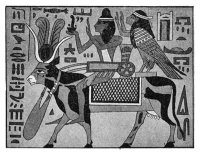 The first recorded reference to Maahes is between 16th – 11th century B.C. in Egypt. He had several titles which are pretty interesting as well.
—Lord of The Slaughter
—Wielder of the Knife
—The Scarlet Lord
I think it's important to point out that Maahes is described as the son of a god (Ra) and a goddess (Bast or Sekhmet). I personally link the gods to the fallen angels, but where do the goddesses of mythology come from? Zechariah 5:9 may be able to shed some light on the possibility that there are indeed female angels.

You might also like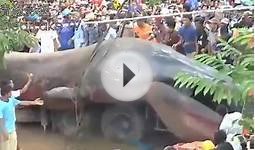 Must See!! REAL MONSTER found in vietnam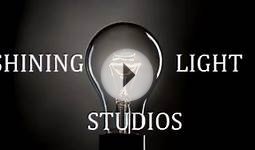 Real Found Footage Of A Monster Attack
Monster Hits Karaoke #1059 - Popular Duets


Music (Monster Hits Karaoke)




Legendary Monster Hits Quality
CDG format plays on CDG karaoke players and displays words on a television. Without television lyrics the disc will play on any CD, DVD or Blu-Ray player.
16 Great Songs
CD+G format shows on screen lyrics when played on a CD+G player
All songs without lead vocals
November's Chopin Unique Charm Colorful Multistrand Leather Adjustable Wrap Bracelet (Orange)


Jewelry (November's Chopin)




Unisex fashion accessory
Makes you more attractive
A great gift for friends
Item ships in free gift bag,ready for gift giving
High quality durable leather
LVE Mathews Monster Chill Decal, Standard White


Sports (EBBQ)




The CHILL bow by Mathews one of the Monster Series has only been out a month
Has found it s way into many bow shooters hands
If you are one of the lucky few that are now shooting a Chill bow then we have the decals for you available in 4 sizes

Wild Wind Unique Metal Ring Colorful Beads Multistrand Leather Adjustable Wrap Bracelet


Jewelry (Wild Wind)




Unisex fashion accessory
Adjustable length
Design has a characteristic
High quality durable leather
Wearing it can match any clothes

BAJA: Edge of Control - Playstation 3


Video Games (THQ)




Supercharged Vehicles: Harness the horsepower of over 40 elite Trophy Trucks, 4x4's and Buggies across eight varied vehicle classes.
Epic Open Worlds: Stunning vistas, sheer cliffs, and towering mountains fill over 100 square miles of drive-to-horizon landscape.
Horizontal Racing: Suspension, torque and horsepower are perfectly balanced to create the ultimate edge-of-control racing experience.
Customization: Fine-tune the roar of your off-road machine with over 200 authentic vehicle parts.
Multiplayer: Power past the competition in 4-player split screen and 8-player online racing.