New Monsters of Folk album
Five years ago, when Jim James, Mike Mogis, Conor Oberst and M. Ward first toured together, they were a study in contrasts as well as in camaraderie. Ward, hauntingly delivering his own blues and folk-based tunes, took a spare, intimate approach. My Morning Jacket vocalist and guitarist James, on the other hand, was already reaching for the rafters with his keening, echo-laden voice. Oberst — with his long-time producer, multi-instrumentalist and Bright Eyes mainstay Mogis — offered both candor and drama in songs that fell somewhere between confession and fever dream.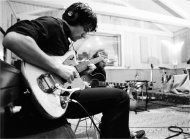 That was a rare, up-close opportunity to watch the interaction among these young artists, a send-off, in a way, as each went on to greater individual acclaim. But it was also just the beginning, a prelude to the collaborative adventure of making their first record together — an album years in the planning and months in the making, one that has turned out to be far more than the already impressive sum of their parts.
"It was never a question of where or how – it was just when, " say Ward of Monsters of Folk's studio debut. "We knew we wanted to record an album after seeing that we had good chemistry on tour. I think we were all curious about what we could do if we went into the studio and recorded original songs. And now we have a built-in platform, which is Mike's studio in Omaha."
"We did it three parts, " explains Oberst. "The first session we did at Mike's and my studio in Omaha, basically in Mike's back yard. We built it a couple of years ago; we took all the money we ever made and created a really nice studio. That was cool because it was very low key. There's great equipment but it's really like our house. We did the first session there and we did the second session maybe three months later in Malibu, at a studio called Shangri-La, which is kind of old-school – the Band, Neil Young, all kinds of people recorded there."

You might also like
Monsters Of Folk


Music (Shangri-La)




Brand Name: UMGD Mfg#: 2613
Shipping Weight: 0.14 lbs
Manufacturer:
Genre: Popular Music
All music products are properly licensed and guaranteed authentic.
Twenty Something


Music (UCJ)




Record Label: UCJ, Universal, Candid
Catalog#: 9868729
Country Of Release: EU
Year Of Release: 2004
Q&A
What are the songs on Lady Gaga's new album the fame monster?
On the first disc there is;
Bad Romance
Alejandro
Monster
Speechless
Dance In The Dark
Telephone
So Happy I Could Die
and
Teeth