Students Monsters University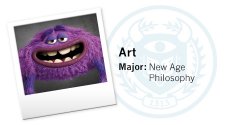 MU is proud to be home to all types of students, from the undeclared, to the indefinable. We sat down with New Age Philosophy student Art to learn a little more about MU's eclectic student body.
As an open minded, free spirit, Art believes life experiences are as important if not more important than classroom experience. "I don't actually go to classes very often, because I consider myself a student of the world, and also because I haven't paid tuition in 7 months. See, I live on a bartering system that the school has been, let's say, 'hesitant' to comply with."
Art is devoted to his fraternity, Oozma Kappa, and excited to develop a strong bond with his MU classmates. "I love making new friends, but you don't REALLY know someone unless you've cried with them, preferably from a deep emotional shared catharsis, or perhaps some kind of cage match."
When asked where he sees himself in five years Art answered smiling and inspired, "I see myself in a sun covered field just wailing on some drums, and then I do this crazy solo on a guitar covered in flames. The guitar is covered in flames, not me, although that could be cool too."
And when asked where he was before MU he simply replied, "Okay, legally they told me I do not have to answer that!"
Art may still be a mystery to many MU students, but given time, his free loving spirit will find its way to be the highlight on campus. "No one really knows much about him, yet, " says an MU classmate, "He seems really sweet, but also kind of scary."

You might also like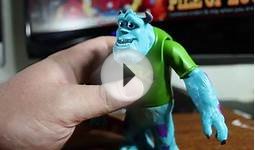 Monsters University: Scare Students OK Sully - SSJ Reviews 407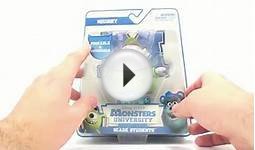 Video Review of the Monsters University: Scare Students Sulley
Monsters University - Students Mike and Sully DecoSet Cake Decoration


Toy (Decopac)




Head to Monster s University with this fun cake decorating kit.
Made of food-safe plastic.
Approximately 3-Inch Height
Includes Mike studying figurine, Sully scaring figuring, and a Monsters University layon.
Figurines can be used as toys after your celebration.
Monsters University - Scare Students - Art


Toy (Spin Master)




Scare Student Art is 5-Inch tall and ready to learn how to scare with you!
With a poseable legs and arms, you can move Art into multiple positions and make him look hilarious or scary!
Recreate the best scare scenes from Monsters University with Art and the entire class of Scare Students!
8 Scare Student Figures to Collect
Includes: 1 Scare Student Figure
Monsters University - Student Kit - 2 Folders, 2 Spiral Notebooks, Book Covers, Pencil Case, and Markers


Office Product (Monsters University)




Disney Licensed Product
Monsters University
School Supplies Bundle

Monsters University "Scare Student" Beanie & Gloves Set - royal blue, one size


Apparel (Disney)




100% Acrylic
Hand Wash Cold
Made in China

Monsters University Student ID Card sulley Custom Phone Cases Design for iphone 6 Case with Black Laser Technology TOOT0 Case


Wireless (TOOT0 Case)




100% brand new together with personalized design
Excellent protection, Lightweight and durable case suitable.
Perfect fit for your beloved phone
Made of top-rated plastic material with excellent bearing pressure
Perfect cutouts allows you to maximize the functionality of your Device
Q&A
Why does Squishy from Monster's University only have one ear/horn? | Yahoo Answers
That is how the toys are made.