Boo Monsters Inc Toddler Costumes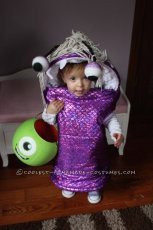 I put a fair share of thought into what I wanted to do for my daughter's Halloween costume this year. Her first Halloween she was only six months old so she couldn't really experience Halloween as she could barely crawl. This year she is eighteen months old and running all over the place. So, I wanted to make her into something special! I got the idea of dressing her in a Boo costume because I love putting her in pigtails and realized one day that she slightly resembled the little girl from Monsters Inc; plus, how cute would that be?
I am not creative whatsoever and the last time I used a sewing machine was fifteen years ago in middle school. I decided to research and see what was available on the internet. 90% of what I found was homemade costumes so it inspired me. I thought "maybe it wouldn't be so hard to make one myself."
I put together a list of the materials I thought I was going to need, found the perfect fabric (shiny purple mermaid fabric?! Heck ya!) and asked a friend to help me with the sewing machine as I did not own one (yet).
And so it began!
I purchased:
One yard of purple fabric
One yard of white flannel fabric
One yard of white minky dot fabric
One package of batting
One pack of Styrofoam balls
One sheet of white felt
One sheet of black felt
One pack of black pipe cleaners
One pack of sew in Velcro
One pack of stick on Velcro
One pack of clasps
One white sewing thread
One purple sewing thread
One mop from the dollar store
I also used a peony support stake which I already owned
I started by wrapping the fabric around my daughter to guesstimate the sizing it would need to fit her. Then I cut the purple fabric, batting and flannel lining all the same size and sewed them all together. After I had all the sides sewed together, I sewed two lines through the middle of the body to create the different sections. Then I sewed the bottom and top of the costume. Next, I wrapped what I had so far around my daughter and figured out where the arm holes needed to be, cut them out, and sewed in the white fabric for the sleeves. I sewed what would be the back of the costume three quarters of the way up. Then, I sewed in my Velcro the the other quarter of the way. I put a clasp at the very top of the Velcro. After trying the body on my daughter, I realized it needed straps on the inside to help hold the costume up, which worked perfectly. I used the white dot fabric for the straps.

You might also like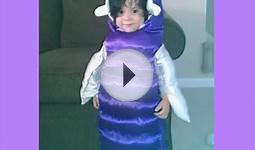 Monsters inc boo costume 2014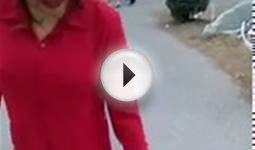 Monsters inc boo costume Halloween 2013
Child Boo - S 95012S (japan import)


Toy (RUBIE'S JAPAN)




body size: Length: 67cm
target Gender: unisex
up to 7 years 0 months from 5 years 0 months: Age
battery type: Polyester
The main production country: China
Disney Pixar Monsters, Inc Deluxe Talking BOO Toddler Doll -- 15'' H (2012)


Toy (Disney)




Exclusive Boo toddler-size doll - 15H
Detailed features and rooted hair - Authentic costume
Press Boo s belly to hear her speak multiple phrases
Plastic - Imported
Requires 3 x AG-13 button cell batteries, included
Monsters Inc. - Boo Feature Plush


Toy (Spin Master)




Cute Monster Costume from Monsters, Inc. Film
6 Iconic Boo Sounds & Phrases
Press on Her Belly to Activate Sounds
Huggable Boo Feature Plush!

Disney Boo in Monster Outfit Monster's Inc Plush


Toy (Disney)




16 H
Embroidered Detailing
Yarn hair
Polyester

Disney Monsters Inc. Exclusive 16 Inch Deluxe Talking Doll Boo


Toy (Disney)




Exclusive Boo toddler-size doll
Detailed features and rooted hair
Authentic costume
Press Boo s belly to hear her speak multiple phrases
Requires 3 x AG-13 button cell batteries, included