Monster High 1 hour special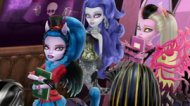 Release Date:
"Freaky Fusion" is the tenth TV special produced for the Monster High cartoon series . The TV special ties into the, , , and lines.
Story
As part of the Bite-Centennial's celebrations, Rotter has his students doing a "scareitage project, " research on their heritage and present their findings to their fellow students in class. Robecca Steam is eager to talk about her father, Hexiciah Steam, who was a professor at Monster High two centuries ago and left behind a workshop full of inventions somewhere down in the catacombs. Frankie is embarrassed since she doesn't know much about her past. Her parents refuse to tell her anything and she knows little about her grandfather, Victor Frankenstein. Rotter is disappointed and assigns her to redo it. Later, in the hallway, the ghouls get their first look at the new transfer students to Monster High, and notice how they are hybrids of two monsters, indicating their parents being of two different origins. When Frankie stumbles, one of the hybrids rushes to help her back up, before being ushered away by the other hybrids. Later on, Robecca shows Clawdeen, Toralei, Jinafire, Lagoona, Venus, Clio, Frankie, and Ghoulia her father's workshop, sealed by a door that only opens every hour, on the hour, to the workshop, otherwise it opens to random places at other times. While in the workshop, Toralei pulls a lever, thanks to her curiosity, activating the time portal in the center of the lab, moving the ghouls into the past, to the year Monster High was first opened, 1814, where they meet Sparky and Hexiciah. They make their way back to the future, but there is a problem due to Sparky damaging the portal before everyone entered. As a result, save for Frankie and Ghoulia, Toralei and Clio, Jinafire and Lagoona, Draculaura and Robecca, & Venus and Clawdeen fuse into hybrid forms of themselves. They have a difficult time coping with their new forms, especially when it ruins a dress rehearsal for Mr. Where's play on Monster High's history, so they seek the advise of the four new transfer students who are also combination monsters: Bonita Femur, Neighthan Rot, Avea Trotter, and Sirena Von Boo. The new students help the fused characters control their new bodies, and in the process become great friends as well. Also, Frankie finds support and consolidation in Neighthan regarding her concerns about her fused friends. However, every time Frankie becomes extremely emotional, her neck bolts discharge a large voltage of green electricity as a result. Soon they realize that Sparky went into the future with them and is trying to create life in a monstrous robot. Sparky's intentions are dear, he just wants to create a new family for himself, but the monster goes on a rampage though the school after being enraged by a camera flash. Eventually, the ghouls bring the monster back to the lab, but it's chest contains the time portal lens, which captures the four fused monsters during the attempts to stop it. Frankie, angered by the monster taking her friends hostage, uses her life force by connecting jumper cables to her neck bolts to electrocute the monster and shut it down. In the process, it pulls her four friends from the monster and defuses them back to normal, but it also completely depletes her life force, causing her to die in Sparky's arms. Sparky tries to revive Frankie in...

You might also like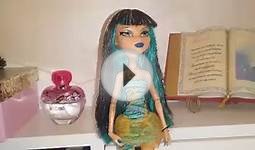 Monster high special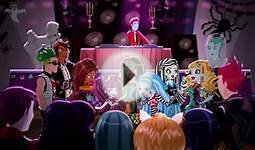 NEW Monster High *1 HOUR* 2011 Tv Special
AnGo CJ-091 10000mAh Classical Aluminum Enclosure Portable Backup Battery Charger USB Power Bank for Smart Phones and other Digital Devices (Special Apple 30 Pin and Lightning, Samsung 30 Pin Adapter Included) - Retail Packaging - Black
Home Improvement (ANGO INC)
Beautiful aluminum alloy enclosure, beautiful, generous, fashion, including 4 kinds of color, suitable for most people
Super-fast charge output (5V / 3A total) through USB ports (5V / 2A and 5V / 1A) allow for simultaneous charging of your iPad, iPhone, Android, and more.
Smooth, ivory varnish allows you to power up in style, while 4 status LEDs keep you informed of remaining capacity. Built-in flashlight for dark or low-light environments.
Ultra-high density battery cells make this the world s most compact 1mAh external battery. Use a 5V / 1.5A adapter (not included) for fastest charging (9-10 hours).
Monster capacity (1mAh) charges the iPhone almost 5 times, large-capacity phones like the Galaxy S4 3 times or almost a full charge to an iPad 3 / 4.
Bluetooth Headphones Anear Stereo Wireless Bluetooth Earbuds for Sport Running Gym Exercise Sweatproof CVC 6.0 Noise-Cancelling Wireless Bluetooth Earphones W/Microphone Compatible with iPhone 6, 6 Plus, 5 5c 5s 4 and Android--Black & Green
Wireless (Anear)
True Anear Tech Our Anear bluetooth headphones defines elegance and functionality, and are equipped with bluetooth 4.0 + EDL in headphones 60% than the wireless...
Pure Sound In-ear With functional user interface, ergonomic earbuds design, sweat-proof, and a 10-meter working distance, our bluetooth headphones offering hours...
Universal Device Compatibility Anear headphones are compatible with most bluetooth-enabled devices & apps. An innovative one-to-two technology allowing the...
Simple-to-use Control all functions of music (volume, sound, song selection) and calls the last dial number from phone on the headphones directly. Up to 5 hours...
Package Contents Anear wireless headphones, user manual, charging cable and earbuds.
Bundle:Nitecore TM16 4000 Lumens 4 CREE XM-L2 U2 LED Flashlight 765 Yards Beam Distance 520 Hours Runtime Smallest and Lightest Tiny Monster by 4 High Power 18650 with EASTSHINE EB182 Battery Case


Home Improvement (EASTSHINE)




1. The world first lightest and smallest flashlight: Nitecore TM16 Reach 4lumens,182mm in length
2. Excellent Brightness and Durability: 4 Lumens by 4 CREE XM-L2 U2 LED and 520Hours in Runtime
3. Smart Mode adjustment: Dual switch design offers 5 brightness levels and 3 concealed special mode
4. User-friendly design:Ergonomic body shape and cooling fins make the TM16 extremely easy to grip
5. Used anywhere and anytime: Rear thumbscrew lock can be connected for outdoor sports, photography

Deego [2-Pack] Premium 3.3feet/1m Micro USB Cables High Speed USB 2.0 A Male to Micro B Sync and Charge Cables for Android, Samsung, HTC, Motorola, Nokia and More (2x3.3ft/1m black pack)


Personal Computer (micro usb cable 1ft 3.3ft 3.9ft 6ft 6.6ft 10.5ft 1m 1.2m 1.8m 2m 3.2m 2pack 3pack 5pack braided lightning aux management extension charger charging a b a-male mini-b to hdmi cable Cell Phone Case Cover iPhone 5 5s 6 6s Plus Samsung Galaxy S5 S6 Holsters Clips accessories Contract No-Contract Phones Unlocked Wearable Technology Best Sellers Deals Trade-In All Electronics gift present protector waterproof note usb cable micro usb cable charging cable cell phone cable syncing cable data cable digital cable usb 2.0 A male to Micro usb usb 2.0 A male to B sync cell phone cable charger cable batter cable extra cable extension cable Android cable Samsung HTC ZTE Motorola Nexus LG HP Sony blackberry microsoft Blackberry Nokia phone cable 12 10 ft ipad 1 ft 2 in 1 2 3 ft 3 in 1 3 4s 4 in 1 4 in 1 3ft multifunctional universal usb charger 4s iphone 4 in one 5s micro usb 6ft iphone 6 6ft 6 feet 6 ft 6 ft kindle android apple apple watch anker android 2.0 apple iphone 4 apple iphone 6 asus transformer t100 all phones bracelet bundle braided bag box beats by techoland black case car heavy duty htc hdmi iphone iphone 5 iphone4s iphone 5s ipad iphone 4 plus ifc-400pcu j2cc 4 in 1 multifunctional universal usb cable j2cc 2 in 1 jack j2cc j2cc 4-in-1 usb adapter charging cable connector for j2cc 4 in 1 keychain kindle kit kindle fire keyboard kodak camera keyring kimber kindle 2 long lightning led light lock lg g3 light up lg iphone iphone 5 iphone4s iphone 5s ipad iphone 4 iphone 6 plus ifc-400pcu j2cc 4 in 1 multifunctional universal usb charger cable j2cc 2 in 1 jack j2cc j2cc 4-in-1 usb adapter charging cable connector for j2cc 4 in 1 keychain kindle kit kindle fire keyboard kodak camera keyring kimber kindle 2 long lightning led light lock lg g3 light up lg led light micro male to male male to female mini micro high speed mini b micro 3 feet micro short micro 1ft note 4 nylon nokia lumia 635 nexus 5 note 5 note 3 nook hd nexus 4 note 2 organizer otg outlet one plus)




What You Get: Deego 2-Pack 3.3ft/1m USB to Micro USB Cables.Extra Short, Extra Durable lengths let you connect at close proximity without getting tangled. 4+ bend...
Quick Charging & Sync: 20AWG USB cables support faster charging speed and 480Mbps data transfer via USB 2.0 (backwards compatible), 7% faster charging speed...
Compatible with:Android smart phones and tables,MPS players,cameras,e-readers,external batteries,and all other Micro-USB devices,from Samsung,HTC,Motorola,Nexus,Nokia,LG,HP,Sony,Blackberry...
Deego® USB to Micro USB Cable contains many kinds of specifications length,(1ft/0.3m,3ft/0.9m, 3.3ft/1m,3.9ft/1.2m,6ft/1.8m,6.6ft/2m,10.5ft/3.2m,)convenient you...
Very stable quality guarantee,12-month warranty and friendly customer service.

Ashley Martha Cute & Trendy Baby Bib Bandana for Boys & Girls (4 Pack) Featuring Colorful, Whimsical Prints, Durable, High-quality Production, Made of Cool Cotton/polyester Fabric with Adjustable Snap Closures


Baby Product (AMBP)




Keeps Baby s Clothes & Skin Dry: Featuring absorbent cotton/polyester cloth backed by absorbent fleece, our bandana bibs protect your teething baby s clothes...
Set Of 4 Trendy, Unisex Prints: Your love bug will be stylin with our set of 4 handkerchief bibs with assorted prints. Perfect for boys & girls, these bibs...
Durable Production: These aren t cheap & flimsy bibs! With premium materials and quality stitching, our pre-washed & pre-shrunk bandanas stay looking great...
Grows With Your Baby: With comfortable adjustable snaps, our bandana scarf fits infants of all sizes and can be used from 3-24 months. It s a cinch to put on and...
Makes A Fantastic Gift: Not sure what to get that special mom-to-be? Our stylish & functional bib set makes a novel gift for a baby shower, holiday, or birthday...