High Monster Musica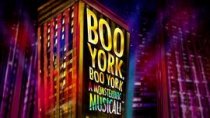 Release Date:
"Boo York, Boo York" is the twelfth TV special produced for the Monster High cartoon series and is meant to be a musical. It was released on September 29, 2015. The TV special ties into the Boo York, Boo York - City Ghouls, Boo York, Boo York - City Schemes, Boo York, Boo York - Gala Ghoulfriends, Boo York, Boo York - Frightseers and Boo York, Boo York - Comet-Crossed Couple lines.
Synopsis
After performing ("Love is Like a Storm Tonight"), Catty runs out of ideas for writing a new song, ("Search Inside"). Meanwhile Ramses sees the crystal comet arriving and he and Nefera prepare to head to Boo York. He also informs Cleo and allows her to take a friend with her. However, she invites Deuce (as well as giving him a King Tut-like chin and gold glasses), Frankie, Clawdeen, Draculaura, Operetta and Catty.
The crew head to Boo York where they shop for new clothes and wear them out. Luna also arrives and meets them. Cleo takes Deuce with her and turns out Nefera has also invited Toralei. The ghouls also encounter Elle Eedee who is playing her music on the streets. Cleo, Nefera and Deuce end up in the same taxi as Mouscedes King.
Meanwhile, Ghoulia finds out a comet is about to land on Earth. The De Niles meet Lux Ptolemy and her son Seth. She then is disgusted at Deuce's informality. Back at the catacombs, Abbey walks in to find Ghoulia attempting to stop the comet from arriving. Ramses and Nefera devise a plan to invade Boo York ("Empire"), while the latter herself plans to get rid of Deuce who she believes is in the way of their plans.
Next morning, the De Niles, Ptolemys and the other ghouls settle down at a banquet, only for Deuce to dress like going to the beach, embarrassing everyone. The guards then put him in a blazer which catches fire on a candle since it's too loose. The fire is extinguished but everyone is affected. Nefera later convinces Deuce he doesn't belong with Cleo. At the same time Ghoulia tracks down the comet only to find it will land in Boo York. Later that day, the ghouls run into Luna who now works for a pizza parlour.
Ghoulia uses satellites in attempt to repel the comet, which turns out an alien is inside it, but it persists. Elle then reacts to the comet, but neither herself nor the ghouls can tell what's going on. The ghouls are about to take the subway to catch up with Cleo, when they meet a rapper named Pharoah, who takes an immediate liking to Catty. The duo then make an escape from the crowd of Catty's fans. Deuce approaches Cleo and painstakingly breaks up with her ("It Can't be Over").
Back at Monster High, the catacomb door is left open, allowing Heath and Manny to witness the comet coming closer to Boo York. Meanwhile, Pharoah takes Catty to the Statue of Liberty where she hears the sounds of Boo York as music, realizing she finally found the music she has been looking for.

You might also like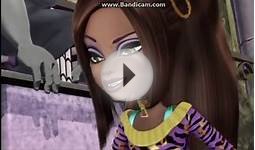 Selfie-Monster High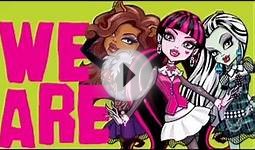 Musica de Monster High: We Are Monster High
November's Chopin Yellow Wenge Sandalwood Beads Prayer Meditation Mala Wrap Bracelet


Jewelry (November's Chopin)




Handmade item using only the highest quality material
It can be worn in any occasion
It s a specil gift for a loved one
Item ships in free gift bag,ready for gift giving
Elastic cord can be enlarge
TEN-CI Women's Slayer Creepy Monster Skull Cotton T-shirt Purple M


Apparel ()




100% Cotton
Machine Wash
Short-sleeve
Quality Construction Is Comfortable And Feels Great
The Best Halloween Gifts.

TEN-CI Men's Slayer Creepy Monster Skull Short Sleeve T-shirt DeepHeather L


Apparel ()




100% Cotton
Machine Wash
Short-sleeve
Quality Construction Is Comfortable And Feels Great
The Best Halloween Gifts.
Q&A
What at and t channel is Monster High on?
you can watch monster high on youtube