Lake Monsters Promotions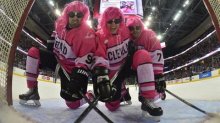 The Lake Erie Monsters have announced the 2015-2016 Promotional Schedule which includes many exciting enhancements. In collaboration with their new NHL affiliate the Columbus Blue Jackets, the team will feature twelve (12) "Blue Jackets" Nights where the team will celebrate all things Blue Jackets, including specialty jerseys worn by Monsters players and Blue Jackets themed game night entertainment during every Friday night Monsters home game. Also new this season, the schedule will feature a new concessions promotion; "1-2-3 Fridays!" Every Friday night home game, fans can look forward to $1 Sodas, $2 Hotdogs and $3 Draft Beer Specials (select 12-14 ounce draft beers).
Promotional highlights include 12 Blue Jackets theme nights, new giveaways and a new Friday night food promotion
All games will feature the same value-packed entertainment at Monsters games this season that fans have come to expect during the team's previous eight years at The Q, including:
EVERY WEEKDAY: College ID Night returns in 2015-16 including special $6 tickets with a valid college ID. There will be thirteen (13) Tuesday, Wednesday and Thursday night games this season. College students - take a break from the books and enjoy some weekday Monsters hockey at The Q!
EVERY FRIDAY: Blue Jackets Night & '1-2-3 Fridays'. Fans can enjoy $1 Sodas, $2 Hotdogs and $3 Beers. Plus a free postgame open skate, presented by Hudec Dental. There are twelve (12) Friday night games this season.
EVERY SATURDAY & SUNDAY MATINEE GAME: KIDS GAMES! Monster Kids Meals will be available where all kids can enjoy a hotdog, soda and chips for only $6. Also, the first 1, 000 kids to each of the Kids Games will receive a free day pass to everyone's favorite indoor waterpark, Castaway Bay! There are six (6) Kids Games.

You might also like
Q&A
What is the Bear Lake monster.
alleged reports have given conflicting descriptions of the beast, with some describing it as similar to a walrus others describing it as a larger-than-average carp. The last reported sighting of the monster was in 2004