Green Monsters under the bed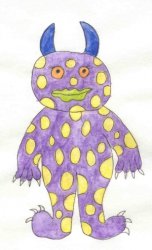 "Mum! There's a monster under my bed!" Gordon shouted.
His mum came running through and turned the bedroom light on. "Gordon, there's no monster, " she sighed. "Come and look." He crawled out of bed and looked under the bed.
"Now go to sleep and stop worrying. There is no such thing as a monster."
"But Mum, I heard it breathing. It sounded horrible. I thought it was going to eat me, " Gordon shivered.
"I don't know what you heard, Gordon, but it wasn't a monster. You were just dreaming, " she assured him. After kissing him on the cheek, she pulled the covers around him, turned the light off and went back to her room.
Gordon lay in his bed, listening for sounds. CRUNCH! GROAN! SLOBBER! GRRRR!
There it went again. He pulled the covers over his head but the noises wouldn't go away. Remembering what his mum had said, he slipped out of bed and turned his light on. He stood, looking around. He walked over to his closet and opened it. There was nothing in there except his toys and his clothes. He dropped to his knees and lifted the covers.
"HI!" the monster said, sliding out from under the bed. Gordon was about to scream when the monster put his fingers to his lips. "Shhh! Don't be afraid. I won't hurt you."
Gordon didn't say a word. He stared at the monster. It was purple, had big yellow spots all over its skin, two fat horns sticking out of the top of its head, sharp claws on its feet and chubby fingers. Its lips were bright green and its eyes were orange. Gordon noticed a tear running down its face. "Why, why are you crying?" he stuttered.

You might also like
P'Kolino Monster Under the Bed Storage, Green


Baby Product (P'kolino)




Eager to help organize everything from toys to stuffed animals to clothes
Made from colorful polyester plush, polyester-cotton blend canvas and cotton; paperboard lined interior
P kolino s signature playfully smart style is at home in any room of the house
Part of the p kolino mess eaters collection
Storage that is fun and functional

Under the Bed & Closet Monster Repellent and Be Good Spray, 4oz


Home (Miss Stephanie's Potions)




Spray under the bed and in the closet to get rid of pesky monsters, or spray directly on them to turn them into friends
Empowers children to take charge of their fears by giving them nighttime protection against monsters
Guaranteed to keep monsters away
Completely green, vegan, natural and made in the USA
Smells great
Q&A
How can one make the big green monster under their bed go away?
When you read the book "Go Away, Big Green Monster!", as you turn the pages, the monster appears. To make it disappear, keep reading until the end of the book.