Green Monsters Ultras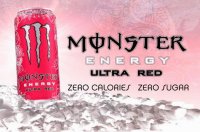 CAFFEINE CONTENT
140 mg
EASE IN ACQUISITION—10
Another Monster beverage found absolutely nowhere for the first few months after I heard about it, then suddenly showed up everywhere overnight. If you're having a hard time finding it—check the same place tomorrow.
APPEARANCE/PRESENTATION—10
Ultra Red follows in the footsteps of the original Zero Ultra in terms of aesthetic appeal; I only wish Ultra Blue hadn't had those cheesy M's integrated into that otherwise brilliant frost pattern…three 10/10's would look nice on the shelf next to each other. Anyway, this can features the same familiar texture as the other two, this time with a deep red an a paisley pattern to the side—which somehow works exceptionally well with the red. I don't know how that works…something about red and paisley just looks elegant. Now I'm just waiting for Monster to introduce an "Ultra Green" with a green apple flavor—then 1) I could really look forward to enjoying a green apple energy drink, and 2) I could use cases of all four flavors as decorations when Christmas rolled around.
TASTE—10
Something that I've discovered with repeated indulgences of Monster's Ultra line is that repeated drinking makes good energy drinks better and bad energy drinks worse. The same holds true here—my first experience with this drink was good, but not the best; the cranberry flavor of the namesake "Ultra Red" is mellowed out to about the level of the base citrus flavor profile familiar to those who have tried Zero Ultra, and at first the homogeny seemed incomplete, and that the cranberry had taken a back seat to the citrus and was not allowed to reach its potential. Well, I've had it a number of times sense (every opportunity I've had to buy an energy drink, actually) and I can safely say that I love Ultra Red. The discrepancies between the two flavors mellow out with repeated drinkings, and before I was wondering if this wondrously balanced beverage was the same one I had drank that first night heading home from Twin Falls. Bottom line—buy this drink, and do it multiple times. Chances are by the third time you won't be able to get enough.
KICK (INTENSITY)—7
Monster has kicked back on the caffeine a little bit in their Ultra line, and it shows—this isn't as potent as, say, Lo-Carb or the Rehab line. One can should be enough to wake you up and put some spring in your step, but to be perfectly honest, I don't actually buy just one when I'm buying an Ultra beverage—and two of these back-to-back makes for a heckuva fun ride, an easy 9/10 that will suffice for virtually any energy-requiring situation and on top of all that be a joy to guzzle.
KICK (DURATION)—7
One can: around three hours. Two: five hours, easily. No crash in either case!
THE DRINK OVERALL—8
As if you can't tell, I love this drink—enough that I will be reworking my top 10 list soon to accommodate this and the other Ultra beverages. I'm exceptionally pleased, and don't doubt other consumers, be they Monster loyalists or newcomers to the energy scene, will be as well.

You might also like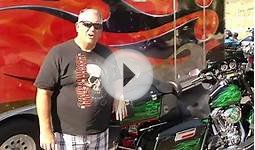 Gunslinger Paints 2007 Ultra Classic "Green Monster" for ...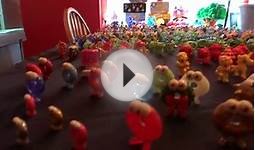 Moshi Monster Ultra Rare green swirl/two tone/marble Lady ...
LeapFrog LeapPad Ultra Carrying Case, Green


Toy (Leapfrog)




Molded design and built-in bumpers hold and protect LeapPad Ultra
Holds 6 game cartridges and an extra stylus
Features a tote-safe wrist-strap
Appropriate for ages 4-9 years
Works only with LeapPad Ultra
Bluetooth Headphones Anear Stereo Wireless Bluetooth Earbuds for Sport Running Gym Exercise Sweatproof CVC 6.0 Noise-Cancelling Wireless Bluetooth Earphones W/Microphone Compatible with iPhone 6, 6 Plus, 5 5c 5s 4 and Android--Black & Green


Wireless (Anear)




True Anear Tech Our Anear bluetooth headphones defines elegance and functionality, and are equipped with bluetooth 4.0 + EDL in headphones 60% than the wireless...
Pure Sound In-ear With functional user interface, ergonomic earbuds design, sweat-proof, and a 10-meter working distance, our bluetooth headphones offering hours...
Universal Device Compatibility Anear headphones are compatible with most bluetooth-enabled devices & apps. An innovative one-to-two technology allowing the...
Simple-to-use Control all functions of music (volume, sound, song selection) and calls the last dial number from phone on the headphones directly. Up to 5 hours...
Package Contents Anear wireless headphones, user manual, charging cable and earbuds.

Monster ULT V800 CV-8 Ultra 800 Component Video Cables (8 feet) (Discontinued by Manufacturer)


CE (Monster)




Uses three cables to send color signal separately for improved picture.
Easy to identify color-coded bands for simple, error-free hookup.
High-density double shielding for maximum rejection of RFI and EMI.
24k gold contacts for optimum signal transfer and corrosion resistance.
Convenient cable organizer keeps cables tangle-free.