Green Monster Overnight Oats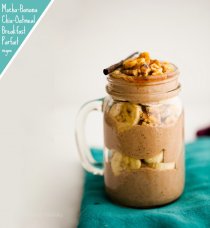 I love grab-n-go breakfasts. But I also love a cozy, nutrition-filled grain bowl in the morning. Overnight Oats has all the convenience you need on a busy morning, plus all that homestyle, "real meal" goodness you crave. No protein bars here! (Not that I mind a yummy grab-n-go protein bar once in a while.)
There are soooooo many variations for overnight oats / chia seed breakfast puddings. The best part (besides being supremely delicious) is that on the morning you enjoy them there is virtually no prep and definitely no cooking involved. Grab-n-go. (With a few accent ingredients tweaks being optional.)
?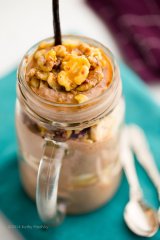 Well, all the magic happens while you are fast asleep in bed, dreaming of cuddly kittens, endless bowls of coconut cream ice cream, aqua waves crashing on a white sand beach or maybe just sparkly clouds and cookie dough pancakes. Whatever you dream about at night, you will be also dreaming about your breakfast! Overnight Oats + Chia Bowls (made however you like them!) awaiting you at sunrise.
Here is one of my fave energizing "mocha bowl" recipes and a few how-to tips to get you started!.. (Oh, and some gratuitous kitten photos too..)
And kitty lovers, do not miss the kitten pics at the end of the post too :)
How to Master Overnight Oats / Chia Bowls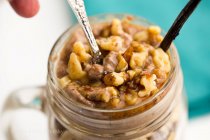 Intro: I call these overnight oats AND chia bowls because I most always add some chia seeds to my overnight oats. I find that it thickens up the texture even more and I love all the healthy benefits of chia seeds like healthy fats, fiber and more. So lets go. Once you have youR ingredients you can get started!..
Base ingredients: oats and chia seeds (I like to lightly process my oats for a smoother texture!)
Liquid: Any non-dairy milk
Seasonings: sweeteners (maple, agave, coconut sugar..), spices like cinnamon, nutmeg, ginger, salt, vanilla
Add-ins: Nuts, seeds, crumbled cold cereal, granola, cacao nibs, dried fruit, superfood powders, protein powders even!
Fruit: Fresh fruit, any variety
Other Ideas: coconut milk, espresso, cacao powder, fruit purees and juices, peanut butter, almond butter, matcha green tea and more! -> creativity is key!
A Few Master Tips:
* The Ratio. The ratio of oats to liquid is generally a 1:1 ratio. Then with a bit more research you will find that most people are making non-vegan oats and do 1/2 cup oats, 1/2 cup milk and 1/2 cup yogurt. Well to veganize this classic ratio you can either use vegan yogurt OR do what I usually do, sub chia seeds and more liquid for the yogurt - since the chia seeds thicken very well. So no matter what your recipe, just remember that adding chia seeds soaks up a lot of liquid so either add a splash more liquid or be prepared for a thicker texture. Also, adding in other dry ingredients will soak up some liquid too.

You might also like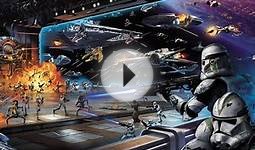 Monster-star wars clone wars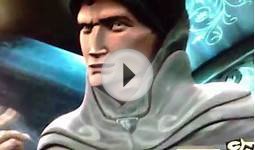 Clone Wars~ Monster
WOWcosplay Unisex-adult Kigurumi Onesie Fire Dragon Pajamas,Monster M


Apparel ()




XS fit for Height 41.34
S fit for Height 145-155CM (57 -61 ) , M fit for Height 155-165CM (61 -65 )
L fit for Height 165-175CM (65 -68.8 ) , XL fit for Height 175-185CM (68.8 -72.8 )
Machine Wash Cold, Non-Chlorine Bleach, Dry Flat, Do Not Iron, Do Not Dry Clean
Comfortable ultra-soft plush material that would keep you warm while lounging around and going about.
Gerber Baby-Boys Newborn 3 Piece Bodysuit Cap and Pant Set, Green/Navy Monster, 0-3 Months


Apparel (Gerber Children's Apparel)




Three-piece set featuring long-sleeve bodysuit with dog applique, striped elastic-waist pant, and cap with 3D ears and adjustable cuff
Bodysuit features lap-shoulder neck opening and three-snap closure
Bcozy Monster Onesie Adult Costume, Green/Yellow/Red, One Size


Apparel (Bcozy)




Front side button up
Side pocket

Unisex Pajamas Kigurumi Halloween Onesie Costume Sleepwear APKC1 (Medium, Green monster)


Apparel ()




shoes/slippers not included
100% Flannel, warm and Fluffy, soft plush material
S - Size fits for height 59 -64 / 150cm-163cm. M - Size fits for height 64 -68 / 163cm-172cm
Pajamas fit generously
L - Size fits for height 68 -70 / 172cm-178cm. XL - Size fits for height 70 -74 / 178cm-188cm

Cosplay Unisex-adult Monsters University Anime Kigurumi Cosplay Mike Size Small US Green


Apparel ()




100% Coral Velvet
Machine washable
Support wholesales
Support custom
Comfortable and soft
Q&A
What is the name of the evil green monster in Star Wars?
There are several green monsters in the Star Wars series of movies. Which movie are you referring to? !