AMC 20 Monsters University
Monsters University
USA | 2013 | 90 minutes | Dan Scanlon
Mike Wazowski and James P. Sullivan are an inseparable pair, but that wasn't always the case. When these two mismatched monsters met they couldn't stand each other. A bright and hilarious prequel unlocking the door to how Mike and Sulley overcame their differences and became the best of friends.
Screening Alert
The Monsters University distributor has requested security protocols for this film's screenings.
No electronic devices will be allowed in the auditorium (including cell phones). We encourage you to leave cell phones and other devices in your vehicle or at home for this event. A security team will be on hand to "coat check" devices not admitted into the screening.
Ever since college-bound Mike Wazowski (voice of Billy Crystal) was a little monster, he has dreamed of becoming a scarer, and he knows better than anyone that the best scarers come from Monsters University (MU). But during his first semester at MU, Mike's plans are derailed when he crosses paths with hotshot James P. Sullivan, "Sulley" (voice of John Goodman), a natural-born scarer. The pair's out-of-control competitive spirit gets them both kicked out of the University's elite Scare Program. To make matters worse, they realize they will have to work together, along with an odd bunch of misfit monsters, if they ever hope to make things right. Screaming with laughter and oozing with heart, Disney·Pixar's Monsters University is directed by Dan Scanlon (Cars, Mater and the Ghostlight, Tracy), produced by Kori Rae (Up, The Incredibles, Monsters, Inc.) and features music from future Rock-and-Roll-Hall-of-Fame-inductee and award winning composer Randy Newman (Monsters, Inc., Toy Story 3).
Director Biography
After working as an animator for The Indescribable Nth, Joseph: King of Dreams, The Little Mermaid II, and 101 Dalmatians II, Dan Scanlon joined Pixar and subsequently worked as a writer and storyboard artist for Cars and director of the short film Mater and the Ghostlight.
Sponsored in part by Pagliacci Pizza, KOMO4
Packaged Films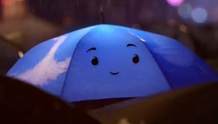 Amidst the rain in a singing city, two umbrellas—one blue, one not—fall eternally in love in The Blue Umbrella.
Director:
Dan Scanlon
Principal Cast:
Voices of: Billy Crystal, John Goodman, Steve Buscemi, Helen Mirren, Alfred Molina, Dave Foley, Frank Oz, Julia Sweeney
Country:
USA
Year:
2013
Running Time:
90 minutes
Producer:
Kori Rae
Screenplay:
Andrew Stanton, Pete Docter
Music:
Randy Newman
Website:
Filmography:
Tracy (2009)
Language:
English
Format:
DCP
US Distributor:

You might also like
Women's Harvard University Logo Screw Neck Tees Size S SkyBlue


Apparel ()




100% ECO Cotton,Machine Wash.
No Shrinking And Color Won t Fade After Washing.
Wash Inside Out With Cold Water, Comfortable Modern Fit.
Within Two Adjacent Size, Choose The Bigger One, It May Be More Suitable For You
The Item Usually Need About 6 To 13 Days To Arrive, But Sometimes May Faster.
Galaxy S5, Galaxy S6,galaxy S6 Edge Sport Armband , Nancy's Shop Easy Fitting Sports Universal Running Armband with Build in Screen Protect Case Cover Running Band Stylish Reflective Walking Exercise Mount Sports Universal Armband Case+ Key Holder Slot for Samsung Galaxy S 5 , Samsung Galaxy S6,samsung Galaxy S 6 Edge (Green)


Wireless (Deego)




Designed specifically for Samsung galaxy S 5 , Samsung galaxy S6,Samsung galaxy S 6 Edge
Exercise your right to a case is also a Sports Armband. Stays put while you run. Touch screen works through the clear cover
Built in key holder to help minimze carrying extra items while you excercise. Secure your device worry free and free your hands! Listen to your music with your hands...
Strong light weight exclusive neoprene material that protects your device.
Able to access to headphones, buttons, touchscreen feature on the cell phone.

LeoSwiech Samsung Galaxy S3 Durable Hard Phone Cases Support Personal Customs Colorful Monsters University Mike Wazowski Series [ERK27347mLyv]


Wireless (LeoSwiech)




Protect your device from from scratches, dirt, dust, damages
This screen protector compatible with samsung galaxy s3 features easy to install installation steps
All ports and controls easily accessible
LeoSwiech samsung galaxy s3 durable hard phone cases support personal customs colorful monsters university mike wazowski series [ERK27347mLyv] leaves no residue...
Excellent after-sale servic

Hard Plastic Galaxy Note 3 3D PC Case Back Cover Hot American Sulley Monsters University Monster 3D PC Case At Perfect Diy ( Custom Picture iPhone 6, iPhone 6 PLUS, iPhone 5, iPhone 5S, iPhone 5C, iPhone 4, iPhone 4S,Galaxy S6,Galaxy S5,Galaxy S4,Galaxy S3,Note 3,iPad Mini-Mini 2,iPad Air )


Wireless (Holly Corbin Karlotte)




Patterned, high-quality.
Sleek protection
Easy to install and remove, 100% perfect fit.
Front raised edges recess your screen to protect it when placed face down.
Tpu for ultimate protection from scratches and virtually unnoticeable weigh increase.
Q&A
What are showtimes for monsters vs aliens today at the amc 20 in independence, mo
AMC Independence Commons 20,1-888-AMC-4FUN (1-888-262-4386) Show times for Monsters vs. Aliens Rated (PG) 1 hr. 34 min. 10:00am, 10:50am, 11:40am, 12:30pm, 1:20pm, 2:10pm, 3:00pm, 3:50pm, 4:40pm, 5:30pm, 6:20pm, 7:10pm, 8:00pm, 8:50pm, 9:40pm, 10:30pm, 11:05pm. Thanks!